Social Distancing, Naturally
As Oregon's Rural University, we're experts at fostering tight-knit communities of support across wide-open spaces. As an online student at Eastern Oregon University, you can earn a highly flexible and affordable degree at an institution that has a century of experience delivering high-quality education. Our dedicated faculty members are committed to mentoring and engaging with students wherever they are.
Find your passion with more than 20 convenient online degree programs. See why we were ranked second by Value Colleges for the best online colleges in Oregon.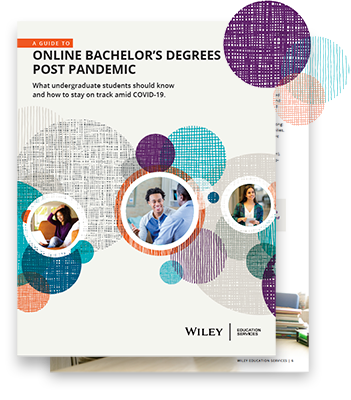 A Guide to Online Bachelor's Degrees Post Pandemic
It's hard to imagine a time before COVID-19. The pandemic has impacted education significantly, resulting in millions of students suddenly shifting from a classroom to a chatroom. The threat of catching the virus, the need for social distancing and the closing of many campuses through the fall has left students and their parents unsure about what to do next. 
A fully online degree option may be the best way for many students to stay on track and remain safe during this pandemic. However, with confusion surrounding online instruction, students and parents alike have questions and concerns about pursuing an online education. It's important to know the difference between the sudden, emergency attempt at online instruction and a degree program that was purposefully designed to be entirely online.
The faculty at Eastern Oregon University strives to ensure you have all the information you need to make decisions about your education confidently. With this in mind, we want to offer the following guide created by Wiley Education Services, a leader in higher education research and online education, in partnership with DegreesOnline.com.
This informative guide addresses the impact of COVID-19 on education and provides insight into online education, such as the online student experience, myths vs. facts about online education and the difference between proven online degree programs and emergency online instruction.
Online education is not a new concept and can be just as rewarding as an in-person program.
View Guide
Why Choose Eastern Oregon University Online?
About EOU
Eastern Oregon University was founded in 1929 as a teachers college and today serves as a center for education, culture and scholarship in rural areas of Oregon. EOU guides student inquiry through academic programs that lead to responsible and reflective action in a diverse and interconnected world.
Accreditation
Eastern Oregon University is accredited by the Northwest Commission on Colleges and Universities.
EOU has also earned an excellent reputation for its military-friendlyⓇ options: