Social Distancing, Naturally
As Oregon's Rural University, we're experts at fostering tight-knit communities of support across wide-open spaces. As an online student at Eastern Oregon University, you can earn a highly flexible and affordable degree at an institution that has a century of experience delivering high-quality education. Our dedicated faculty members are committed to mentoring and engaging with students wherever they are.
Find your passion with more than 20 convenient online degree programs. See why we were ranked second by Value Colleges for the best online colleges in Oregon.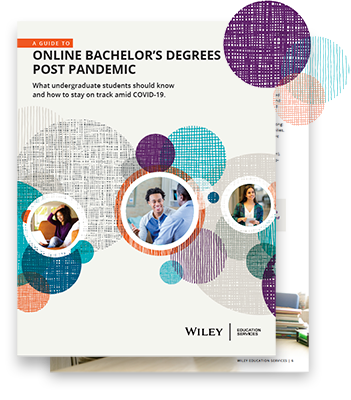 A Guide to Online Bachelor's Degrees Post Pandemic
It's hard to imagine a time before COVID-19. The pandemic has impacted education significantly, resulting in millions of students suddenly shifting from a classroom to a chatroom. The threat of catching the virus, the need for social distancing and the closing of many campuses through the fall has left students and their parents unsure about what to do next. 
A fully online degree option may be the best way for many students to stay on track and remain safe during this pandemic. However, with confusion surrounding online instruction, students and parents alike have questions and concerns about pursuing an online education. It's important to know the difference between the sudden, emergency attempt at online instruction and a degree program that was purposefully designed to be entirely online.
The faculty at Eastern Oregon University strives to ensure you have all the information you need to make decisions about your education confidently. With this in mind, we want to offer the following guide created by Wiley Education Services, a leader in higher education research and online education, in partnership with DegreesOnline.com.
This informative guide addresses the impact of COVID-19 on education and provides insight into online education, such as the online student experience, myths vs. facts about online education and the difference between proven online degree programs and emergency online instruction.
Online education is not a new concept and can be just as rewarding as an in-person program.
View Guide
Why Choose Eastern Oregon University Online?
Explore Our Programs
B.S./B.A. in Computer Science
Study software development and computer programming while enjoying unique class offerings and experienced faculty. You will be prepared for the variety of innovative technology evolving in the 21st Century.
B.S./B.A. in Accounting
Experience a specialized curriculum accredited by the International Accreditation Council for Business Education (IACBE). Complete your fast-track degree in three years.
B.S./B.A. in Anthropology and Sociology
Choose from two concentrations that are grounded in a four-field cultural, physical, biological and archaeological approach.
B.S./B.A. in Communication Studies
Be part of the next generation of community builders with rhetorical efficiency, interpersonal effectiveness, intercultural competency, ethical sensitivity and platform savvy. Collaborate with students from other programs through the online curriculum.
B.S./B.A. in Early Childhood Education
Prepare to work with children up to eight years old in this program taught by experts and ranked best in Oregon and 16th in the nation.
B.S./B.A./B.A.S. in Emergency Medical Services Administration
Gain certifications while learning how to move into EMS administration and management. Our program fulfills the National Fire Academy's Fire and Emergency Services Higher Education model curriculum.
B.S./B.A. in Business Administration
Choose from three concentrations in this program, which is accredited by the International Accreditation Council for Business Education (IACBE).
Post-Baccalaureate Accounting Certificate
If you have a non-accounting degree or need more credits to sit for the CPA exam, this certificate program will provide tax, accounting, finance and auditing courses to prepare you for an accounting career.
B.S./B.A. in Economics
Participate in a research-focused curriculum, apply economic theory and explore diverse economic systems and issues.
B.S./B.A. in Fire Services Administration
Learn from fire chiefs and other industry professionals in the business-focused, award-winning program.
B.S./B.A. in History
Our history program includes published, tenured faculty and Eastern Oregon University Presidential Scholar winners. For the past five years, the history department has been recognized by Phi Alpha Theta, an honor society for history professors and students.
B.S./B.A. in Interdisciplinary Studies
Reach your customized career goals with this degree. It is one of the largest at Eastern Oregon University because it features flexibility and versatility to make your dream career possible. Create a customized degree program or combine two minors to earn your degree.
B.S./B.A. in English/Writing
Prepare to be a creative and effective communicator in a program that features community involvement and partnerships with nonprofits, independent presses and K-12 schools.
B.S./B.A. in Psychology
Prepare for graduate school or entry-level work as a counselor or psychologist in schools, rehabilitation centers or social services with this rigorous program and its unique curriculum.
B.S./B.A. in Health & Human Performance
Get affordable, hands-on experience and practice with scientific approaches in one of four concentrations – physical education and sport, community health, exercise science and nature and outdoor recreation programming.
Master of Fine Arts (MFA) in Creative Writing
Eastern Oregon University's online/hybrid MFA will give you opportunities for hands-on writing, editing and publishing in collaborative workshops from the comfort of your home and the serenity of nature.
Master of Business Administration
Learn management strategies to optimize professional career advancement in this program that is accredited by the International Accreditation Council for Business Education (IACBE).
Master of Science in Education
Develop best practices for PK-12 education by implementing applied and theoretical knowledge and skills. Focus on literacy (reading), special education, curriculum leadership, dyslexia, trauma in educational communities, or ESOL (English for Speakers of Other Languages) while learning from faculty with advanced degrees in their specialties.
B.S./B.A./B.A.S. in Information Technology Management
Experience a specialized curriculum. Complete your fast-track degree in three years.
Computer Programming I & II Certificate
Eastern Oregon University's Computer Science department is a great choice if you are interested in programming, IT management, data analysis, system administration, software engineering, cybersecurity, or advanced study. After obtaining your degree, you will be equipped with the skills to work in the private or public sector. Our program's curriculum enables you to personalize your degree depending on your desired career trajectory.
Master of Arts in Teaching
Develop skills for a rewarding teaching career at the elementary or secondary level with this flexible, hybrid program. Complete your master's degree in 10 months and gain valuable field experience to improve learning outcomes for your students.
B.A.S. in Business
Experience a specialized curriculum accredited by the International Accreditation Council for Business Education (IACBE). Complete your fast-track degree in three years.
B.S./B.A./B.A.S. in Cybersecurity
Focus on the applied skills of cybersecurity in a comprehensive curriculum so you can step into the security role of your choice at graduation.
Nature and Outdoor Recreation Programming
Integrate the study of outdoor recreation with holistic health and then complete a two-week summer field studies program in the largest wilderness area of Oregon.
Curriculum Leadership Certificate
Discover the best methods to guide curriculum developments across grade levels.
English for Speakers of Other Languages Certificate
Engage with new teaching methods to give your students the tools to learn English.
Trauma in Educational Communities Certificate
Gain the Trauma in Educational Communities specialization and advocate for vulnerable K-12 student populations in culturally responsive and equitable ways.
Community Health
Learn to address a range of health and wellness concerns throughout diverse communities, and provide education on disease prevention, injuries, illness and more.
Anthropology
Discover a program that delivers advanced critical thinking skills while exploring archaeology and the cultural, physical and biological aspects of anthropology.
Exercise Science
Develop essential wellness skills and become eligible for career advancement through certifications in strength and conditioning, personal training and inclusive fitness training.
Physical Education and Sport
Build a strong foundation for your education career with a curriculum that takes a scientific approach to physiology, motor development, movement analysis and more.
Sociology/Social Welfare
Learn to identify and address current societal challenges through structured civic engagement.
Certified Managerial Accounting
Gain the credential required to take the certified public Accountant (CPA) exam and pursue the globally recognized certified management accountant (CMA) exam so you can go further in your career.
Forensic Accounting
Prepare for the certified public accountant (CPA) exam and learn to investigate financial fraud in an ever-changing business environment.
Global Food Systems and Agribusiness
Discover a program that delivers a solid grounding in formal business skills while exploring innovative technologies and their role in today's field of agribusiness.
Leadership, Organization, and Management
Gain essential management skills for all business sectors and graduate with the expertise necessary to establish yourself as an effective and trusted leader in your industry.
B.S./B.A./B.A.S. in Data Analytics
Analyze data for strategic decision making, gain industry experience and prepare for a wide range of high growth careers with this mathematics and computer science-driven program.
B.S./B.A. in Marketing
Explore interactive media, interpersonal relationships and emerging technologies with the online marketing bachelor's degree from EOU.
B.S./B.A. Agriculture Entrepreneurship
The Agriculture Entrepreneurship program is designed to help you develop and refine the skills and knowledge required to take an active and leading position in many different aspects of agriculture. While providing business and science fundamentals, the AE degree will allow you flexibility in refining your future agriculture interests and incorporate those interests into real-world, team-based experiential learning programs. It's all about understanding, collaborating, enacting, and refining the innovative process.
B.S./B.A. in Public Relations
Develop skills in social media management, marketing and media relations while learning to effectively communicate information to a wide range of stakeholders. This program also prepares you to sit for the Certified Public Relations (CPR) exam.
B.S./B.A. in Politics, Policy and Public Administration
Delivered 100% online, the bachelor's in politics, policy and public administration program offers unique rural-informed global curriculum and hands-on learning opportunities, such as field placements and internships.
Master of Public Administration
Develop comprehensive public management skills and graduate prepared to meet the demand for well-rounded public administration professionals through EOU's online M.P.A. program.
About EOU
Eastern Oregon University was founded in 1929 as a teachers college and today serves as a center for education, culture and scholarship in rural areas of Oregon. EOU guides student inquiry through academic programs that lead to responsible and reflective action in a diverse and interconnected world.
Accreditation
Eastern Oregon University is accredited by the Northwest Commission on Colleges and Universities.
EOU has also earned an excellent reputation for its military-friendlyⓇ options: