B.S./B.A. in Early Childhood Education
Support, Educate and Advocate for Young Children With a Multiple-Award-Winning Degree
Best Education Bachelor's Online
Two Practica/ECE experiences
Learn More Today
Complete the form to learn more about this program.
Duration

4 years

Cost per Credit

$286.40

Credit Hours

180
Program Benefits
Processes/procedures for teaching
Non-licensure program
Seasoned EOU professors with diverse experiences
Multiple transfer pathway options
Career support/Handshake
*Price reflects tuition for Oregon residents. Non-resident tuition is $329.60/credit hour. Speak to an enrollment counselor for more information.
Try our new Admissions Estimator tool to better understand your chances for admission. You probably meet more requirements than you think!
Admissions Estimator
Get Practical, Hands-on Teaching Experience with an ECE Degree
EOU's early childhood education degree online equips educators of young children with in-depth, foundational knowledge to apply in public and private sectors. A trustworthy program – ranked a best online program by The Best Schools and College Choice – it's also on the Top 30 Affordable ECE Degree Online Programs list.
You'll prepare for teaching and administration roles, learning everything from math/science methods and ECE health and wellness to child care laws, regulations and operational functions for directors.
Our two teaching practica enable you to observe industry pros in a real classroom setting and apply the theories you've studied online. Earning this degree opens doors to ECE licensure preparation programs.

Early Childhood Education Curriculum
Core Curriculum
The online bachelor's in early childhood education requires both Core 1 and Core 2 courses. Core 1 courses investigate stages of development such as play, literature, health and wellness, technology and critical issues.
Core 2 courses are Methods courses, which introduce processes and procedures for teaching specific subjects. Then, your teaching practicum gives you supervised experience in a real classroom. Earn your B.A. with a foreign language requirement, or your B.S. with just 12 more science credits.
Our early childhood education program does not offer licensure. If you would like to be licensed, you can continue to a graduate school program for teaching.
View Courses
Have Credits to Transfer?
The option to transfer credits makes your program more affordable and can help you get on the job sooner. We allow up to 135 credits from previous college coursework to be transferred into EOU. All EOU majors require a minimum of 20 EOU credits.
To see how your credits will transfer, use our Transfer Equivalency tool.
"I love the flexibility of online schooling through EOU. I can fit in all that I need to get done throughout my day and I can do schoolwork at a time that is convenient for me. …Thus far, I have had a great online experience at EOU and I highly recommend it to anyone who is considering continued education."

– Amanda Machuca-Martinez; former EOU student
Admission Requirements
Application Fee
Official Transcripts
ECED 311 & 312 Prerequisite
Letter of recommendation
Get Started
What It's Like to Study Online
Earning your degree online at Eastern Oregon University is a great opportunity because there are no on-campus requirements. You will have access to the same professors, content and opportunities as on-campus students, only in a creative digital format. Our professors work on campus and are professionals and experts who are trained to deliver innovative, engaging online education.
Online Experience
Tuition Details
We feature affordable tuition, especially when compared to similar universities. The total cost of your program (assuming no transfer credits) is $51,522. The cost per credit hour for EOU online courses is $286.40.*
About 92 percent of online students benefit from financial aid and scholarships to cover part of these costs.
*Price reflects tuition for Oregon residents. Non-resident tuition is $329.60/credit hour. Speak to an enrollment counselor for more information.
View Tuition Details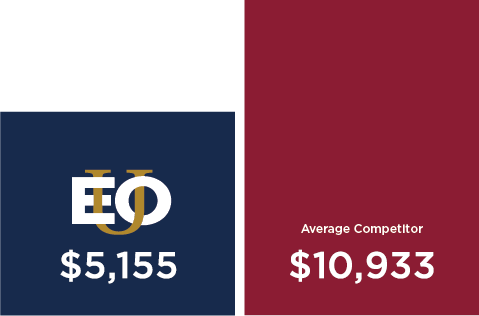 Per Term: Based on 18 credits. Costs for average competitors are estimations of state schools found on public university websites.
Program Outcomes
Explore the early childhood education field
Confidently work with young children
Support and advocate for young children
Prepare for licensure programs
Create high-quality educational materials and programs
Develop appropriate learning experiences
Career Outlook
For kindergarten and elementary school teachers, the Bureau of Labor Statistics reports a projected growth of 3 percent through 2028, with a median annual salary of $57,980.¹
Higher enrollment numbers will create a higher demand for qualified preschool and childcare center directors and administrators. The median annual salary for those positions is $47,940 with a 7 percent job growth rate through 2028. Some schools and programs require licensure, which can mean a higher salary.²
Frequently Asked Questions
Here are the answers to a few frequently asked questions about the online bachelor's in early childhood education program.
Besides teaching, your degree can prepare you for administrative positions such as an early childhood program director or early childhood program administrator, an early childhood educational coordinator or an early childhood policy maker. Besides schools, you could work in mental health facilities, businesses, private programs or churches.
If you transfer the maximum number of credits, you can complete this program in two years.
Each term is 11 weeks long.
Our Early Childhood Education program is award-winning. We have been ranked on both The Best Schools and College Choice lists of best online programs. Most recently, our program was ranked number four on the Great Value Colleges' list of Top 30 Affordable Early Childhood Education Degree Online Programs.
You'll complete 180 credits to earn the Bachelor's in Early Childhood Education. You can review courses now.
Our most recent virtual open house was held on February 10, 2021. Feel free to watch the most recent virtual open house, and stay tuned for the next live event.
Visit our FAQ page