Program Overview
Prepare for Careers in Business and Finance
Experience specialized curriculum accredited by the International Accreditation Council for Business Education (IACBE) and complete your fast-track degree in three years.
Experience specialized curriculum accredited by the International Accreditation Council for Business Education (IACBE) and complete your fast-track degree in three years.
*An additional $13.50 per credit hour will be applied to accounting, business and economics courses.
About the Online BAS in Business
The Bachelor of Applied Science online program with an emphasis in business is ideal for students who have an applied associate degree from a community college and are ready to earn a bachelor's degree with a focus on essential business topics. EOU accepts most associate-level credits, so you can apply your previous education toward your next degree.
This program is delivered in a flexible online format, making it an ideal transition if you are seeking advancement and leadership opportunities through continued education. It provides the skills employers want while giving you credit for the academic experience you already have.
Accreditation
Eastern Oregon University has been continuously accredited since 1931 by the Northwest Commission on Colleges and Universities and its predecessor agencies.
Get in Touch
We are here to answer any questions you may have. Contact an enrollment counselor at 855-805-5399 or complete the request for information form and we will be in touch.
BAS in Business Curriculum
Core Curriculum
The online BAS in Business requires a core including lower- and upper-division courses plus electives.
The lower-division core includes credit hours in conflict management, economics and social issues. The upper-division core includes courses featuring marketing, management, business ethics and organizational behavior.
Then, as a Bachelor of Applied Science online student, you will choose from an extensive list of elective hours to specialize your studies for your career goals. Options include courses in consumer behavior, entrepreneurship, sales and more.
Download Curriculum
Have Credits to Transfer?
The option to transfer credits makes your program more affordable and can help you finish your degree faster. We accept up to 135 credits for transfer from previous college coursework. All EOU majors require a minimum of 20 EOU credits.
To see how your credits will transfer, use our Transfer Equivalency tool.
"Eastern Oregon provides a great learning experience. By completing online while working full-time, I was able to accomplish a huge goal of purchasing a home at 19. I have found the degree to be very helpful as I have begun a career in public accounting."

– Brady Watkins, 2019; Meridian, Idaho; Business Administration, Accountancy
Admission Requirements
Application Fee
Official Transcripts/GED Scores
SAT/ACT Scores*
Get Started
*only needed for students transferring fewer than 30 credit hours, fewer than three years after high school graduation.
What It's Like to Study Online
Earning your degree online from Eastern Oregon University is a great opportunity because there are no on-campus requirements. You will have access to the same professors, content and opportunities as on-campus students while learning online in a creative digital format. Our professors work on campus and are experts trained to deliver innovative, engaging online education.
Online Experience
The Value of an EOU Online Degree
We offer affordable tuition, especially compared to similar universities. The total cost for the BAS in Business program without transfer credits is $47,700. The cost per credit hour for EOU online courses is $265.* An additional $13.50 per credit hour will be applied to accounting, business and economics courses.
About 92 percent of online students utilize financial aid and scholarships to cover part of these costs.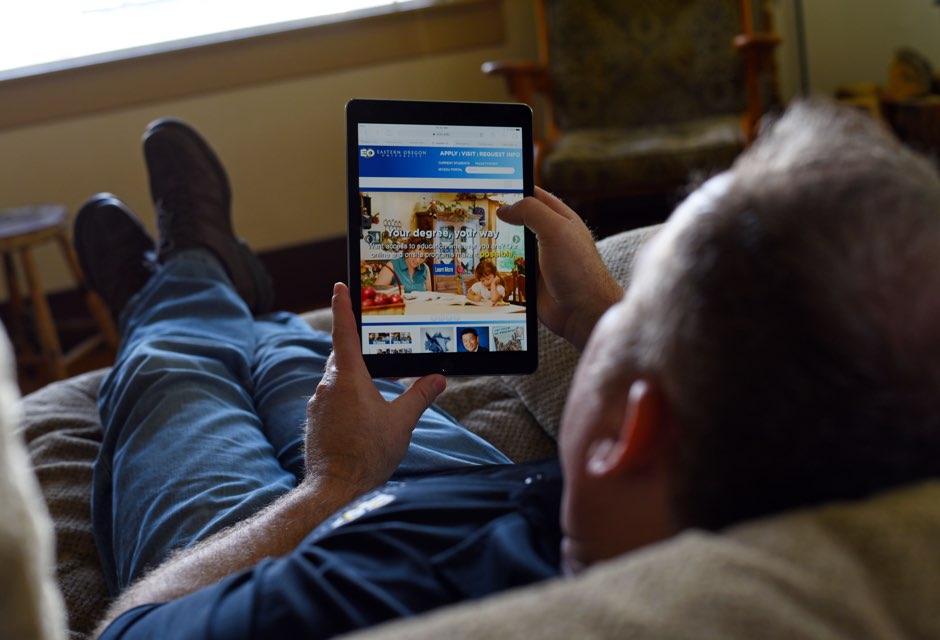 *Note: a cost differential will be applied to ACCT, BA and ECON prefix courses.
Program Outcomes
Apply your associate credits toward a bachelor's degree
Gain a strong foundation in core business topics
Study career-focused electives to hone your skills
Prepare for management and leadership roles in your chosen field
Career Outlook
Management careers are expected to grow 7 percent through 2028, faster than the average for all occupations.1 As businesses continue to grow and change, trained managers will be needed to oversee operations in organizations of all types. Some example management roles and median annual salaries include:
Construction manager: $93,370
Industrial production manager: $103,380
Property, real estate and community association manager: $58,340
Sales manager: $124,220
Frequently Asked Questions
Here are the answers to common questions about the Bachelor of Applied Science online program.
Yes, the BAS in Business program can be completed 100 percent online. There are no on-campus requirements.
If you transfer the maximum number of credits, you can complete this program in two years.
Each term is 11 weeks long.
Depending on your experience and personal goals, you can pursue a variety of professional and technical careers in business with this degree. Some options include leadership roles in sales, technology, design and management.
In a Bachelor of Arts program, you will be required to demonstrate proficiency in a foreign language. A Bachelor of Science program will not require foreign language proficiency but does require 12 additional credits in social science, natural science, computer science or mathematics. A Bachelor of Applied Science degree is a more specialized degree in a technical field; declaring a B.A.S. requires that you must have an Associate of Applied Science.
Visit our FAQ page