Connect with Our Alumni Community
Whether you're on your way to becoming an EOU alum or are already part of our 17,000-strong community, you have access to a range of resources and benefits well after graduation. Our alumni association is here to support you at every stage of your career and life through social activities, career services, and more. We're dedicated to helping alumni and friends of the university build lasting relationships and connect with their alma mater, faculty, and current students.
Advance Your Career with an Online Graduate Degree
Your path to lifelong success doesn't end with an undergraduate degree. Build on your EOU education by gaining the Eastern edge with one of our online graduate programs, designed to help you take your next professional step through advanced study in your chosen field.
Master of Science in Accounting
Begin a career-focused, hands-on accounting education to prepare for leadership roles with governmental, nonprofit and financial organizations.
Master of Public Administration
Develop comprehensive public management skills and graduate prepared to meet the demand for well-rounded public administration professionals through EOU's online M.P.A. program.
Master of Healthcare Administration
Participate in experiential learning activities and complete a flexible course of study to prepare for leadership opportunities in the healthcare field. Graduate in 18 to 36 months.
Master of Science in Clinical Mental Health Counseling
Learn from experts in this fully online program to prepare for the mental health counseling career field.
Master of Fine Arts (MFA) in Creative Writing
Eastern Oregon University's online/hybrid MFA will give you opportunities for hands-on writing, editing and publishing in collaborative workshops from the comfort of your home and the serenity of nature.
Master of Business Administration
Learn management strategies to optimize professional career advancement in this program that is accredited by the International Accreditation Council for Business Education (IACBE).
Master of Science in Education
Develop best practices for PK-12 education by implementing applied and theoretical knowledge and skills. Focus on literacy (reading), special education, curriculum leadership, dyslexia, trauma in educational communities, or ESOL (English for Speakers of Other Languages) while learning from faculty with advanced degrees in their specialties.
Master of Arts in Teaching
Develop skills for a rewarding teaching career at the elementary or secondary level with this flexible, hybrid program. Complete your master's degree in 10 months and gain valuable field experience to improve learning outcomes for your students.
Curriculum Leadership Certificate
Discover the best methods to guide curriculum developments across grade levels.
English for Speakers of Other Languages Certificate
Engage with new teaching methods to give your students the tools to learn English.
Post-Baccalaureate Accounting Certificate
If you have a non-accounting degree or need more credits to sit for the CPA exam, this certificate program will provide tax, accounting, finance and auditing courses to prepare you for an accounting career.
"EOU helps grow you into a person that you are proud to be while offering the best education. There are people with answers to any question you may have almost instantaneously, and the relationships you build with faculty and peers at EOU come with a lifetime or memories!"

– Andrew James, Class of 2023 (Bachelors of Science, Economics; Bachelor of Science, Accounting)
EOU Alumni Benefits
EOU alums have access to our alumni e-newsletters, communications about EOU events, and online issues of Mountaineer Magazine to stay updated on what's new in the Mountaineer community.
Connect with fellow alumni members by attending special events.
Choose from a variety of in-person and online resources designed to help you stand out to employers and succeed professionally. Services include resume and cover letter assistance, the Handshake network, and personalized career coaching.
The alumni association is proud to recognize members who embody EOU's mission and values through the Distinguished Alumni Award, Honorary Alumni Award, and Dixie Lund Service Award.
EOU alumni can take advantage of exclusive discounts on Dell equipment, including desktop computers, laptops, monitors, tablets, and more.
An extensive network of alumni across the country – and the world – means you have access to a constantly growing professional community that spans a diverse range of industries and fields.
Graduate Admissions
Earning an advanced degree is a great way to grow your career and meet your professional goals. Applying to an EOU graduate program is a streamlined process, and our dedicated enrollment team will work with you every step of the way to make your experience as simple as possible. Visit our admissions page for details about upcoming deadlines, credit for prior learning, and the application process.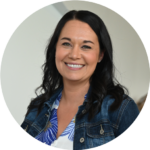 "EOU holds a very special place in my heart. It provided me with a high-quality education and diverse experiences that equipped me for a successful career at a global tech company. I was able to excel in academics, give back to the community, gain experience as a teacher's aide and tutor, and participate in extracurricular activities. The experiences I gained and lessons I learned at EOU have shaped me into the mother, wife, businesswoman, and community member I am today. No matter your background, EOU provides transformational education for students and one-of-a-kind experiences. The people of EOU make every opportunity for new experiences which stay with and shape you throughout your life journey."
Adriana DalSoglio, '06 and '08 President, EOU Alumni Association Board of Directors
What It's Like to Study Online
Earning your degree online from Eastern Oregon University is a great opportunity because there are no on-campus requirements. You will have access to the same professors, content and opportunities as on-campus students while learning online in a creative digital format. Our professors work on campus and are experts trained to deliver innovative, engaging online education.
Explore the Online Experience