Program Overview
Specialize in Applied or Experimental Psychology
Prepare for graduate school or work as a counselor or psychologist in schools, rehabilitation centers or social services with this rigorous program and its unique curriculum.
Prepare for graduate school or work as a counselor or psychologist in schools, rehabilitation centers or social services with this rigorous program and its unique curriculum.
About the Bachelor's in Psychology
EOU's psychology program is popular and known for its rigor. You will explore human behavior both through coursework and through real-life experiences, working one-on-one with faculty along the way. Depending on your specialization, you will learn clinical as well as experimental laboratory clinical methods.
You will also be able to choose between two specializations: applied or experimental psychology. With your specialization plus your individual practicum and capstone projects, you will be prepared to enter your desired career field or even graduate programs in psychology. Your career options are as diverse as the psychology course offerings.
Get in Touch
We are here to answer any questions you may have. Contact an enrollment counselor at 855-805-5399 or complete the request for information form and we will be in touch.
Available Specializations for Your Degree
A specialization in experimental psychology means that you will focus on empirical research methods and the analysis of research data. Specializing in applied psychology puts that data to work with humans.

Applied Psychology
The applied psychology specialization will prepare you to apply research to effective practice. You will train to work with human subjects to improve their state of mind, address problems and struggles or help manage an organization.
Experimental Psychology
Because the discipline of psychology is dependent on research and data, the focus of experimental psychology is designing reliable research studies, carrying them out in an ethical manner, analyzing and then reporting their results.
Core Curriculum
The online bachelor's in psychology program is rigorous and requires courses in writing, statistics and psychology. The psychology program also requires credit hours in 300-level and 400-level coursework.
Online students complete a methods course with a capstone experience tailored to their local situation. Earn your B.A. with a foreign language requirement, or your B.S. with just 12 more science credits.
If you know you want to pursue either a Bachelor of Arts or a Bachelor of Science in Psychology, it is recommended that you outline your coursework as soon as possible, preferably in the first year.
Download Curriculum
Have Credits to Transfer?
The option to transfer credits makes your program more affordable and can help you get on the job sooner. We allow up to 135 credits from previous college coursework to be transferred into EOU. All EOU majors require a minimum of 20 EOU credits.
To see how your credits will transfer, use our Transfer Equivalency tool.
"The EOU psychology program helped prepare me for my current job. It provided me with the ability to communicate effectively, manage my time, conduct independent research and the tools necessary to bridge the gap between adults and youth in the community."

– Christina Chestnut, 2013; Psychology; Business Solutions Coordinator, Thurston County Chamber of Commerce; Olympia, Washington
Admission Requirements
Application Fee
Official Transcripts/GED Scores
SAT/ACT Scores*
Get Started
*Only needed for students transferring fewer than 30 credit hours, fewer than three years after high school graduation.
What It's Like to Study Online
Earning your degree online at Eastern Oregon University is a great opportunity because there are no on-campus requirements. You will have access to the same professors, content and opportunities as on-campus students, only in a creative digital format. Our professors work on campus and are professionals and experts who are trained to deliver innovative, engaging online education.
Online Experience
The Value of an EOU Online Degree
We feature affordable tuition, especially when compared to similar universities. The total cost of your program (assuming no transfer credits) is $47,700. The cost per credit hour for EOU online courses is $265.*
About 92 percent of online students benefit from financial aid and scholarships to cover part of these costs.
*A cost differential will be applied to ACCT, BA and ECON prefix courses.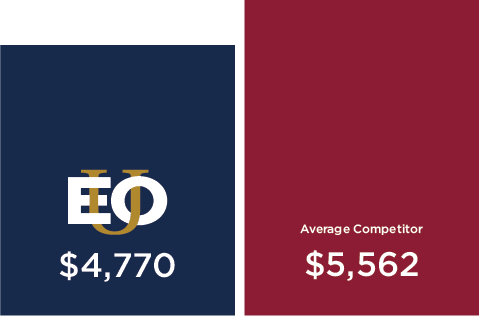 Per Term: Based on 18 credits. Costs for average competitors are estimations of state schools found on public university websites.
Program Outcomes
Read, discuss, design and carry out primary research in psychology
Prepare and present professional research
Evaluate research models and statistics
Work with the two specialties of psychology: applied and experimental
Understand each of the core branches of psychology
Career Outlook
The Bureau of Labor Statistics reports that entry-level human and social service assistants make a median annual salary of $33,750.¹ Rehabilitation counselors make a similar salary, at $35,630.² More experience correlates to a higher salary.
Psychologists with a graduate degree may earn a median annual salary of $79,010 and expect a 14 percent growth rate through 2028, faster than most occupations.³
Frequently Asked Questions
Here are the answers to a few frequently asked questions about this program.
Yes, the bachelor's in psychology can be completed 100 percent online, because there are no on-campus requirements. This includes the senior capstone and any internships.
Each term is 11 weeks long.
After securing your online bachelor's in psychology from EOU, you can work in in human and social services, schools or rehabilitation centers. This program is also great preparation for graduate study in psychology, after which you can work as a psychologist, forensic psychologist, clinical therapist, physician's assistant and more.
If you encounter a course restriction while attempting to register, it could be because of missing prerequisites, the wrong class status, missing degree declaration or other reason. In these cases, you must email the course instructor with the information at the bottom of this webpage.
Visit our FAQ page