Online Master of Public Administration (M.P.A.)
Earn an Online Master of Public Administration from EOU
Learn More Today
Complete the form to learn more about this program.
Duration

2 years

Cost per Credit

$520.80

Credit Hours

60
Program Benefits
Transfer up to 15 credit hours
Unique rural-informed curriculum with a global perspective
Flexible coursework allows you to complete your degree at your own pace
Try our new Admissions Estimator tool to better understand your chances for admission. You probably meet more requirements than you think!
Admissions Estimator
Meet the Needs and Issues of Your Community with an Online M.P.A.
EOU's M.P.A. program offers a rural-informed curriculum that stems from its roots in rural Oregon. Through a "local-to-global" perspective, our program will prepare you to connect communities the wider world. You'll get the hands-on experience you need through team collaboration and optional internships. In addition to online coursework, there are optional on-campus learning opportunities through elective courses offered in coordination with EOU's Regional Outreach and Innovation Centers in Oregon. Throughout the program, you'll have the opportunity to use Geographic Information System (GIS) software and learn through fieldwork and research projects.
Our transfer policy allows you to transfer up to 15 credits into the program. Students completing our B.S./B.A in Politics, Policy and Public Administration degree have the option to apply 15 credits of undergraduate courses to their M.P.A.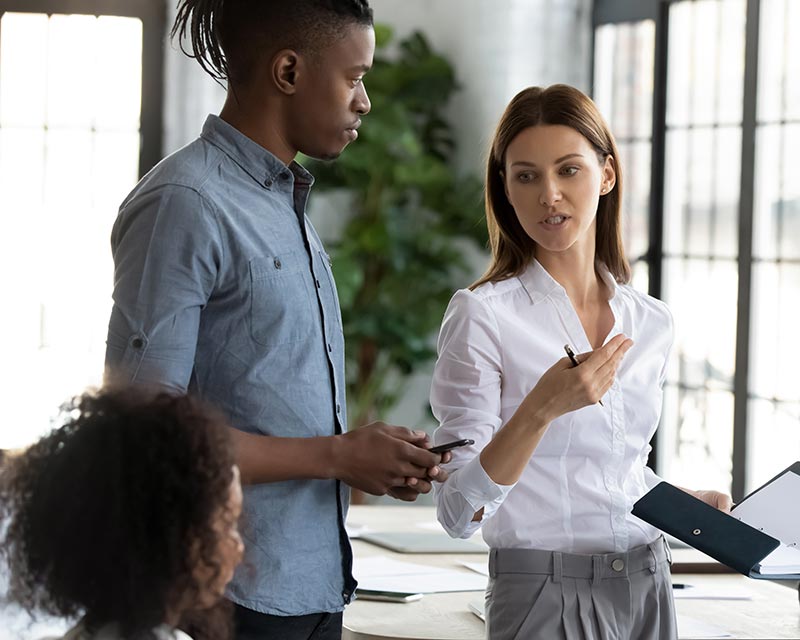 Make an Impact with a Career in Public Administration
Students who graduate with a master's in public administration degree have the opportunity to move into leadership roles in a variety of growing careers. For example, employment of urban and regional planners is expected to grow seven percent between 2020 and 2030.1 Find out what roles you'll be prepared for with an M.P.A. degree..
Explore Careers
Real-World Coursework on Your Schedule
Gain public service skills
Courses cover a broad range of public administration knowledge, including public policy studies, budgeting, personnel management, land use planning, legislative advocacy and environmental policy and administration. You'll have access to optional hands-on learning opportunities, such as fieldwork, research projects and collaborative team exercises. In addition, there are optional on-campus learning opportunities through elective courses offered in coordination with EOU's Regional Outreach and Innovation Centers in Oregon.
Some courses include:
Research Methods for Public Administrators
Political Communication
Rural Governance
Intergovernmental Relations
View Complete Curriculum
Apply to Earn Your Online Public Administration Degree
To apply for EOU's M.P.A. program, you'll need:
A completed application
Application fee
A four-year baccalaureate degree, a professional degree or an appropriate alternative degree from a regionally
A 3.0 GPA on a 4.0 scale
Three letters of recommendation
A statement of purpose
Official copies of transcripts from all institutions attended
View the Application Process
Pursue An Affordable Master's-Level Education
$31,248 total estimated tuition, not including fees
The team at EOU is dedicated to making sure your degree is affordable. Find out more about tuition and fees.
Learn More
What You'll Learn
In our online M.P.A. program, you'll gain skills to connect your community to the wider world through public service. Students will have numerous opportunities to build a broad range of public administration skills throughout the program.
Program Outcomes
You will be able to:
Lead and manage in public governance.
Participate in and contribute to the policy process in a variety of settings.
Analyze, synthesize, think critically, solve problems and make decisions.
Articulate and apply a public service perspective.
Communicate and interact productively with a diverse and changing workforce and citizenry.
What It's Like To Study Online
Earning your degree online at Eastern Oregon University is a great opportunity because there are no on-campus requirements. You will have access to the same professors, content and opportunities as on-campus students, only in a creative digital format. Our professors work on campus and are experts who are trained to deliver innovative, engaging online education.
Explore the Online Experience
Frequently Asked Questions
Explore answers to common questions about the Master of Public Administration online program. For information not covered here, you can visit our FAQ page.
Currently the M.P.A. program does not offer scholarships. Please consider the following options regarding finances:
Complete the FAFSA® to determine financial aid eligibility. EOU's FAFSA® code is 003193.
Apply for a Sallie Mae loan.
The program is only available online. This allows you to study in the times and locations that are best for you throughout your entire program without a requirement of ever coming to campus. There are optional on-campus learning opportunities through elective courses offered in coordination with EOU's Regional Outreach and Innovation Centers in Oregon.
Our graduates pursue careers as policy analysts, community development managers and more at local, state and federal levels. Explore careers.
Visit our FAQ page