B.S./B.A. in Health & Human Performance – Exercise Science
Take a Scientific Approach to Wellness
Certification Preparation
Duration

4 years

Cost per Credit

$286.40

Credit Hours

180
Program Benefits
Career-Ready Skills for Exercise Science Positions
Unique Core and Elective Course Topics
Hands-On Internship and Capstone Experience Opportunities
Convenient Online Format
*Price reflects tuition for Oregon residents. Non-resident tuition is $329.60/credit hour. Speak to an enrollment counselor for more information.
Try our new Admissions Estimator tool to better understand your chances for admission. You probably meet more requirements than you think!
Admissions Estimator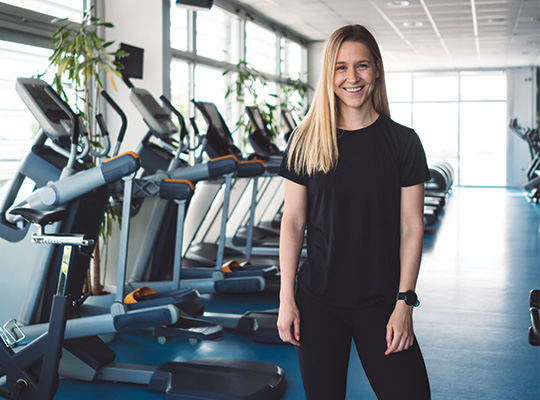 Gain the Credential for Certification
Prepare for careers that improve the health of individuals and communities with the online exercise science concentration. When you graduate, you'll have the expertise to pursue a variety of health careers, plus the academic credential to become eligible for certifications in strength and conditioning, personal training and inclusive fitness training. You may also choose to pursue a master's degree to advance your career even further after graduation.
Developed with your full-time responsibilities in mind, the exercise science concentration can be completed entirely online in EOU's virtual classroom. As an online student, you'll receive personalized attention from expert educators and benefit from flexible schedule options that allow you to study on your time.
Career Outlook: Opportunities to Make Positive Change
With the online exercise science concentration, you'll prepare to promote healthy lifestyles for individuals and improve the overall health of entire communities. When you graduate, you'll have the credential to pursue diverse careers, including the position of fitness trainer. According to the Bureau of Labor Statistics, the professional field of fitness training is expanding at a rate of 15 percent, which is causing a growing need for certified fitness trainers.1The community health concentration will prepare you to make a difference in local and global health trends. When you graduate, you'll be qualified for a variety of in-demand careers, including the role of health educator. According to the Bureau of Labor Statistics, the professional field of community health is growing rapidly at a rate of 13 percent. At this pace, more than 17,000 new positions for health educators alone will be available by 2029.1
Fitness Trainer
$40,510/YEAR
Fitness trainers help individuals meet their personal fitness goals through exercise. These professionals may work in sessions with individuals, or with groups in fitness class settings.1
Strength and Conditioning Coach
$40,960/YEAR
Strength and conditioning coaches work with athletes to improve their overall performance. They develop personalized training routines designed to target specific muscle groups, and help individuals practice each routine safely.2
Other titles for graduates of the online exercise science concentration:
Health educator
Physical therapist
Occupational therapist
Curriculum: Health Expertise for the Future
The online exercise science concentration utilizes a curriculum founded on the science of wellness to prepare you for careers that promote healthy lifestyles. The courses required for this concentration cover topics including nutrition and sport performance, prevention of athletic injury, motor learning and more.
Course Spotlight: CH 325 Nutrition and Sport Performance
Study of macro- and micronutrient dietary requirements for healthy living. Topics include diet design, nutrient digestion, absorption and metabolism, energetics and weight control. Emphasis on sport performance for all topic areas. Five-day computer dietary analysis and planning are included.
Course Spotlight: EXS 311 Sport Psychology
Study of psychological factors affecting sport performance and exercise participation. Specific attention will be given to techniques for effectively coaching athletes and teaching physical education classes. Topics include motivation, arousal, psychological skill training, goal setting and group dynamics.
Available Health & Human Performance Concentrations
Health & human performance is a fast-growing career field. Choose from four concentrations to tailor your degree to your career goals.
B.S./B.A. in Health & Human Performance: Nature and Outdoor Recreation Programming
Integrate the study of outdoor recreation with holistic health and then complete a two-week summer field studies program in the largest wilderness area of Oregon.
B.S./B.A. in Health & Human Performance: Community Health
Learn to address a range of health and wellness concerns throughout diverse communities, and provide education on disease prevention, injuries, illness and more.
B.S./B.A. in Health & Human Performance: Physical Education and Sport
Build a strong foundation for your education career with a curriculum that takes a scientific approach to physiology, motor development, movement analysis and more.
Frequently Asked Questions
If you have a question we don't cover here, request more information or call 877-791-7181.
Yes, we will help you find and complete an internship that is local to you. Your capstone experience will work the same way.
The bachelor's in health & human performance will open doors to many careers. With the degree, you can work in public health education, strength and conditioning coaching, personal training or corporate wellness. If you choose to pursue other certifications and/or graduate education, you could work as a nurse, dentist, chiropractor, physical therapist, occupational therapist, dietician or K–12 educator.
Our diverse faculty have many areas of expertise and are made up of a mix of full-time and part-time professors.
The online program is designed for professionals who work full-time and is offered part-time with two classes every 11 weeks. This allows you to achieve a realistic balance between work, school and personal responsibilities and gives you the opportunity to fully absorb the information in your coursework. To see the curriculum, view our courses page.
Visit our FAQ page