B.S./B.A. in Interdisciplinary Studies
Personalize Your Degree Path
Reach your customized career goals with this degree. It is one of the largest at Eastern Oregon University because it features flexibility and versatility to make your dream career possible. Create a customized degree program or combine two minors to earn your degree.
Learn More Today
Complete the form to learn more about this program.
Duration

4 years

Cost per Credit

$265

Credit Hours

180
Program Benefits
3 Customizable Degree Paths
One-on-One Faculty Advisement
Generous Transfer Credit Opportunities
Flexible Online Learning Platform
About the Bachelor's in Interdisciplinary Studies
As the second-largest major at EOU, our Interdisciplinary Studies program is designed to give you the ultimate personalized degree. College Choice has ranked Eastern Oregon University among the Top 25 Best Online Liberal Arts Colleges in 2018 for the online bachelor's in interdisciplinary studies program. True to its name, our program integrates two fields of study with diverse learning experiences in and outside of the classroom. You will work one-on-one with an advisor to develop the path that is right for you.
In the Bachelor of Interdisciplinary Studies program, you will practice several techniques transferable to any career and applicable to tackle a multitude of academic projects: developing research questions, utilizing multidisciplinary research approaches, considering varied audiences, communicating results and composing with multiple types of media.
Customizable Paths for Your Degree
To complete your degree, choose between three path options that maximize transfer credits and help you reach individualized goals.
Interdisciplinary Studies Curriculum
Core Curriculum
The online bachelor's in interdisciplinary studies requires a core of required credit hours. First, you will receive an introduction to interdisciplinary studies. You will also need to take a discipline-specific methods course or an additional library course to help you develop research skills.
Depending on which path you have chosen toward degree completion, enrollment counselors and advisors will ensure that you complete your degree requirements.
Last, all interdisciplinary studies majors complete a capstone course. In the capstone, you develop a portfolio of materials detailing your research for multiple audiences. Earn your B.A. with a foreign language requirement, or your B.S. with just 12 more science credits.
View Courses
Have Credits to Transfer?
The option to transfer credits makes your program more affordable and can help you get on the job sooner. We allow up to 135 credits from previous college coursework to be transferred into EOU. If you already have a minor from another school, that minor could be recognized as one half of your EOU interdisciplinary studies degree. All EOU majors require a minimum of 20 EOU credits.
To see how your credits will transfer, use our Transfer Equivalency tool.
"The interdisciplinary studies degree really helped me to find the perfect combination of minors that incorporate my passions and strongly prepare me for going into a mental health counseling master's degree program…"

– Jillian Gerschefske; Interdisciplinary Studies; Medford, Oregon
Admission Requirements
Application Fee
Official Transcripts/GED Scores
SAT/ACT Scores*
Get Started
*Only needed for students transferring fewer than 30 credit hours, fewer than three years after high school graduation.
What It's Like to Study Online
Earning your degree online at Eastern Oregon University is a great opportunity because there are no on-campus requirements. You will have access to the same professors, content and opportunities as on-campus students, only in a creative digital format. Our professors work on our campus and are professionals and experts who are trained to deliver innovative, engaging online education.
Online Experience
Tuition Details
We feature affordable tuition, especially when compared to similar universities. The total cost of your program (assuming no transfer credits) is $47,700. The cost per credit hour for EOU online courses is $265.*
About 92 percent of online students benefit from financial aid and scholarships to cover part of these costs.
*A cost differential will be applied to ACCT, BA and ECON prefix courses.
View Tuition Details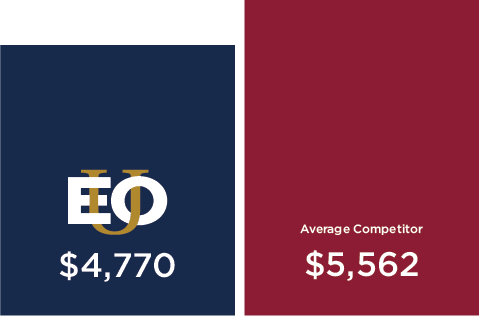 Per Term: Based on 18 credits. Costs for average competitors are estimations of state schools found on public university websites.
Program Outcomes
Inspire intellectual curiosity and intentional purpose
Explore multidisciplinary connections cogently
Establish co-curricular and applied connections
Cultivate intercultural knowledge
Encourage purposeful civic engagement
Examine ethical responsibilities
Engage in active and critical self-reflection
Career Outlook
Because interdisciplinary studies is such an individualized program, your career possibilities are endless. EOU alumni from interdisciplinary studies are currently working in education, medicine, social work, finance, marketing and more.
Your transferable skills in critical thinking, research, media, analysis and interpretation will be an asset in any career path you choose. You will bring global knowledge and ethical perspectives to your future work.
Frequently Asked Questions
Here are the answers to a few frequently asked questions about this program.
There are only a few restrictions. The two minors chosen must be from separate fields. For example, two minors from Health and Human Performance may not be used to form an interdisciplinary studies major. The minor may also not be selected from the associate's programs or certificate programs.
The interdisciplinary studies degree program is very popular at EOU, and is right for students who want to develop a variety of transferable skills in a personalized subject area. You can mix and match minors to tailor your degree program to a career or graduate program. You could also focus on advancement in your current career.
Yes, students will choose between three paths for this program. You can learn more about coursework for the program here.
Currently the Bachelor's of Interdisciplinary Studies does not offer scholarships. Please consider the following options regarding finances:
Complete the FAFSA® to determine financial aid eligibility. EOU's FAFSA® code is 003193.
Apply for a Sallie Mae loan.
This program is offered both online and on campus. However, due to the lockstep nature of the program it is highly recommended that students select their desired modality and stick with it through the duration of their enrollment. If a change is necessary, they can work with an advisor. The program is not considered blended or hybrid because there is no residency requirement for coursework.
Our most recent virtual open house was held on February 10, 2021. Feel free to watch the most recent virtual open house, and stay tuned for the next live event.
Visit our FAQ page