B.S./B.A. in Fire Services Administration
Nationally Recognized FSA Program
Learn from fire chiefs and other industry professionals in this business-focused, award-winning program.
Learn More Today
Complete the form to learn more about this program.
Duration

4 years

Cost per Credit

$265

Credit Hours

180
Program Benefits
FESHE Model Curriculum
National Fire Academy Featured Provider
Field-Experienced, Expert Faculty
Gain Valuable Management Skills for Career Advancement
About the Fire Services Administration Online Degree
A firefighting career is one of the most respected occupations, and fire services administrators and fire chiefs are responsible for managing the firefighters who save countless lives every year. The EOU online fire science degree will prepare you for an administrative role through coursework taught by current and former fire chiefs.
Our program has been ranked as one of the best online programs by Best Degree Programs, and achieved the top 10 of 2019 Most Affordable Online Fire Science Degrees by OnlineU. Combined with our accreditations and certifications, you will be prepared for an administrative career in the fire industry.
Professional Associations
The bachelor's in fire services administration at EOU has many professional associations.
Meets model curriculum from U.S. Fire Administration's nationally-recognized Fire and Emergency Services Higher Education (FESHE)
Oregon Department of Public Safety Standards and Training
Meets standards established by the National Fire Protection Association NFPA 1021: Standard for Fire Officer Professional Qualifications
National Fire Academy featured provider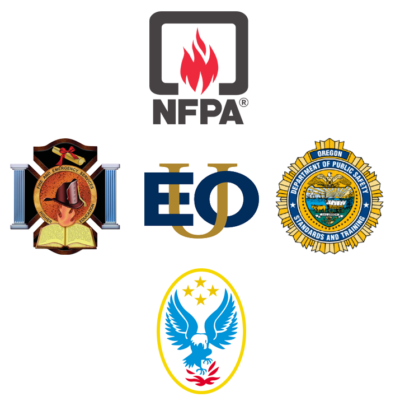 Fire Services Administration Curriculum
Core Curriculum
We require a core of lower- and upper-division courses. Lower-division courses include principles of emergency services, and a series of courses about fire behavior, strategy and prevention.
Upper-division courses include more information on administration, analysis, and management. You will also learn about disaster planning and control. Electives can include business, psychology, economics, writing and more. Earn your B.A. with a foreign language requirement, or your B.S. with just 12 more science credits.
All core lower-division FSA classes are offered online once per year. All core upper-division FSA classes are offered online at least twice per year. FSA electives are generally offered once per year.

View Courses
Have Credits to Transfer?
The option to transfer credits makes your program more affordable and can help you get on the job sooner. We allow up to 135 credits from previous college coursework to be transferred into EOU. All EOU majors require a minimum of 20 EOU credits.
To see how your credits will transfer, use our Transfer Equivalency tool.
"I found the Fire Services Administration program at EOU to be very important in my development as a chief officer, and the classes to be truly relevant and rewarding."

– Scott Stanton, 2014; Chief, Hermiston Fire & Emergency Services; Hermiston, Oregon
Admission Requirements
Application Fee
Official Transcripts/GED Scores
SAT/ACT Scores*
Get Started
*Only needed for students transferring fewer than 30 credit hours, fewer than three years after high school graduation.
What It's Like to Study Online
Earning your degree online at Eastern Oregon University is a great opportunity because there are no on-campus requirements. You will have access to the same professors, content and opportunities as on-campus students, only in a creative digital format. Our professors work on campus and are professionals and experts who are trained to deliver innovative, engaging online education.
Online Experience
Tuition Details
We feature affordable tuition, especially when compared to similar universities. The total cost of your program (assuming no transfer credits) is $47,700. The cost per credit hour for EOU online courses is $265.*
About 92 percent of online students benefit from financial aid and scholarships to cover part of these costs.
*A cost differential will be applied to ACCT, BA and ECON prefix courses.
View Tuition Details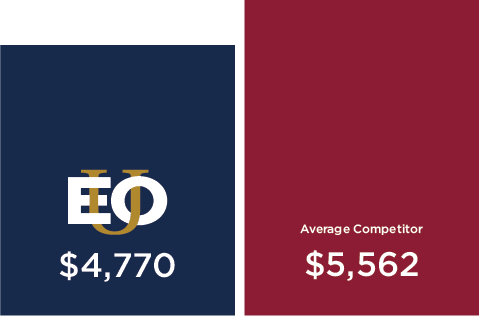 Per Term: Based on 18 credits. Costs for average competitors are estimations of state schools found on public university websites.
Program Outcomes
Develop management skills
Learn from current and former chief officers
Apply administrative techniques
Manage personnel
Create a capital budget
Understand state and local government relationships
Provide opportunities for career advancement
Know how to handle structure fires, wildfires and aviation fires
Practice fire investigation
Career Outlook
According to PayScale, the average salary for fire chiefs is $76,814. New fire chiefs earn an average annual salary of $67,138. After about 10 years of experience, fire chiefs can earn up to $82,000 per year.¹ Salary is dependent on education, experience and certifications.
The Bureau of Labor Statistics reports that firefighters make a median annual salary of $49,620, and that jobs for firefighters will increase 5 percent by 2028.² Building advancements in the past few decades have decreased the number of structure fires, but firefighters also respond to wildfires, aviation fires, vehicle crashes and medical emergencies.
Frequently Asked Questions
Here are the answers to a few frequently asked questions about this program.
Yes, you can complete this program entirely online because there are no on-campus requirements. However, be aware that upper-division courses in the FSA program are occasionally offered as on-site weekend hybrid courses in Eastern Oregon, Southern Oregon and the Portland, Oregon region.
Our FSA courses are those required by the Oregon Department of Public Safety Standards and Training for Firefighter III & IV certification. Our curriculum also addresses the requisite knowledge and skills found in the current NFPA 1021, Standard for Fire Officer Professional Qualifications.

EOU's online degree in FSA is perfect for fire officers who want to advance in rank, particularly senior fire officers. Most students in our program are transfer students.

The online program is designed for maximum flexibility and may be taken full-time if you feel you have the time to do so successfully. Full-time means you'll take 3-4 classes every 11 weeks.
To see the curriculum, view our courses page.
The program has four start dates throughout the year in the summer, fall, winter and spring.
Our most recent virtual open house was held on February 10, 2021. Feel free to watch the most recent virtual open house, and stay tuned for the next live event.
Visit our FAQ page