Post-Baccalaureate Accounting Certificate
A Fast-Tracked Pathway to Your CPA Exam With an Accredited Accounting Certificate
PhD-degreed Expert Faculty
Learn More Today
Complete the form to learn more about this program.
Duration

Under 18 months

Cost per Credit

$286.40

Credit Hours

48
Program Benefits
Comprehensive accounting course topics
Small classes; one-on-one interaction with expert faculty
Transfer 36 credits – now accepting applications
Expert career services to aid your job search
Try our new Admissions Estimator tool to better understand your chances for admission. You probably meet more requirements than you think!
Admissions Estimator
Become an Expert in the Accounting Field
Your post-baccalaureate accounting certificate from EOU completes the requirements to become an accountant. Get tax, accounting, auditing and finance knowledge and accumulate the credits needed to sit for the CPA exam.
Hone your critical thinking and problem solving skills to become an expert in the field, prepared for numerous available positions.
There is exceptional value in this short, affordable program. Tuition is $265 per credit hour and PhD-degreed experts instruct your learning.
In just one year, you'll be ready to enter roles in the accounting field with an impressive resume standout – an IACBE-accredited accounting certificate.
Accreditation
EOU's business programs are accredited by the International Accreditation Council for Business Education (IACBE). This affiliation represents EOU's commitment to a quality business education and consistent, continuing evaluation; you can be sure that your certificate program will effectively prepare you for today's business careers.

Accounting Certificate Curriculum
The online Post-Baccalaureate Accounting Certificate requires 13 courses totaling 48 credit hours. Four of those courses are in intermediate/advanced accounting; you will also study not-for-profit accounting, cost accounting and forensic accounting.
In addition to your accounting coursework, you will take courses in business finance, income tax, corporate tax, auditing and managerial finance. After the certificate program, you will be prepared for the CPA exam with both credit hours and content knowledge.
View Courses
Prerequisites
Have earned a baccalaureate degree from an accredited institution.
Be formally admitted to EOU as a post-baccalaureate undergraduate student (complete the undergraduate application).
Complete prerequisite courses that are not part of the certificate. These include financial accounting, managerial accounting, business communications, information management, macroeconomics, statistics and college algebra.
Career Outlook
According to the Bureau of Labor Statistics (BLS), accountants and auditors make a median annual salary of $73,560.1 With the online Post-Baccalaureate Accounting Certificate, you'll earn the credential required to pursue this career, along with other rewarding positions in the field.
Discover the diverse professional opportunities that await you as a graduate, and embark on the pathway to career success with EOU Online.
Explore Careers
Program Outcomes
Prepare for the CPA exam
Satisfy increased demand for qualified accountants, especially from California
Gain advanced accounting knowledge
Admission Requirements
Online Application and fee
Resume and Cover Letter
Official transcripts
Letters of recommendation
Personal essay
Get Started
What It's Like to Study Online
Earning your degree online at Eastern Oregon University is a great opportunity because there are no on-campus requirements. You will have access to the same professors, content and opportunities as on-campus students, only in a creative digital format. Our professors work on campus and are professionals and experts who are trained to deliver innovative, engaging online education.
Online Experience
Tuition Details
We feature affordable tuition, especially when compared to similar universities. The total cost of your program (assuming no transfer credits) is $13,747.20. The cost per credit hour for EOU online courses is $286.40. An additional $14.50 per credit hour will be applied to accounting, business, economics and marketing courses.
About 92 percent of online students benefit from financial aid and scholarships to cover part of these costs.
View Tuition Details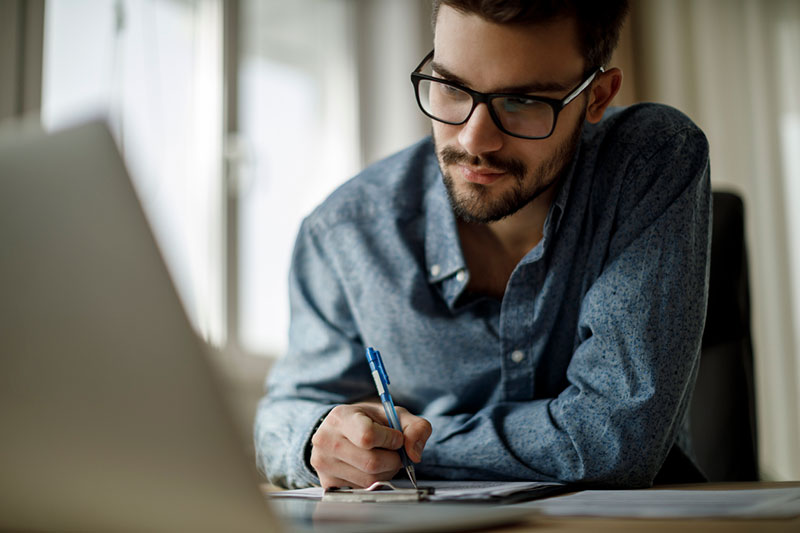 Frequently Asked Questions
Here are the answers to a few frequently asked questions about this program.
You will need 225 credit hours to sit for the CPA exam in Oregon.
For credit, you must earn a C- or better for all certificate coursework, or a minimum 2.00 GPA.
You are still eligible for the Post-Baccalaureate Accounting Certificate; speak with your enrollment counselor or academic advisor for more information.
The online program is designed for professionals who work full-time and is offered part-time with two classes every 11 weeks. This allows you to achieve a realistic balance between work, school and personal responsibilities and gives you the opportunity to fully absorb the information in your coursework. To see the curriculum, view our courses page.
Our most recent virtual open house was held on February 10, 2021. Feel free to watch the most recent virtual open house, and stay tuned for the next live event.
Visit our FAQ page