B.S./B.A. in Health & Human Performance
One of the Most Economical and Tailored Exercise Science Degrees Online
B.A. or B.S. Degree Pathways
Learn More Today
Complete the form to learn more about this program.
Duration

4 years

Cost per Credit

$286.40

Credit Hours

180
Program Benefits
Master skills and techniques for health promotion
EOU professors share diverse experiences and knowledge
Multiple transfer pathway options
Expert career advice to help you with your job search
*Price reflects tuition for Oregon residents. Non-resident tuition is $329.60/credit hour. Speak to an enrollment counselor for more information.
Try our new Admissions Estimator tool to better understand your chances for admission. You probably meet more requirements than you think!
Admissions Estimator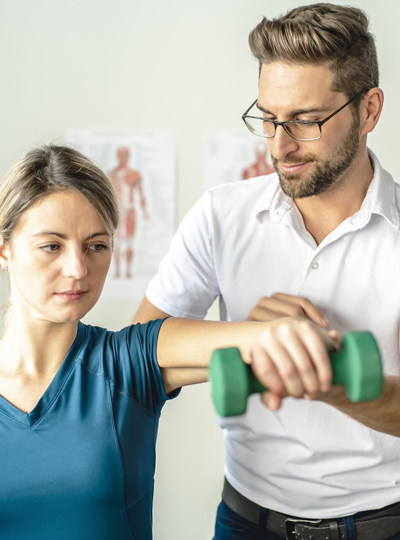 Customize Your Health and Wellness Degree Online
EOU's scientific Health and Human Performance degree offers you options to build on what you know to pursue your career path. Choose physical education and sport, community health, or exercise science concentrations to delve into online coursework plus hands-on internships and capstone experiences designed to tailor your experience.
You'll study the human body, movement, health and psychology and add electives to round out your education. Our faculty members find local placement for your internships and tap into our community partnerships to leverage connections.
Enter roles such as health education specialist, personal trainer or corporate wellness provider in a fast-growing field to do what you do best – help diverse populations improve their health.
Health & Human Performance Curriculum
Core Curriculum
The online bachelor's in health & human performance requires a core of courses including lower- and upper-division courses. Earn your B.A. with a foreign language requirement, or your B.S. with just 12 more science credits.
The program core includes credit hours in the basics of anatomy and physiology, physical activity, exercise and behavior training.
You will also complete credit hours in your concentration. In physical education and sport, you will learn how to teach various sports as well as the psychology and physiology of them.
In exercise science, you will learn applied anatomy and physiology along with sports and nutrition. Community health courses involve cultural competence, adolescent development, aging and substance abuse.
View Courses
Have Credits to Transfer?
The option to transfer credits makes your program more affordable and can help you get on the job sooner. We allow up to 135 credits from previous college coursework to be transferred into EOU. All EOU majors require a minimum of 20 EOU credits.
To see how your credits will transfer, use our Transfer Equivalency tool.
Available Concentrations for Your Degree
Health & human performance is a fast-growing career field. Choose from four concentrations to tailor your degree to your career goals.
B.S./B.A. in Health & Human Performance: Nature and Outdoor Recreation Programming
Integrate the study of outdoor recreation with holistic health and then complete a two-week summer field studies program in the largest wilderness area of Oregon.
B.S./B.A. in Health & Human Performance: Community Health
Learn to address a range of health and wellness concerns throughout diverse communities, and provide education on disease prevention, injuries, illness and more.
B.S./B.A. in Health & Human Performance: Exercise Science
Develop essential wellness skills and become eligible for career advancement through certifications in strength and conditioning, personal training and inclusive fitness training.
B.S./B.A. in Health & Human Performance: Physical Education and Sport
Build a strong foundation for your education career with a curriculum that takes a scientific approach to physiology, motor development, movement analysis and more.
Career Outlook
With the online Health and Human Performance degree from Eastern Oregon University, you'll prepare for a variety of careers in the fields of fitness training and health education. According to the Bureau of Labor Statistics, professionals in these fields are in high demand as more than 57,000 new positions for fitness trainers alone are expected to be created by 2029.1 The Bureau also reports a growing need for health educators, with more than 17,000 new positions expected by 2029.2
Discover the professional opportunities that await you as a graduate of the Health and Human Performance degree, and embark on the pathway to career success with EOU Online.
Explore Careers
Program Outcomes
Experience the health, clinical, performance and education aspects of physical activity
Familiarize yourself with scientific and community based approaches
Receive practical instruction that applies health theory
Prepare for master's programs, if desired
Complete project-based learning in your community
"I love the flexibility of online schooling through EOU. I can fit in all that I need to get done throughout my day and I can do schoolwork at a time that is convenient for me… I especially appreciate how helpful the staff are… Thus far, I have had a great online experience at EOU and I highly recommend it to anyone who is considering continued education."

– Amanda Machuca-Martinez; former EOU student; Fruitland, Idaho
Tuition Details
We feature affordable tuition, especially when compared to similar universities. The total cost of your program (assuming no transfer credits) is $51,522. The cost per credit hour for EOU online courses is $286.40.*
About 92 percent of online students benefit from financial aid and scholarships to cover part of these costs.
*Price reflects tuition for Oregon residents. Non-resident tuition is $329.60/credit hour. Speak to an enrollment counselor for more information.
View Tuition Details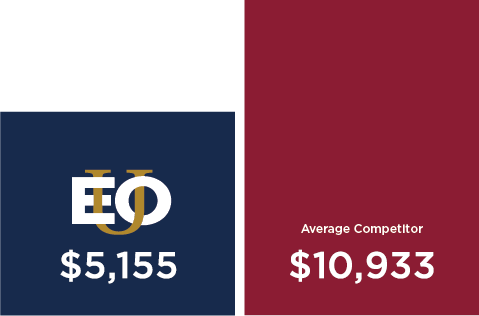 Per Term: Based on 18 credits. Costs for average competitors are estimations of state schools found on public university websites.
Admission Requirements
Application Fee
Official Transcripts/GED Scores
SAT/ACT Scores*
Get Started
*Only needed for students transferring fewer than 30 credit hours, fewer than three years after high school graduation.
What It's Like to Study Online
Earning your degree online at Eastern Oregon University is a great opportunity because there are no on-campus requirements. You will have access to the same professors, content and opportunities as on-campus students, only in a creative digital format. Our professors work on campus and are professionals and experts who are trained to deliver innovative, engaging online education.
Online Experience
Frequently Asked Questions
Here are the answers to a few frequently asked questions about this program.
Yes, we will help you find and complete an internship that is local to you. Your capstone experience will work the same way.
The bachelor's in health & human performance will open doors to many careers. With the degree, you can work in public health education, strength and conditioning coaching, personal training or corporate wellness. If you choose to pursue other certifications and/or graduate education, you could work as a nurse, dentist, chiropractor, physical therapist, occupational therapist, dietician or K–12 educator.
The faculty in health & human performance are highly qualified and committed to your success. Currently, each faculty member is tenure-track. You will work one-on-one with a faculty member throughout your degree program.
Our diverse faculty have many areas of expertise and are made up of a mix of full-time and part-time professors.
Our most recent virtual open house was held on February 10, 2021. Feel free to watch the most recent virtual open house, and stay tuned for the next live event.
Visit our FAQ page