The Value of an EOU Online Degree
Tuition for EOU online is one of the lowest in the state, at $278* per credit hour (a cost differential will be applied to ACCT, BA, ECON and MKT prefix courses). Based on 18 credit hours, EOU online tuition costs $5,004 per term, with online programs from other state schools costing more than $7,740 per term.
The total cost for an undergraduate, graduate or certificate program will vary. Visit online program pages for more information.
*Price reflects tuition for Oregon residents. Non-resident tuition is $320/credit hour. Speak to an enrollment counselor for more information.
Online Degrees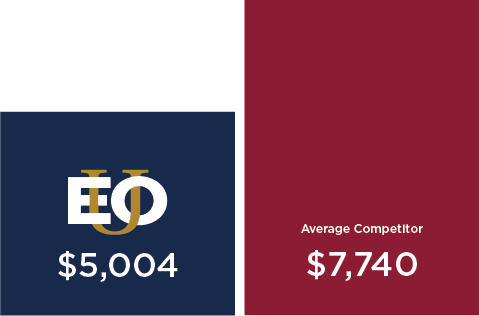 Average Competitor info based on a sampling of similar undergraduate regionally accredited universities.
Transfer Pathways and Community Partnerships
Save even more on your education by bringing previously earned credits to EOU online. Get a free transfer credit review and transfer up to 135 credits. You can also qualify for transfer scholarships valued up to $3,500.
We offer Fast Track Transfer Pathways with 26 states, plus Transfer Equivalency agreements with community partners. If you have extensive work experience or on-the-job training, you could get credit through Agency Sponsored Learning (ASL). You could also work with faculty in your program to pursue Assessment of Prior Experiential Learning (APEL), which could mean course credit plus reduced tuition costs.
"As a full-time working professional, taking classes online was the best option for my busy schedule. EOU's remarkable staff made my transition seamless and the instructors challenged me to succeed. Even though the tuition is already very affordable, there were many scholarship opportunities that helped me finance my education. I had such a positive experience that I decided to continue my education with EOU's MBA program this fall."

– Lacey Towers, 2016; Student Programs and Social Media Coordinator, Treasure Valley Community College; Ontario, Oregon
Ways to Save with EOU Online
EOU remains an affordable option for you through financial aid, scholarships and benefits for U.S. military service members and veterans.
The federal government awards financial aid for college through the FAFSA, which we recommend that you complete. This determines the amount of federal financial aid for which you are eligible.
Complete your FAFSA as soon as possible, beginning Oct. 1 of each year, so that you have plenty of time to accept your awards and determine your costs.
When prompted on the application, use EOU's federal school code: 003193.
EOU is a Military FriendlyⓇ School and has numerous benefits for traditional and online students, in addition to federally-sponsored aid for military students and families.
For those taking 100 percent of their undergraduate coursework online and who have served in the National Guard or Reserves on active duty since Sept. 11, 2001, we offer the Active Duty Scholarship to cover all remaining tuition after other benefits are applied.
U.S. military veterans can also apply for the Veterans United Foundation Scholarship to help with costs not covered by the GI BillⓇ.
U.S. military spouses, families and children can also receive financial assistance with EOU's programs.
Military Scholarships
EOU offers numerous scholarships to incoming freshmen, continuing students and U.S. military service members and veterans:
Transfer and returning students could be awarded up to $2,000 plus an additional $500 with a completed associate's degree.
Phi Theta Kappa Honor Society members can receive a PTK scholarship valued at $1,000. Eligible students can combine this scholarship with the $2,000 transfer student success award and the $500 award for previously earning an associate degree.
Incoming freshmen with a minimum 2.75 GPA are automatically eligible for the University Achievement Award, awarding $500 for the first year, with an annual increase over four years.
The University Scholar Award is automatically available for first-time freshmen with a minimum high school GPA of 3.0. Students may be eligible for up to $3,000, which is renewable for up to four years.
University Scholar Athlete Awards are available for first-time freshman student athletes, with a minimum high school GPA of 3.0. Students must apply to be eligible for awards up to $3,000.
Two Math Educator Scholars Awards (MESA) are available.
Various diversity achievement awards.
Assorted department and program-specific scholarships.
Scholarship Opportunities
Online Education Benefits You and Your Employer
Gain Transferable Skills
Online coursework prepares you for today's busy and interconnected workplace.
You will develop the critical reading, writing and interpersonal communication skills that lead to success.
Earn Advanced Degrees
By studying online, you can earn an advanced degree while still working. Increase your earning potential and take advantage of opportunities for advancement.
Work on Your Own Schedule
Pursuing an online education is perfect for students with families, working professionals, U.S. military service members and veterans or those who cannot travel to campus to attend classes in-person. With numerous online programs, your career is possible with EOU online.
Develop a Cultural Perspective
EOU's liberal arts curriculum will help you think through tasks with multidisciplinary perspectives centered on culture, community and the human experience. Employers value conscientious employees and lifelong learners cultivated by the liberal arts.
Tuition Calculator
Are you looking to estimate your total out-of-pocket cost, including tuition, fees, and financial aid? Our tuition calculator can help.*
At EOU, we're committed to offering affordable, accessible, and high-quality online degree programs. We also believe in transparency, avoiding hidden costs and fees whenever possible.
To get started, select your desired program. Stuck on something? Click on the information icons for additional context.
* The Tuition Calculator is based on programmatic information and student-generated inputs. All financial calculations should be taken as potential estimations and not actuals. Tuition estimates below reflect cost per credit for Oregon residents. Tuition cost per credit and fees are subject to change based on student's state of residence. To get a more accurate sense of total tuition, please consult with an enrollment team member.