B.S./B.A. in Business Administration
Prepare for Today's Global Business Workforce
Choose from three concentrations in this IACBE accredited program: Global Food Systems and Agribusiness, Marketing and Leadership, Organization and Management.
Learn More Today
Complete the form to learn more about this program.
Duration

4 years

Cost per Credit

$265

Credit Hours

180
Program Benefits
3 Specialized Concentrations
IACBE Accredited
Diverse Business Course Topics
Gain Leadership and Management Skills
Business Administration Overview
A business degree is one of the most versatile opportunities in terms of career paths, and our online program takes advantage of that diversity with its curriculum and concentrations. Whether you want to own your own business, choose a specialized career path or investigate graduate programs such as the MBA, you will be prepared with the bachelor's in business administration from EOU.
Management, marketing and accounting are just a few of the tracks you can take with this degree. You might also work in brand management or human resources. Agribusiness, the commercial aspects of food production, is an industry growing wider and more influential by the day. No matter what path you select, EOU's online business degree provides practical, theoretical and ethical perspectives to contribute to your success.
Accreditation
The College of Business at Eastern Oregon University has received specialized accreditation for its business programs through the International Accreditation Council for Business Education (IACBE) located at 11374 Strang Line Road in Lenexa, Kansas, USA. For a listing of accredited programs, read the PDF at the link here.

Available Concentrations for Your Degree
Requirements for the Bachelor's in Business Administration at EOU include a lower-division core plus an upper-division core. Beyond those, you can choose one of three optional specialized tracks.
Global Food Systems and Agribusiness
As the global food system experiences massive changes in population, demographics and food preferences, you will be ready to maximize profit, increase efficiency and incorporate advancements such as biotechnology. Agribusiness, with its myriad of opportunities, is a fast-growing concentration with more employment than many other career fields.
Leadership, Organization, and Management
Prepare for entry-level positions as supervisor, work in nonprofits or run your own business. Gain skills in hiring, employee management, human resources, program development, policy enforcement, production of goods and delivery of goods and services.
Marketing
Enter a career in marketing or public relations with this concentration, providing a foundation of business principles and research. You could become a crucial component of businesses who relates to the general public via problem-solving, outreach and brand management.
Business Administration Curriculum
Core Curriculum
The online bachelor's in business administration requires a core including lower- and upper-division courses plus electives. Earn your B.A. with a foreign language requirement, or your B.S. with just 12 more science credits.
The lower-division core includes credit hours in business data, accounting, communications, business law, microeconomics and macroeconomics. The upper-division core includes courses featuring analysis and theory.
Then, in the senior year, you will choose elective hours to complete one of three concentrations: marketing, global food systems and agribusiness or leadership, organization and management.
View Courses
Have Credits to Transfer?
The option to transfer credits makes your program more affordable and can help you get on the job sooner. We allow up to 135 credits from previous college coursework to be transferred into EOU. All EOU majors require a minimum of 20 EOU credits.
To see how your credits will transfer, use our Transfer Equivalency tool.
"EOU allowed me to attend school fully online, which made it possible for me to work and help my family financially. It hasn't been easy balancing a full-time job with full-time school, but I'm on a mission and I'm not willing to give up on my dreams… I recommend EOU for everyone, especially people who enjoy small class sizes, need the flexibility of online courses and want to pursue their dreams."

– Jazmin Roldan, 2016; Business Administration; Hermiston, Oregon
Admission Requirements
Application Fee
Official Transcripts/GED Scores
SAT/ACT Scores
Get Started
*Only needed for students transferring fewer than 30 credit hours, fewer than three years after high school graduation.
What It's Like to Study Online
Earning your degree online at Eastern Oregon University is a great opportunity because there are no on-campus requirements. You will have access to the same professors, content and opportunities as on-campus students, only in a creative digital format. Our faculty are professionals and experts who are trained to deliver innovative, engaging online education.
Online Experience
Tuition Details
We feature affordable tuition, especially when compared to similar universities. The total cost of your program (assuming no transfer credits) is $47,700. The cost per credit hour for EOU online courses is $265.* An additional $13.50 per credit hour will be applied to accounting, business and economics courses.
About 92 percent of online students benefit from financial aid and scholarships to cover part of these costs.
*A cost differential will be applied to ACCT, BA and ECON prefix courses.
View Tuition Details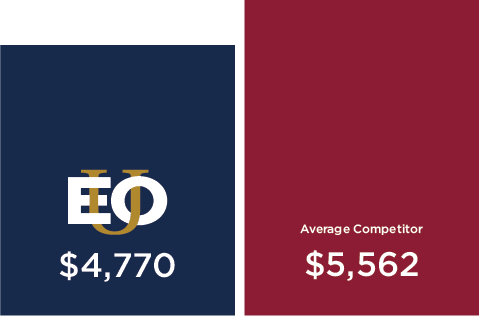 Per Term: Based on 18 credits. Costs for average competitors are estimations of state schools found on public university websites.

Program Outcomes
Provide practical, hands-on experience
Explore the theoretical framework behind business administration
Gain leadership and management skills
Prepare to run your own business
Specialize in a marketable concentration
Enter a global workforce
Career Outlook
With a bachelor's in business administration, you might pursue graduate school, an MBA or move into entry-level positions in accounting, management and marketing.
The Bureau of Labor Statistics projects a 7 percent growth for all business and financial occupations through 2028, which is faster growth than most other occupations.¹
Globalization, big data, tax reform and environmental changes are causing more demand for the skills provided by this program.
Frequently Asked Questions
Here are the answers to a few frequently asked questions about this program.
Visit our FAQ page