B.S./B.A. in Anthropology and Sociology
A Research-Focused Degree to Understand Humans and Environments
Two Specialized Concentrations
Transfer up to 135 Credits
Learn More Today
Complete the form to learn more about this program.
Duration

4 years

Cost per Credit

$286.40

Credit Hours

180
Program Benefits
Flexible career path or graduate study opportunities
Flexible, online learning
Seasoned professors with diverse backgrounds
Multiple transfer pathway options
*Price reflects tuition for Oregon residents. Non-resident tuition is $329.60/credit hour. Speak to an enrollment counselor for more information.
Try our new Admissions Estimator tool to better understand your chances for admission. You probably meet more requirements than you think!
Admissions Estimator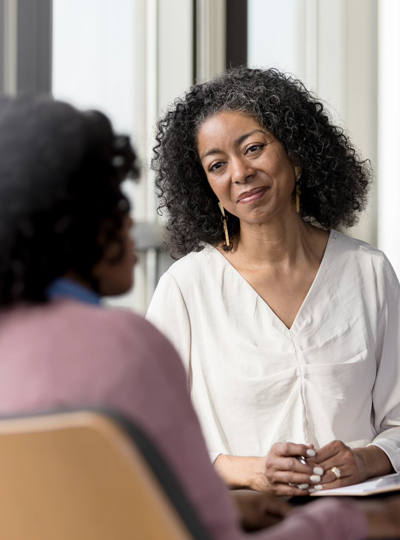 Sociology vs. Anthropology: Combine Both Disciplines With a Customizable Degree Online
Combine your love of ancient civilizations, society and culture in a flexible online degree that looks at behaviors and the human condition. Whether you're interested in archaeology jobs or an online sociology degree that offers more, you'll prepare to enter myriad professions. Dive into biological diversity, language and culture with the anthropology concentration or choose the sociology/social welfare concentration, which gives you essential skills for social, criminal justice or public agency work.
You'll opt for a B.A. or B.S., collaborate with Ph.D.-degreed professors on research and explore community-based projects. Emerge ready for a future that may include a research position, graduate school, international relations, social service or cultural management.
Available Concentrations for Your Degree
Requirements for the bachelor's in anthropology and sociology at EOU include credit hours of lower-division core courses plus an upper-division core and electives. Beyond those, students can choose one of two optional specialized tracks.
B.S./B.A. in Anthropology and Sociology: Anthropology
Discover a program that delivers advanced critical thinking skills while exploring archaeology and the cultural, physical and biological aspects of anthropology.
B.S./B.A. in Anthropology and Sociology: Sociology/Social Welfare
Learn to identify and address current societal challenges through structured civic engagement.
EOU's Excellent Online Curriculum
Core Curriculum
Both concentrations of the anthropology and sociology degree require a core of lower- and upper-division courses. Earn your B.A. with a foreign language requirement, or your B.S. with just 12 more science credits.
Lower-division courses give a background in general anthropology and sociology. Upper-division classes explore theory and practice; in both concentrations, you have the chance to complete in-depth research, working directly with faculty to develop critical thinking, analytical skills, general statistical practices and reflection.
You will also have ample opportunity through courses and assignments to engage society and culture outside the virtual classroom and address real-world problems.
View Courses
Have Credits to Transfer?
The option to transfer credits makes your program more affordable and can help you get on the job sooner. We allow up to 135 credits from previous college coursework to be transferred into EOU. All EOU majors require a minimum of 20 EOU credits.
To see how your credits will transfer, use our Transfer Equivalency tool.
Career Outlook
The Bureau of Labor Statistics reports a growing demand for anthropologists, as the field is expected to expand by five percent through 2029.1 The online bachelor's in anthropology and sociology program will prepare you to explore the history of the world through diverse anthropology careers that make a difference in the way society understands civilization.
Discover the professional opportunities that await you as a graduate, and embark on the pathway to career success with EOU Online.
Explore Careers
Program Outcomes
Experience scholarly and structured civic engagement for real-world problems
Apply cross-cultural perspectives rooted in inquiry-based knowledge
Practice critical thinking in all writing and research
Demonstrate a solid understanding of core concepts through effective communication
Integrate your learning by applying concepts across courses and research questions
"EOU provided me with the skills needed, not only in the realm of sociology and social welfare, but also with a well-rounded approach toward collaborative communication, community building and mindfulness towards individuals and situations encountered."

– Sheryln Roberts, 2014; La Grande, Oregon; Anthropology/Sociology: Sociology/Social Welfare
Tuition Details
We feature affordable tuition, especially when compared to similar universities. The total cost of your program (assuming no transfer credits) is $51,552. The cost per credit hour for EOU online courses is $286.40.*
About 92 percent of online students benefit from financial aid and scholarships to cover part of these costs.
*Price reflects tuition for Oregon residents. Non-resident tuition is $329.60/credit hour. Speak to an enrollment counselor for more information.
View Tuition Details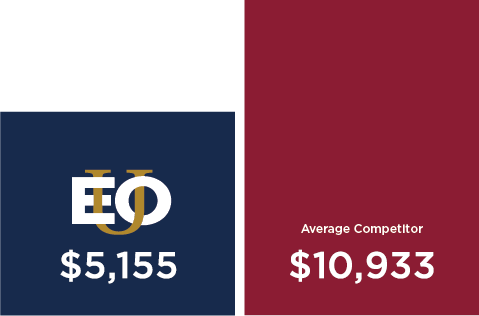 Per Term: Based on 18 credits. Costs for average competitors are estimations of state schools found on public university websites.
Admission Requirements
Application Fee
Official Transcripts/GED Scores
SAT/ACT Scores*
Get Started
*Only needed for students transferring fewer than 30 credit hours, fewer than three years after high school graduation.

What It's Like to Study Online
Earning your degree online at Eastern Oregon University is a great opportunity because there are no on-campus requirements. You will have access to the same professors, content and opportunities as on-campus students, only in a creative digital format. Our professors work on campus and are professionals and experts who are trained to deliver innovative, engaging online education.
Online Experience
Frequently Asked Questions
Here are the answers to a few frequently asked questions about this program.
Yes, this degree can be completed 100 percent online because there are no on-campus requirements.

Yes. The Eastern Oregon Social Science Journal (EOSJ) presents achievements and research from undergraduates.
After securing your online bachelor's in anthropology and sociology, you can work in many positions, such as an anthropologist, sociologist, community health specialist, government employee, archaeologist, law enforcement officer or forestry officer. You might also work in higher education or with nonprofits.
Yes. The minor requires 30 credit hours in the degree program, with 10 credit hours from each concentration. You must complete 20 upper-division credit hours with a minimum of 10 credit hours from EOU.
Our diverse faculty have many areas of expertise and are made up of a mix of full-time and part-time professors.
Our most recent virtual open house was held on February 10, 2021. Feel free to watch the most recent virtual open house, and stay tuned for the next live event.
Visit our FAQ page