B.S./B.A. in English/Writing
Hone Your Creative Skills
Prepare to be a creative and effective communicator in a program that features community involvement and partnerships with nonprofits, independent publishers and K–12 schools.
Learn More Today
Complete the form to learn more about this program.
Duration

4 years

Cost per Credit

$265

Credit Hours

180
Program Benefits
Unique Core and Elective Course Offering
Develop Highly Transferable Communication Skills
Bachelor of Art or Science Degree Path Flexibility
Affordable Tuition
About the Bachelor's in English/Writing
EOU's online English degree is a well-rounded combination of courses in writing, literature and media. While teaching English and language arts is definitely one of the career goals for many students in the program, our degree will prepare you for many other options. Your online bachelor's in English/Writing degree can lead to careers in nonprofit administration, public relations, technical writing, creative writing, film making, media production, law, management and more. You will become a critical, creative thinker and effective communicator.
EOU's English program coursework prepares you with transferable skills and adds real-world experience through our community and campus partnerships with non-profit organizations, independent presses and K–12 schools. With these partnerships, you will have opportunities for community-engaged learning and pre-professional experience.
English and Writing Curriculum
Core Curriculum
The online bachelor's in English/Writing requires a core of program credit hours, elective credit hours and a two-course capstone. Earn your B.A. with a foreign language requirement, or your B.S. with just 12 more science credits.
The core courses include literature, grammar, writing fiction and poetry and literature in film. Then, you can choose from many available electives such as film criticism, linguistics, digital rhetoric and writing theory.
View Courses
Have Credits to Transfer?
The option to transfer credits makes your program more affordable and can help you get on the job sooner. We allow up to 135 credits from previous college coursework to be transferred into EOU. All EOU majors require a minimum of 20 EOU credits.
To see how your credits will transfer, use our Transfer Equivalency tool.
"My English/Writing professors took as much of an interest in my well-being as they did in my writing. My understanding of writing, which was built and nurtured by one-on-one interactions with English/Writing faculty, has been the most valuable tool I have in terms of education."

– Mackenzie Trotter, 2014; English; La Grande, Oregon
Admission Requirements
Application Fee
Official Transcripts/GED Scores
SAT/ACT Scores*
Get Started
*Only needed for students transferring fewer than 30 credit hours, fewer than three years after high school graduation.
What It's Like to Study Online
Earning your degree online at Eastern Oregon University is a great opportunity because there are no on-campus requirements. You will have access to the same professors, content and opportunities as on-campus students, only in a creative digital format. Our professors work on campus and are professionals and experts who are trained to deliver innovative, engaging online education.
Online Experience
Tuition Details
We feature affordable tuition, especially when compared to similar universities. The total cost of your program (assuming no transfer credits) is $47,700. The cost per credit hour for EOU online courses is $265.*
About 92 percent of online students benefit from financial aid and scholarships to cover part of these costs.
*A cost differential will be applied to ACCT, BA and ECON prefix courses.


View Tuition Details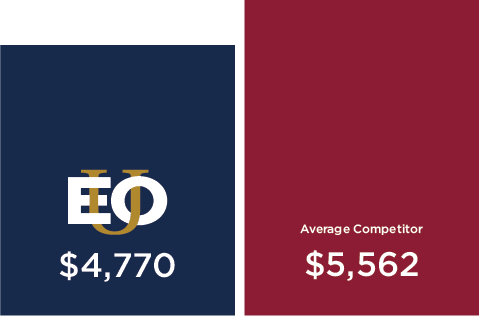 Per Term: Based on 18 credits. Costs for average competitors are estimations of state schools found on public university websites.
Program Outcomes
Build creativity
Work one-on-one with faculty
Familiarize yourself with publishing
Get involved with your community
Gain leadership and management skills
Develop an effective writing process
Research, analyze and communicate across a broad spectrum of situations
Express yourself effectively to a varied audience
Career Outlook
Because the skills you learn in an English/Writing program are in-demand for nearly every occupation, nailing down a specific career outlook is difficult.
The Bureau of Labor Statistics reports that the top jobs for professionals with an English degree are teachers, administrative assistants, managers and marketing and sales employees. The median annual wage for these occupations is $38,710 with a bachelor's degree.¹
Frequently Asked Questions
Here are the answers to a few frequently asked questions about this program.
Yes, the bachelor's in English/Writing program can be completed 100 percent online.
If you have a passion for reading, writing and digital media, this degree is right for you. EOU's English/Writing degree is a starting point for a variety of careers besides just teaching. In terms of transferable job skills, an English degree is one of the best options, even if you are undecided on a career path.
You may qualify if you are a citizen of, or have a bachelor's degree from one of many countries. See the EOU English Proficiency Policy for more information.
You could work in many career paths besides teaching because writing and communication skills are needed in many jobs. EOU alumni are currently working as lawyers, policy analysts, technical writers, editors, media designers, journalists and more.
The English program has many partnerships with non-profit organizations, independent publishers and K–12 schools. You might work as an online tutor for the EOU Writing Center, edit for a student-run journal called Oregon East, or complete an editorial internship.
Our most recent virtual open house was held on February 10, 2021. Feel free to watch the most recent virtual open house, and stay tuned for the next live event.
Visit our FAQ page