B.S./B.A. in Health & Human Performance – Community Health
Build a Solid Foundation in Professional Health
Certification Preparation
Duration

4 years

Cost per Credit

$284.60

Credit Hours

180
Program Benefits
Career-Ready Skills for Community Health
Unique Core and Elective Course Topics
Hands-On Internship and Capstone Experience Opportunities
Convenient Online Format
*Price reflects tuition for Oregon residents. Non-resident tuition is $329.60/credit hour. Speak to an enrollment counselor for more information.
Try our new Admissions Estimator tool to better understand your chances for admission. You probably meet more requirements than you think!
Admissions Estimator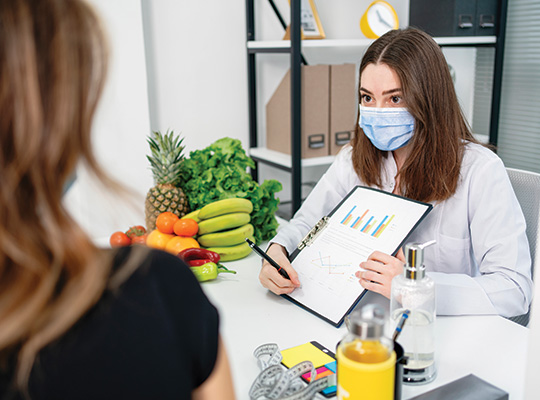 Impact Your Community as a Trusted Leader
The community health concentration delivers the expertise necessary to address a range of health and wellness concerns throughout diverse communities and coordinate programs that improve wellness and promote healthy lifestyles. Utilizing a curriculum that examines the human body's physiological processes, the community health concentration explores effective disease prevention methods and outreach program planning and evaluation to ensure you graduate ready to spark positive change in your community.
While completing your degree with the community health concentration, you'll benefit from the flexible course options offered by EOU's virtual learning platform. Receive personalized attention from expert educators and access course materials online from the time and place of your choice.
Career Outlook: Opportunities to Make Positive Change
The community health concentration will prepare you to make a difference in local and global health trends. When you graduate, you'll be qualified for a variety of in-demand careers, including the role of health educator. According to the Bureau of Labor Statistics, the professional field of community health is growing rapidly at a rate of 13 percent. At this pace, more than 17,000 new positions for health educators alone will be available by 2029.1
Health Educator
$48,140/YEAR
Health educators coordinate educational programs that share health and wellness information with children and adults. They coordinate programs to address public health issues facing a community.1
Community Service Manager
$69,600/YEAR
Community service managers identify the needs of a community and plan services and programs that address them. They oversee community outreach programs and ensure all community service workers are doing their jobs efficiently.2
Other titles for graduates of the community health concentration:
Community health worker
Social and human service assistant
Health services manager
Curriculum: Health Expertise for the Future
With the community health concentration, you'll learn to apply wellness essentials in the workplace as you address community health needs in your career. The courses required for this concentration explore community program planning and evaluation, global health concerns, general nutrition and more.
Course Spotlight: CH 298 Lifetime Fitness
An overview of the major components of wellness. Special emphasis is placed on needs and interests of college students approached from a social, emotional, physiological, and preventative basis that include diet, exercise, stress management, and substance abuse.
Course Spotlight: CH 317 Global Health
Today's world has shrunk due to the ability of individuals to travel rapidly from place to place. This has created a world where health issues are no longer confined to a limited region, but can potentially affect the entire planet. This course will examine global health issues, including historic impacts of advancing civilization on health, HIV/AIDS and the distribution of antiretroviral (ARVs), Pandemic Flu and other infectious diseases such as malaria and tuberculosis, health care, chronic illness, and other issues. Student must have at least sophomore standing to register for this course.
Available Health & Human Performance Concentrations
Health & human performance is a fast-growing career field. Choose from four concentrations to tailor your degree to your career goals.
B.S./B.A. in Health & Human Performance: Nature and Outdoor Recreation Programming
Integrate the study of outdoor recreation with holistic health and then complete a two-week summer field studies program in the largest wilderness area of Oregon.
B.S./B.A. in Health & Human Performance: Exercise Science
Develop essential wellness skills and become eligible for career advancement through certifications in strength and conditioning, personal training and inclusive fitness training.
B.S./B.A. in Health & Human Performance: Physical Education and Sport
Build a strong foundation for your education career with a curriculum that takes a scientific approach to physiology, motor development, movement analysis and more.
Frequently Asked Questions
If you have a question we don't cover here, request more information or call 877-791-7181.
Yes, we will help you find and complete an internship that is local to you. Your capstone experience will work the same way.
The bachelor's in health & human performance will open doors to many careers. With the degree, you can work in public health education, strength and conditioning coaching, personal training or corporate wellness. If you choose to pursue other certifications and/or graduate education, you could work as a nurse, dentist, chiropractor, physical therapist, occupational therapist, dietician or K–12 educator.
Our diverse faculty have many areas of expertise and are made up of a mix of full-time and part-time professors.
The online program is designed for professionals who work full-time and is offered part-time with two classes every 11 weeks. This allows you to achieve a realistic balance between work, school and personal responsibilities and gives you the opportunity to fully absorb the information in your coursework. To see the curriculum, view our courses page.
Visit our FAQ page