Master of Fine Arts (MFA) in Creative Writing
Get Inspired by your Environment
Eastern Oregon University's online/hybrid MFA will give you opportunities for generative writing and revision, as well as hands-on editing and publishing. You will spend two weeks during each summer of your program at Wallowa Lake and in La Grande, Oregon. This includes writing residencies, readings and guest lectures from well-known authors.
Learn More Today
Complete the form to learn more about this program.
Duration

2-3 years

Cost per Credit

$487.50

Credit Hours

60
Program Benefits
Cohort Model
Low-Residency Specialization
Hands-On Learning Opportunities
Diverse Course Offering for Creative Skills Development
About the MFA in Creative Writing
The online MFA in Creative Writing from Eastern Oregon University provides the skills and experience you need to become a successful writer. Workshop courses allow you, your mentor and your student peers to critique and improve your creative writing, while other courses deepen and broaden your knowledge of contemporary literature, film and rhetoric. Working with your faculty mentors, themselves experienced, widely-published writers, you will craft a creative thesis of your finest work from which you will present a public reading and critical craft lecture.
One unique component of EOU's MFA is the low-residency requirement. The summer residencies form strong MFA cohorts that are tight-knit groups, who offer sustained, creative experiences and inspiration during the distance (online) component of the program. As an MFA graduate, you will have developed creative skills allowing you to live a more meaningful, productive life in more prosperous, resilient communities.
About the Low-Residency MFA Specialization
EOU's two-week summer residency is unique because of the opportunities it provides to MFA cohorts. The residency is required for two summers.
Wilderness, Ecology and Community
In the first week of your residency, you will meet with MFA cohorts for the Summer Fishtrap Gathering at Wallowa Lake in northeastern Oregon, which offers a wide range of intensive workshops in poetry, fiction, nonfiction and cross-genre writing. You will have opportunities to hear faculty and guest readings, attend open mics, listen to craft talks and enjoy panel presentations. The following week includes related coursework on EOU's main campus. The goals of this generative, collaborative experience are to work with established professional writers and become inspired by the community.
An additional option exists for those who would prefer their classroom in the nearby Eagle Cap Wilderness. During the weeklong workshops at Wallowa Lake, a group of students and faculty will backpack to a wilderness base camp, where they will live in the elements while engaged in generative writing workshops focused on ecological topics.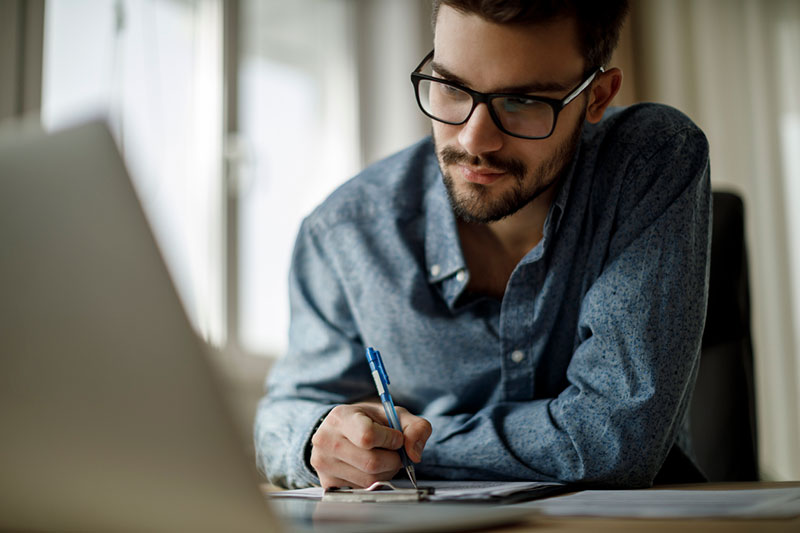 MFA Creative Writing Curriculum
MFA students will complete 30 credit hours each year. First-year curriculum is tailored to writing workshops while you complete courses in literature and film, writing and rhetoric and variable special topics.
Your second year will focus on the completion of coursework and your thesis. The required practicum gets you involved in your home community writing and/or teaching as you work to complete your thesis. An optional third year could be spent writing a second thesis in a second genre.
View Courses
What It's Like to Study Online
Earning your MFA degree online at Eastern Oregon University is a great opportunity because there is only a two-week summer residential requirement. You will have access to the same professors, content and opportunities as on-campus students, only in a creative digital format. Our faculty work on campus and are professionals and experts who are trained to deliver innovative, engaging online education.
Online Experience
Tuition Details
We feature affordable tuition, especially when compared to similar universities. The total cost of your program (assuming no transfer credits) is just over $29,000. The cost per credit hour for EOU online graduate courses is $487.50.
About 92 percent of online students benefit from financial aid and scholarships to cover part of these costs.
View Tuition Details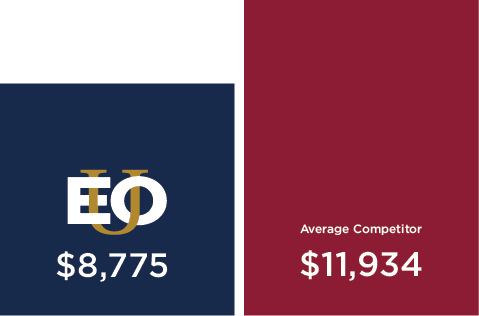 Per Term: Based on 18 credits. Costs for average competitors are estimations of state schools found on public university websites.

Program Outcomes
Develop a diverse, creative skill set in writing
Provide meaningful, hands-on learning opportunities
Connect you to the Pacific Northwest's rich tradition of writers and thinkers
Complete literary practica
Prepare to teach literature and writing, if desired
Participate in your cohort and community
Career Outlook
The Bureau of Labor Statistics (BLS) reports that in 2018, the median annual salary for writers was $62,170.¹ A closely related field is editing; editors made a median annual salary of $59,480.² Salaries for writers and editors vary by medium and genre.
If your goal is to teach writing in high school, the BLS gives a median annual salary of $60,320.³ Postsecondary educators made a median annual salary of $78,470.⁴ EOU's MFA will prepare you with real-world experience that sets you apart from the competition.
Frequently Asked Questions
Here are the answers to a few frequently asked questions about this program.
Additional fees for the summer residencies would include travel, room and board while in attendance at Fishtrap and on EOU's campus, and these would be dependent on an individual's choice of options.
The Visiting Writers Series is a series of talks and lectures from established authors, up to a dozen per year. Recent author presentations include Carl Adamshick, "Curses"; Sandra Alcosser, "A Fish to Feed All Hunger"; Sherman Alexie, "The Absolutely True Diary of a Part Time Indian"; Christopher Buckley, "Thank You for Smoking"; Kerry Cohen, "Loose Girl: A Memoir of Promiscuity"; Jon Davis, "Preliminary Report"; Matthew Dickman, "Amigos"; Anthony Doerr, "About Grace"; Danielle Deulen, "Lovely Asunder"; Debra Earling, "Perma Red"; Scott Elliott, "Temple Grove: a Novel"; Molly Gloss, "The Jump-Off Creek"; Garrett Hongo, "Volcano: A Memoir of Hawai'i"; Marie Howe, "Magdalene"; Thomas Kennedy, "Copenhagen Quartet"; Keetje Kuipers, "Beautiful in the Mouth"; William Kittredge, "Hole in the Sky"; Melissa Kwasny, "The Nine Senses" and more.
There are opportunities in the MFA program to work with our award-winning literary magazines, "Basalt" and "Oregon East," as well as with our affiliated presses, Lynx House Press and Lost Horse Press.
Although each year brings different authors to the MFA and its residencies, in the past we have worked with the late Ursula K. LeGuin, Luís Urrea, David James Duncan, William Kittredge and Cheryl Strayed to name a few.
The online program is designed for maximum flexibility and may be taken full-time if you feel you have the time to do so successfully. Full-time means you'll take 3-4 classes every 11 weeks.
To see the curriculum, view our courses page.
Our most recent virtual open house was held on February 10, 2021. Feel free to watch the most recent virtual open house, and stay tuned for the next live event.
Visit our FAQ page
¹Writers and Authors. Sept. 4, 2019. Retrieved Sept. 19, 2019, from https://www.bls.gov/ooh/media-and-communication/writers-and-authors.htm
²Editors. Sept. 4, 2019. Retrieved Sept. 19, 2019, from https://www.bls.gov/ooh/media-and-communication/editors.htm
³High School Teachers. Sept. 4, 2019. Retrieved Sept. 19, 2019, from https://www.bls.gov/ooh/education-training-and-library/high-school-teachers.htm
⁴Postsecondary Teachers. Sept. 4, 2019. Retrieved Sept. 19, 2019, from https://www.bls.gov/ooh/education-training-and-library/postsecondary-teachers.htm