Online B.S./B.A. in Marketing
Marketing Skills for Emerging Technologies and Innovative Media
Transfer up to 135 Credits
Learn More Today
Complete the form to learn more about this program.
Duration

4 years

Cost per Credit

$286.40

Credit Hours

180
Program Benefits
Experiential learning opportunities
Learn from industry experts
Prepare for graduate study
Build an ePortfolio for potential employers
*Price reflects tuition for Oregon residents. Non-resident tuition is $329.60/credit hour. Speak to an enrollment counselor for more information.
Try our new Admissions Estimator tool to better understand your chances for admission. You probably meet more requirements than you think!
Admissions Estimator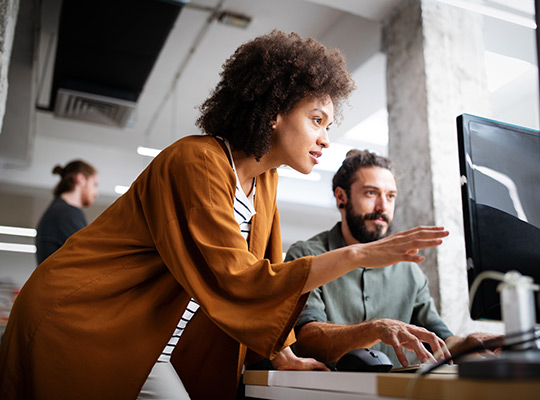 Skills to Impact the Future of Marketing
The rise of social media and the rapid growth of technology have created a world of new marketing opportunities. Whether you're pursuing this growing field for the first time or seeking career advancement within your current company, the online B.S./B.A. in Marketing degree can help harness your creativity and put it to use for strategic planning in a variety of professional marketing settings. And because the program is delivered through a fully online classroom, you'll have the flexibility to study and discuss materials with expert faculty on your schedule while balancing your education with your full-time personal and professional commitments.
Curriculum
The online marketing bachelor's degree requires 180 credit hours and can be completed entirely online in 4 years or less, depending on transfer credits. The program's curriculum explores key business concepts along with the essential and innovative marketing expertise necessary for career success, including business and IT skills in mobile technologies, data analytics, project management, interdisciplinary integrated communications and more.
Course examples include:
BA 303 Information Management
COM 325 Intercultural Communication
MKT 346 Digital Marketing Social Media Strategies
MKT 455 Personal Selling and Customer Relations
View Complete Curriculum
Admission Details
Up to 135 Transfer Credits Accepted
Experiential Learning Credit Opportunities
The online B.S./B.A. in Marketing program offers four start dates each year to allow you to begin and complete your degree when it's the right time for you. The admissions process begins with submitting your application, so get started today!
Online Application Form and Fee:
Apply Now
Degree and Minimum GPA:
High school and college transcripts are considered for applicants with fewer than 30 quarter college credits. GPA requirements include a 2.75 high school GPA and a 2.25 college GPA.

For students transferring more than 30 quarter college credits, a 2.25 college GPA is required. For students with an AAOT and ASOT, a 2.0 college GPA is required.
Transcripts:
Provide official transcripts from all accredited educational institutions attended
Additional Requirements:
GED Scores
View the Application Process
Tuition & Aid
A college degree is a significant investment in your future, and Eastern Oregon University strives to make that investment affordable for all students. Tuition for the online B.S./B.A. in Marketing degree is $286.40 per credit, totaling $51,552*. An additional $14.50 per credit hour will be applied to accounting, business, economics and marketing courses. About 92 percent of online students at Eastern Oregon University benefit from financial aid and scholarships to cover part of these costs. Set yourself up for success with the online marketing bachelor's degree and learn about your financial aid options today.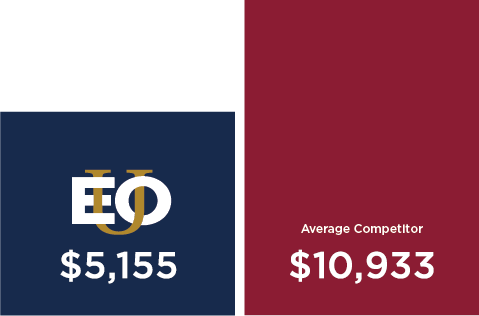 Per Term: Based on 18 credits. Costs for average competitors are estimations of state schools found on public university websites.
Learn More
*Price reflects tuition for Oregon residents. Non-resident tuition is $320/credit hour. Speak to an enrollment counselor for more information.
Diverse Career Opportunities for Marketing Graduates
As technology advances, marketing methods and platforms are changing. According to the Bureau of Labor Statistics, the marketing industry is expected to grow 10 percent and create more than 31,000 new positions for marketing managers alone by 2030.1 The online marketing bachelor's degree will help you develop the industry expertise to make an impact in the marketing career you want, plus the ePortfolio necessary to impress today's employers.
Discover the professional opportunities that await you as a graduate, and embark on the pathway to career success with EOU Online.
Explore Careers
What You'll Learn
The online marketing bachelor's degree was developed by industry experts to help you prepare for a variety of in-demand careers within a growing field. Through courses taught by experienced faculty, you'll learn to apply creative marketing concepts in diverse business settings and make a lasting impact in your career.
Program Outcomes
Apply critical thinking skills and problem-solving techniques to a variety of complex business situations
Create brand awareness through digital marketing platforms and social marketing management
Evaluate the impact of the rapidly changing macro and micro marketing environment on the development of a marketing strategy
Define the elements of international marketing
Develop strategic marketing plans built on market research, customer analysis, and key financial indicators
Communicate outcome-based sales proposals to diverse audiences
Faculty Spotlight
Courses for the online B.S./B.A. in Marketing degree are taught by expert faculty with years of experience teaching and working in their fields of study. They are committed to providing you with personalized attention, academic support and experience-based instruction in each lesson.
What It's Like To Study Online
Earning your degree online at Eastern Oregon University is a great opportunity because there are no on-campus requirements. You will have access to the same professors, content and opportunities as on-campus students, only in a creative digital format. Our professors work on campus and are experts who are trained to deliver innovative, engaging online education.
Flexible schedule options
Access coursework from the time and place of your choice
Study at your own pace
Start and finish your degree when you're ready
Explore the Online Experience
Frequently Asked Questions
Here are the answers to common questions about the online market bachelor's degree. If you don't find what you're looking for, contact us.
Visit our FAQ page