B.S./B.A./B.A.S. in Emergency Medical Services Administration
Advance in Emergency Services With a Nationally Recognized Degree
Advanced Prep for Paramedics and EMTs
Apply Existing Credits, Certifications
Follows NFA FESHE Model Curriculum
Learn More Today
Complete the form to learn more about this program.
Duration

4 years

Cost per Credit

$286.40

Credit Hours

180
Program Benefits
Core curriculum covers EMS communications and regulations
Master EMS business and management
Transfer up to 60 earned credits
Career support and services to aid your job search
*Price reflects tuition for Oregon residents. Non-resident tuition is $329.60/credit hour. Speak to an enrollment counselor for more information.
Try our new Admissions Estimator tool to better understand your chances for admission. You probably meet more requirements than you think!
Admissions Estimator
A National Fire Academy-Approved EMS Degree Online
No other degree has a higher stamp of approval than EOU's EMS Administration program, as it matches the National Fire Academy FESHE model. It is the only program in the nation to follow the NFA curriculum.
This convenient online program advances your EMS systems knowledge and makes maximum use of certifications, as well as allows your field experiences to count for credit in the program.
Choose from a B.A, B.S. or B.A.S. and graduate with a specialized degree that focuses on the business administration of emergency services. Understand budgets, scheduling and injury risk to provide the best care to communities. You'll graduate ready to manage teams and enter senior, manager-level EMS roles.
Accreditation
The bachelor's in emergency medical services administration (EMSA) at EOU is accredited by the National Fire Academy's Fire and Emergency Services Higher Education (FESHE) Model Curriculum. This affiliation represents EOU's commitment to a quality EMSA education and consistent, continuing evaluation; you can be sure that our program will effectively prepare you for today's emergency service careers.
EMS Administration Curriculum
Core Curriculum
We require a core of courses including EMS risk management, communications, regulations, quality, transport and multiculturalism. Earn your B.A. with a foreign language requirement, or your B.S. with just 12 more science credits.
The EMSA degree program is very focused on providing education about the business and managerial sides of EMS. However, you do not have to be an EMT or medic to benefit from our program.
The curriculum we follow is similar to a business administration program focused on a specific industry. You will learn how to manage a team of EMS workers, complete administrative duties such as budgets and scheduling, reduce the risk of injury for EMS workers in the community and give the best quality of care to the people you encounter on the job.
View Courses
Have Credits to Transfer?
The option to transfer credits makes your program more affordable and can help you get on the job sooner. We allow up to 135 credits from previous college coursework to be transferred into EOU. All EOU majors require a minimum of 20 EOU credits.
To see how your credits will transfer, use our Transfer Equivalency tool.
Career Outlook
The online Emergency Medical Services Administration program will prepare you for a variety of in-demand careers that make a difference, including the role of EMS director. According to PayScale, the average annual salary for EMS directors is $70,222, with advanced professionals in the role earning up to $116,000 per year.1
Discover the professional opportunities that await you as a graduate, and embark on the pathway to career success with EOU Online.
Explore Careers
Program Outcomes
Develop management skills
Apply administrative techniques
Manage personnel
Create a capital budget
Understand state and local government relationships
Provide opportunities for career advancement
"I currently work as an incident medical specialist on wildfires while taking classes full time at EOU. The EMSA advising team is extremely helpful and willing to work with students based on their individual backgrounds and existing commitments… The flexibility of the online format is great as it allows me to work while taking courses. As a U.S. military veteran, EOU's team was able to guide me through the process of using my GI Bill™ benefits to the fullest. The knowledge gained from my EMSA courses directly applies to the field and is essential to understanding the leadership and administrative responsibilities in emergency medicine."

– Peter Byrne, 2016; Emergency Medical Services Administration; Brigadier General with National Guard
Tuition Details
We feature affordable tuition, especially when compared to similar universities. The total cost of your program (assuming no transfer credits) is $51,552. The cost per credit hour for EOU online courses is $286.40.* An additional $14.50 per credit hour will be applied to accounting, business, economics and marketing courses.
About 92 percent of online students benefit from financial aid and scholarships to cover part of these costs.
*Price reflects tuition for Oregon residents. Non-resident tuition is $329.60/credit hour. Speak to an enrollment counselor for more information.

View Tuition Details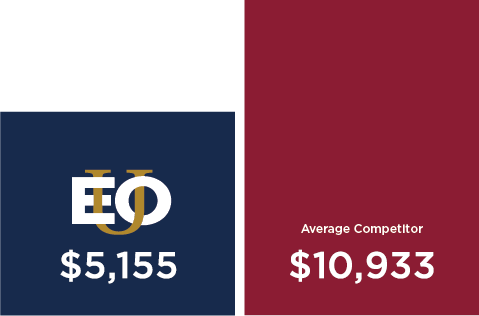 Per Term: Based on 18 credits. Costs for average competitors are estimations of state schools found on public university websites.
Admission Requirements
Application Fee
Official Transcripts/GED Scores
SAT/ACT Scores*
Get Started
*Only needed for students transferring fewer than 30 credit hours, fewer than three years after high school graduation.
What It's Like to Study Online
Earning your degree online at Eastern Oregon University is a great opportunity because there are no on-campus requirements. You will have access to the same professors, content and opportunities as on-campus students, only in a creative digital format. Our faculty are professionals and experts who are trained to deliver innovative, engaging online education.
Online Experience
Frequently Asked Questions
Here are the answers to a few frequently asked questions about this program.
Yes, you can complete this program entirely online because there are no on-campus requirements. However, be aware that upper-division courses in the EMSA program are occasionally offered as on-site weekend hybrid courses in Eastern Oregon, Southern Oregon and the Portland, Oregon region.
EMT certification is not included with our degree program and is not a requirement for admission. However, students must have EMT certification or licensure as a condition of graduation.
This depends on how you enter the program. Students who enter the EMSA program with an associate degree will have the option to complete their bachelor's degree as a B.A., B.S. or Bachelor of Applied Science depending on how they enter the program and their personal goals. If you do not have an associate degree, you can choose either the B.A. or B.S.
EOU's online degree in EMSA is perfect for EMTs or medics who want to move up in rank. However, if you are interested in nursing, an EMS sales representative, creating essential nursing resources or other management roles, our degree program is a great fit.
We accept up to 135 credits from previous college coursework for transfer to EOU. All EOU majors require a minimum of 20 EOU credits. You can learn more about our admission policy here.
Our most recent virtual open house was held on February 10, 2021. Feel free to watch the most recent virtual open house, and stay tuned for the next live event.
Visit our FAQ page