B.S./B.A. in Computer Science
A High-Tech Degree for a Cutting-Edge Career
Study software development and computer programming while enjoying unique class offerings and experienced faculty. You will be prepared for the variety of innovative technology evolving in the 21st century.
Learn More Today
Complete the form to learn more about this program.
Duration

4 years

Cost per Credit

$265

Credit Hours

180
Program Benefits
Real-World Software and Operating System Applications
Gain Valuable Algorithm and Data Analysis Skills
Unique Elective Course Topics
Promising In-Demand Career Outlook
About the Online Bachelor's in Computer Science
Eastern Oregon University's online computer science degree is a great choice if you are interested in programming, IT management, data analysis, system administration, software engineering or advanced study. After obtaining your degree, you will be equipped with the skills to work in the private or public sector. Our program's curriculum enables you to personalize your degree depending on your desired career trajectory.
Our computer science program is also unique due to its individualized instruction and faculty who are experts in both teaching and technology. Graduates from the program go on to work for small and large businesses, well-known corporations, colleges and universities and private companies. Your skills will be sought after due to the rise in cloud computing, storage of big data and the need for greater information security. With your online bachelor's in computer science from EOU, your opportunities for a career are plentiful.
Computer Science Curriculum
Core Curriculum
The online bachelor's in computer science includes core credits, elective credits, and math credits, in addition to general education requirements. Earn your B.A. with a foreign language requirement, or your B.S. with just 12 more science credits.
Core curriculum includes introductions to software, operating systems, database management plus algorithms and analysis. These are the skills needed in virtually every IT job.
Unique elective courses include new media, computing theory, 3-D graphics and animation, network administration and artificial intelligence. You can also take an independent study course for a specialized topic that you choose.
View Courses
Have Credits to Transfer?
The option to transfer credits makes your program more affordable and can help you get on the job sooner. We allow up to 135 credits from previous college coursework to be transferred into EOU. All EOU majors require a minimum of 20 EOU credits.
To see how your credits will transfer, use our Transfer Equivalency tool.
"Within six months of getting my degree, I got a job as a web developer. Most of my portfolio consisted of work that I did through EOU's computer science program. Now, four years since I graduated, I am a support services analyst for one of the largest employers in the region with plenty of room for advancement."

– Amy Hillecke, 2010; Computer Science & Multimedia Studies
Admission Requirements
Application Fee
Official Transcripts/GED Scores
SAT/ACT Scores*
Get Started
*Only needed for students transferring fewer than 30 credit hours, fewer than three years after high school graduation.
What It's Like to Study Online
Earning your degree online at Eastern Oregon University is a great opportunity because there are no on-campus requirements. You will have access to the same professors, content and opportunities as on-campus students, only in a creative digital format. Our professors work on campus and are professionals and experts who are trained to deliver innovative, engaging online education.
Online Experience
Tuition Details
We feature affordable tuition, especially when compared to similar universities. The total cost of your program (assuming no transfer credits) is $47,700. The cost per credit hour for EOU online undergraduate courses is $265.*
About 92 percent of our online students benefit from financial aid and scholarships to cover part of these costs.
*A cost differential will be applied to ACCT, BA and ECON prefix courses.

View Tuition Details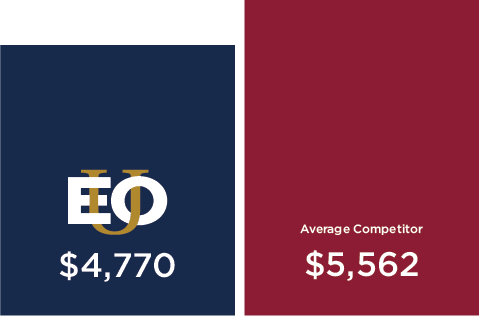 Per Term: Based on 18 credits. Costs for average competitors are estimations of state schools found on public university websites.
Program Outcomes
Design and develop software systems
Study industrial, scientific and commercial applications
Program with numerous operating systems
Develop and analyze algorithms
Analyze data using databases
Work with a variety of technologies
Career Outlook
For computer and IT occupations, The Bureau of Labor Statistics reports a projected growth of 12 percent through 2026, which is faster than the average for most occupations.¹
Newer technologies mean a higher demand for workers who are familiar with these technologies and their applications.
Median salaries for jobs using a bachelor's degree in computer science range from $80,000–$100,000.
Frequently Asked Questions
Here are the answers to a few frequently asked questions about this program.
Yes, the bachelor's in computer science can be completed 100 percent online, because there are no on-campus requirements.
Our diverse faculty have many areas of expertise and are made up of a mix of full-time and part-time professors.
We recently created this program for the online modality. Learn more about what to expect as an online student here.
The program has four start dates throughout the year in the summer, fall, winter and spring. Learn more.
Our most recent virtual open house was held on February 10, 2021. Feel free to watch the most recent virtual open house, and stay tuned for the next live event.
Visit our FAQ page