Applying for EOU Online Admission
How to Apply to Eastern Oregon University
Learn More Today
Complete this form to learn more about building your future with an online degree from Eastern Oregon University.
Take the first step toward earning your online degree at Eastern Oregon University!
Whether you are a first-time student, an adult looking to complete your degree or a military student, we make it easy to get started. Applying to EOU is a streamlined process, and we've got a dedicated enrollment team to work with you every step of the way. From advancing your career, to changing your path, to pursuing your passion, EOU's online degrees will help you reach your goals.
Key Admissions Dates
There are some crucial dates to remember when you're applying to an EOU program. For undergraduate admissions, keep these dates in mind.
| | |
| --- | --- |
| Winter 2024 Application Deadline | January 1, 2023 |
| Winter 2024 Start Date | January 8, 2024 |
| Spring 2024 Application Deadline | March 24, 2024 |
| Spring 2024 Start Date | April 1, 2024 |
For graduate admission deadlines, please refer to each program's admissions page, as Graduate admission deadlines vary.
Your Path to EOU Begins Here
We know every student's journey is different — from first-time students and transfers to those pursuing graduate degrees. We also know that applying can seem like a daunting task, but it doesn't have to be. Explore this page to see the requirements and application process for your unique situation. Have questions? Call us at 855-805-5399 to speak with an enrollment counselor or send us an email at onlineadmissions-group@eou.edu.
Admissions Estimator Tool
Take the First Step Toward Success
Wondering what your odds are for admission? Whether you're applying to college for the first time or haven't been a student in years, college admissions anxiety can be overwhelming. We're on a mission to remove the guesswork from the application process so you can make key decisions about your future with confidence. Start by picking a program of interest to see your likelihood of acceptance.
Enrollment counselors are available to support you through the admissions process so you can reach your potential, achieve your educational goals and accelerate your career. If you have questions or prefer to apply over the phone, give us a call at 855-805-5399.
Calculate Your Chances For Admission
Get Your Results in 3 Easy Steps
Use our Admissions Estimator to see how you measure up against our general admissions criteria for your program of interest.*
*The admissions estimator tool is based on programmatic admissions requirements and student-generated selections.
All admissions calculation results should be taken as estimations and not actuals.
To get a better sense of your chances for admission into a Program, please consult with an enrollment team member.
Calculate Your Chances For Admission
Share Your Academic Experience
Choose from the available selections to complete the admissions criteria questions.
Are you a transfer Student?
Transfer to EOU
We aim to provide a smooth transition from your previous school to Eastern Oregon University. We offer a generous transfer credit policy for all of our online programs. Nearly all EOU undergraduate programs accept a maximum of 135 credits, and our graduate-level programs accept an average of 15 maximum transfer credits.
When applying as a transfer student, there are a few requirements to keep in mind:
Credit for Prior Learning
Students can exchange credit for life/work experiences through EOU's Assessment of Prior Experiential Learning (APEL) process. APEL provides students the opportunity to document their experience in an academic-friendly format. Visit the EOU APEL page to learn more.
Students can also earn credit through Agency Sponsored Learning (ASL), which provides the opportunity to receive credit from courses and training taken from non-degree-granting organizations such as the military, labor unions, professional and voluntary associations and government agencies. A maximum of 45 ASL credits can be transferred. Learn how it works by visiting the EOU ASL page.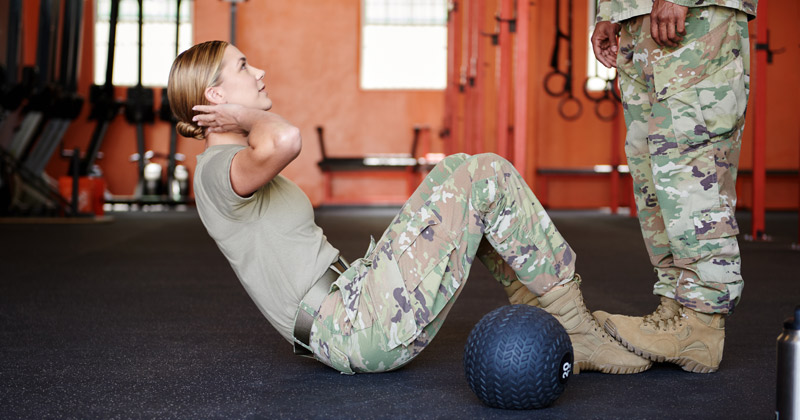 Active Military, Veterans and Their Families Welcome
EOU ranks among the top 15% of military-friendly schools nationwide — and for good reason. We provide ample resources, offer a generous transfer policy, and scholarships and benefits for spouses. Our dedicated military support team ensures service members, veterans and their families understand and make the most of education benefits.
There is ample assistance offered to U.S. military service members, veterans. Here's a closer look:
The Active Duty Scholarship is available to those who have served in the National Guard or Reserves on active duty since September 11, 2001 and are pursuing an online undergraduate degree program.
Darlene Hooley Scholarship for Oregon National Guard and Reserves which offers up to $3,000 per year.
Tuition costs could be covered for those currently serving in the U.S. Armed Forces, National Guard or Reserves, or released from military service under honorable conditions.
Veterans can also apply for the Veterans United Foundation Scholarship to help with costs not covered by the GI BillⓇ.
If you're a service member or veteran, speak with enrollment counselors to get the full picture of your eligibility for benefits, to learn whether you qualify for scholarships and grants, and to find out how to maximize potential college credits for your military training.
Military Support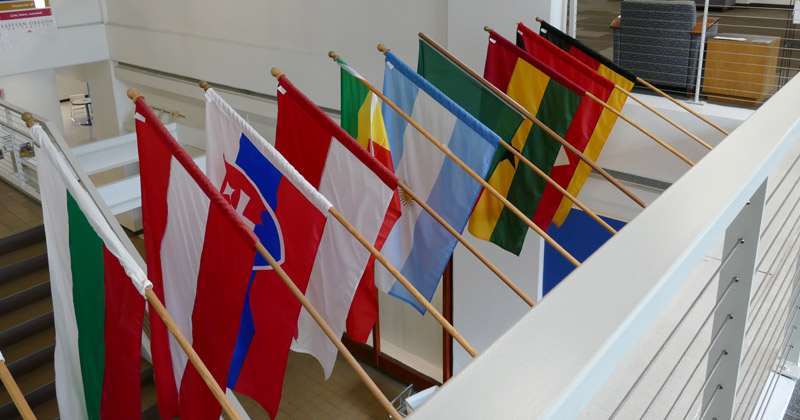 EOU Education For International Students
If you are an international student applying for an online program offered in the U.S., Eastern Oregon University is the right place for you. Whether you are a first-year, transfer or graduate student, EOU offers diverse fields of study to earn your degree and advance your career no matter where you are in the world.
When you're going through the application process as an international student, there are a few things you should keep in mind and certain materials you should have readily available.
All international applicants must submit the following to the Office of Admissions:
Application for Undergraduate Admission
Application fee of $90
Official academic transcripts (Transcripts should be evaluated by WES)
Official English language testing scores (TOEFL, IELTS)
Affidavit of Support and financial documents (on-campus applications only)
If you are currently in the United States on an F-1 visa, please connect with your current institution to have your SEVIS record transfer to EOU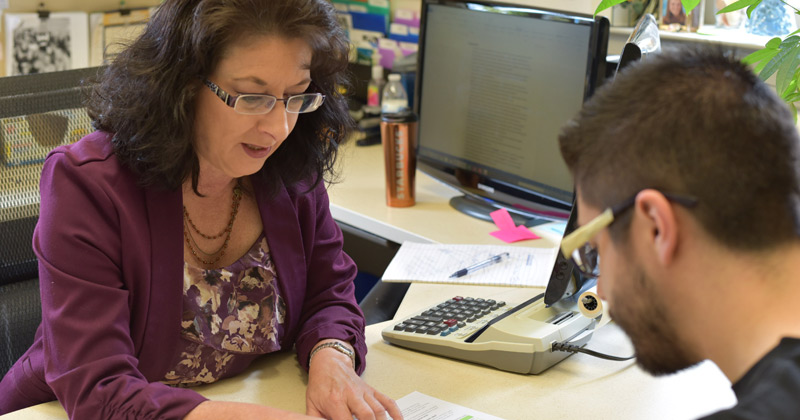 FREE Transfer Credit Review
Start by getting a free transfer credit review if you're considering transferring! The online transfer review form only takes a few minutes to complete, and you'll get results within 72 hours.
How does the review work? Our enrollment team will review the completed form and your unofficial transcript and match transfer articulation between the institutions you've already attended and EOU. Once reviewed, an enrollment counselor will reach out to discuss the review and schedule a time to discuss the next steps.
Start Transfer Credit Review
How to Apply
Create an account in the EOU Online system and complete the form.
Undergraduate: $50
Graduate: $50
Non-admit: $25
International student: $90
Depending on the program you choose, there may be requirements. Undergraduate students need official transcripts from all previously attended institutions (or GED scores), graduate students require transcripts as well as GRE scores (depending on the program), a letter of recommendation and a personal statement. International students are required to meet the requirements of the EOU English Proficiency Policy.
Check for updates and news about your application.
Once you're accepted, make sure you complete the necessary forms. Call or email the Office of Admissions if you have any questions.
Find My Program Admissions Requirements
Reach your goals by applying for one of EOU's online degree programs. Each program is designed to provide you with skills, experience and understanding of your chosen field, and will set you up for success. Whether you are pursuing an undergraduate, graduate or certificate program, we have the right fit for your needs. Explore each program to get started.
"As a nontraditional student juggling work, family and community commitments, the idea of going back to school can be very daunting. EOU has been a great fit for me because of the accessibility and flexibility of the online degree programs; I can pursue my dream while still maintaining my other commitments. The advisors and faculty I have worked with at EOU have been so supportive and encouraging, and my advisor has been there cheering me on from the start. I am proud to be a Mountaineer!"

– Laurie Fialka, Business Administration Major
Enrollment Level by Student's Credit Hours
| Student Level | Full time | Half time | Less than half time |
| --- | --- | --- | --- |
| Undergraduate | 12 or more | 6-8 | 1-5 |
| Post-baccalaureate | 12 or more | 6-8 | 1-5 |
| Graduate | 9 or more | 5-6 | 1-4 |
Full time enrollment is defined as 12 credit hours per term for undergraduates, and 9 or more credit hours per term for graduate students.
Students who plan to attend half time should contact the financial aid office before the beginning of their term to have their aid revised.
Frequently Asked Questions
We want to make sure you have all your questions answered. Take a look through our FAQs to find the right information. If you still need assistance, call us at 855-805-5399 and we'll help you out.
If you have limited financial resources, and meet any of six deferral requirements, you may be eligible for a deferral. If you qualify for the fee deferral, please select YES on the application fee deferral question within the undergraduate application.
While you do not need to have all documents ready when you start your application, your application file (GPA/transcripts, letters of recommendation, goal statements, etc.) must be complete when you submit your application to the program. Incomplete files will not be considered. Please visit our admission requirements page for full details of what's needed.
Yes. Applicants who meet specific requirements may defer their application fee. To find out if you qualify, contact us by phone at (855) 805-5399 or by email: onlineadmissions-group@eou.edu
.
You may be eligible for an application extension. To find out, contact our Admissions Office at (855) 805-5399, or email: onlineadmissions-group@eou.edu
EOU provides excellent opportunities for transfer credits and financial aid. For your tuition cost, visit your program's page. For information about costs and awards, visit the EOU Online Tuition & Aid page.

Your enrollment counselor is available for questions about applying to EOU Online and registering for your courses. Talk with your academic advisor to stay on track with your degree progress. A transcript team will ensure that you get the most credit possible for past college credit. Also, do not forget that you have access to EOU campus resources such as student services, admissions, disability services, financial aid and student advocacy.