Get the Accounting Skills You Need Online to Prepare for Licensure Exams
Pair With MBA for CPA Licensure
Learn More Today
Complete the form to learn more about this program.
Duration

4 years

Cost per Credit

$286.40

Credit Hours

180
Program Benefits
Flexible online learning format
Seasoned professors with diverse backgrounds
Generous transfer policy – now accepting applications
Expert career advice to help with your job search
*Price reflects tuition for Oregon residents. Non-resident tuition is $329.60/credit hour. Speak to an enrollment counselor for more information
Try our new Admissions Estimator tool to better understand your chances for admission. You probably meet more requirements than you think!
Admissions Estimator
IACBE-Accredited Bachelor's in Accounting Program With CPA Exam Prep
Your bachelor's in accounting from EOU can be personalized to meet your unique needs. Choose from a B.A. or B.S., opt for the accelerated option to finish in three years and select specialized coursework in managerial accounting.
Our accredited curriculum readies you for vital licensure exams in the industry so you can go for the roles that match your interests. If you want to become a CPA, CMA or CEO, EOU's accounting degree online provides the tools you need to enter an exciting, dynamic field.
With tuition of $286.40 per credit hour and PhD-degree industry experts leading your learning, EOU's degree offers exceptional value for adult learners.
Accreditation
The bachelor's in accounting online program at EOU is accredited by the International Accreditation Council for Business Education (IACBE). This affiliation represents EOU's commitment to a quality business education and consistent, continuing evaluation; you can be sure that the accounting program will effectively prepare you for today's business careers.

Options for Specializing Your Degree
Requirements for the bachelor's in accounting online program at EOU include a lower-division core plus an upper-division core. Beyond those, you can choose one optional specialized track.
B.S./B.A. in Accounting: Certified Managerial Accounting
Gain the credential required to take the certified public Accountant (CPA) exam and pursue the globally recognized certified management accountant (CMA) exam so you can go further in your career.
Core Curriculum
The online bachelor's in accounting requires a core of courses including lower- and upper-division courses. Lower-division courses give a background in managerial and financial accounting, business communication, business law and macroeconomics.
Upper-division classes explore theory and practice; classes include principles of marketing and finance, taxation, a series of accounting classes, managerial courses and advanced accounting. Earn your B.A. with a foreign language requirement, or your B.S. with just 12 more science credits.
After the core is completed, accounting majors can choose from one optional track: certified managerial accounting.
View Courses
Have Credits to Transfer?
The option to transfer credits makes your program more affordable and can help you get on the job sooner. We allow up to 135 credits from previous college coursework to be transferred into EOU. All EOU majors require a minimum of 20 EOU credits.
To see how your credits will transfer, use our Transfer Equivalency tool.
Career Outlook
New advancements in technology have created a growing need for new professionals in a variety of fields, including accounting. The Bureau of Labor Statistics reports high demand for accounting professionals as the field is currently expanding at a rate of 4 percent. At this pace, more than 61,700 new positions for accountants alone will be available by 2029.1 The online bachelor's in accounting program prepares you to take the certified public accountant (CPA) exam while delivering the credential necessary to advance your career or pursue a master's degree.
Unlock the door to a variety of professional opportunities and embark on the pathway to career success with EOU Online.
Explore Careers
Program Outcomes
Develop accurate accounting skills and practices
Understand accounting theory
Gain leadership and management skills
Study for a variety of career paths
Prepare for an MBA or CPA
Complete a specialty track in managerial accounting
"Eastern Oregon provides a great learning experience. By completing online while working full-time, I was able to accomplish a huge goal of purchasing a home at 19. I have found the degree to be very helpful as I have begun a career in public accounting."

– Brady Watkins, 2019; Meridian, Idaho; Business Administration, Accountancy
Tuition Details
We feature affordable tuition, especially when compared to similar universities. The total cost of your program (assuming no transfer credits) is just over $51,552 with a $286.40 cost per credit hour.* An additional $14.50 per credit hour will be applied to accounting, business, economics and marketing courses.
About 92 percent of our online students benefit from financial aid and scholarships to cover part of these costs.
*Price reflects tuition for Oregon residents. Non-resident tuition is $329.60/credit hour. Speak to an enrollment counselor for more information.

View Tuition details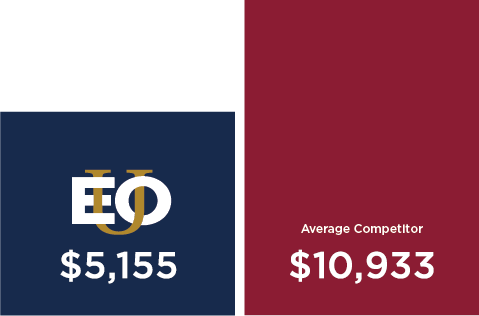 Per Term: Based on 18 credits. Costs for average competitors are estimations of state schools found on public university websites.
Admission Requirements
Application Fee
Official Transcripts/GED Scores
SAT/ACT Scores*
Get Started
*Only needed for students transferring fewer than 30 credit hours, fewer than three years after high school graduation.
What It's Like to Study Online
Earning your accounting degree online at Eastern Oregon University is a great opportunity because there are no on-campus requirements. You will have access to the same professors, content and opportunities as on-campus students, only in a creative digital format. Our professors work on campus and are professionals and experts who are trained to deliver innovative, engaging online education.
Online Experience
Frequently Asked Questions
Here are the answers to a few frequently asked questions about the online fast track accounting program.
To sit for the CPA exam in Oregon, you must have acquired 225 total credit hours. After completing the 180-credit accounting degree program at EOU, you will need 45 more credit hours. You can choose to register for 45 more undergraduate credit hours, complete the Post-Baccalaureate Accounting certificate (48 credit hours) or enroll in the MBA program (45 credit hours).
After obtaining your online bachelor's in accounting from EOU, you can work in many positions, such as a CPA, auditor, controller, financial advisor, senior accountant, fiscal manager and more.
The online program is designed for maximum flexibility and may be taken full-time if you feel you have the time to do so successfully. Full-time means you'll take 3-4 classes every 11 weeks.
To see the curriculum, view our courses page.
The Bachelor's in Accounting is designed for working professionals with busy lives, so if something interrupts your normal course of study, you don't have to worry about losing the courses you've completed. You can take up to 4 years to complete the degree, if needed. To see the curriculum, view our courses page.
This program is offered both online and on campus. However, due to the lockstep nature of the program it is highly recommended that students select their desired modality and stick with it through the duration of their enrollment. If a change is necessary, they can work with an advisor. It is not considered a hybrid program because there is no required coursework on campus.
Our most recent virtual open house was held on February 10, 2021. Feel free to watch the most recent virtual open house, and stay tuned for the next live event.
Visit our FAQ page