Tailored and Research-Focused Economics Degree Online
Transfer up to 135 Credits
Top Online Colleges Offering Economics1
No. 5 Best Value Economics Program2
Learn More Today
Complete the form to learn more about this program.
Duration

4 years

Cost per Credit

$286.40

Credit Hours

180
Program Benefits
Flexible online learning format
Seasoned professors with diverse backgrounds
Multiple transfer pathway options
Expert career advice to help your job search
*Price reflects tuition for Oregon residents. Non-resident tuition is $329.60/credit hour. Speak to an enrollment counselor for more information.
Try our new Admissions Estimator tool to better understand your chances for admission. You probably meet more requirements than you think!
Admissions Estimator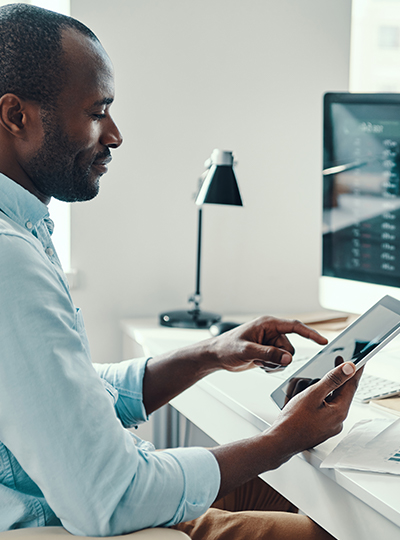 Comprehensive Economics Coursework With One-on-One Support
EOU's Bachelor of Science or Bachelor of Arts in Economics is a top-rated online program that gives you comprehensive coursework such as statistics and calculus but allows you to direct research in your own area of interest. Choose options like correlation and regression analysis, social science research or statistical analysis.
Examine modern economic thought, diving into writings of economists Adam Smith and John Maynard Keynes as well as contemporaries.
Tailor your economics degree based on your interest in liberal arts or science-based coursework, and lower your program duration with our generous transfer credit policy.
Prepare for roles in upper management, data or policy analysis, economics or continue to an advanced law or business degree.
Core Curriculum
The online bachelor's in economics requires a core of courses including lower- and upper-division courses. Lower-division courses provide a background in micro/macroeconomics, calculus, statistics and research methods.
Upper-division courses get into the theories and principles of economics. You will also learn a detailed history of economics before moving into econometrics capstone courses. These capstones are supervised by faculty so that you get real-world experience.
Lastly, you have your pick of courses to complete elective credit hours, including those from the economics program. Earn your B.A. with a foreign language requirement, or your B.S. with just 12 more science credits.
View Courses
Have Credits to Transfer?
The option to transfer credits makes your program more affordable and can help you get on the job sooner. We allow up to 135 credits from previous college coursework to be transferred into EOU. All EOU majors require a minimum of 20 EOU credits.
To see how your credits will transfer, use our Transfer Equivalency tool.
Career Outlook
According to the Bureau of Labor Statistics, the median annual salary for economists in 2020 was $108,350.1 The online bachelor's in economics degree will help you prepare for this role, along with countless other professional opportunities.
Gain expert-level skills and embark on the pathway to career success with EOU Online.
Explore Careers
Program Outcomes
Study critical, real-world cultural and social problems
Conduct and report on original research
Combine theory and practice
Explore diverse topics of inquiry
Translate skills to many future paths
Work closely with faculty who are also professionals in the field
Apply economic theory and tools
Master the operation of the market system
"At any other college, a program like economics would be crowded and overwhelming. At EOU the material and professors are exceptional, which provides a platform for success. The class sizes are small and class interactions are consistent."

– Lena Richards, 2018; Economics; La Grande, Oregon
Tuition Details
We feature affordable tuition, especially when compared to similar universities. The total cost of your program (assuming no transfer credits) is $51,522. The cost per credit hour for EOU online courses is $286.40.* An additional $14.50 per credit hour will be applied to accounting, business, economics and marketing courses.
About 92 percent of online students benefit from financial aid and scholarships to cover part of these costs.
*Price reflects tuition for Oregon residents. Non-resident tuition is $320/credit hour. Speak to an enrollment counselor for more information.

View Tuition Details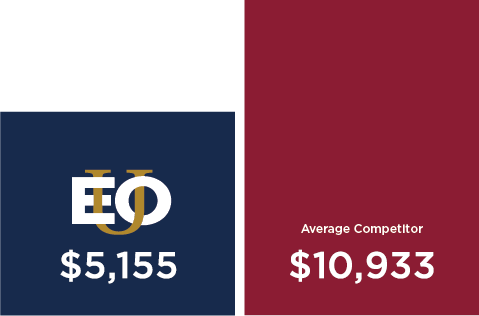 Per Term: Based on 18 credits. Costs for average competitors are estimations of state schools found on public university websites.
Admission Requirements
Application Fee
Official Transcripts/GED Scores
SAT/ACT Scores*
Get Started
*Only needed for students transferring fewer than 30 credit hours, fewer than three years after high school graduation.
What It's Like to Study Online
Earning your degree online at Eastern Oregon University is a great opportunity because there are no on-campus requirements. You will have access to the same professors, content and opportunities as on-campus students, only in a creative digital format. Our professors work on campus and are professionals and experts who are trained to deliver innovative, engaging online education.
Online Experience
Frequently Asked Questions
Here are the answers to a few frequently asked questions about this program.
Our economics faculty are well-versed in online teaching techniques. Two of their most popular tools are recorded Whiteboard lectures and video lectures. You will feel like you are actually in the classroom.
After securing your online bachelor's in economics from EOU, you can work in many positions, such as upper management, law, federal government and nonprofits. With more education, you can even be a CEO.
According to the Bureau of Labor Statistics, an advanced degree is usually required to be an economist. However, some organizations, plus the federal government, offer entry-level positions for those with a bachelor's degree.
Currently, this program does not offer scholarships. Please consider the following options regarding finances:
Complete the FAFSA® to determine financial aid eligibility. EOU's FAFSA® code is 003193.
Apply for a Sallie Mae loan.
This program is offered both online and on campus. However, due to the lockstep nature of the program it is highly recommended that students select their desired modality and stick with it through the duration of their enrollment. If a change is necessary, they can work with an advisor. It is not considered a hybrid program because there is no required coursework on campus.
Our most recent virtual open house was held on February 10, 2021. Feel free to watch the most recent virtual open house, and stay tuned for the next live event.
Visit our FAQ page