B.S./B.A./B.A.S. in Cybersecurity
A Flexible Online Degree to Protect Data and Networks
CISSP Certification Preparation
B.A., B.S., or B.A.S. Degree Paths
Learn More Today
Complete the form to learn more about this program.
Duration

4 years

Cost per Credit

$286.40

Credit Hours

180
Program Benefits
Network through computer science and math clubs
Small classes; daily interaction with seasoned faculty
Expert career advice to aid your job search
Industry certification for high salaried roles
*Price reflects tuition for Oregon residents. Non-resident tuition is $329.60/credit hour. Speak to an enrollment counselor for more information.
Try our new Admissions Estimator tool to better understand your chances for admission. You probably meet more requirements than you think!
Admissions Estimator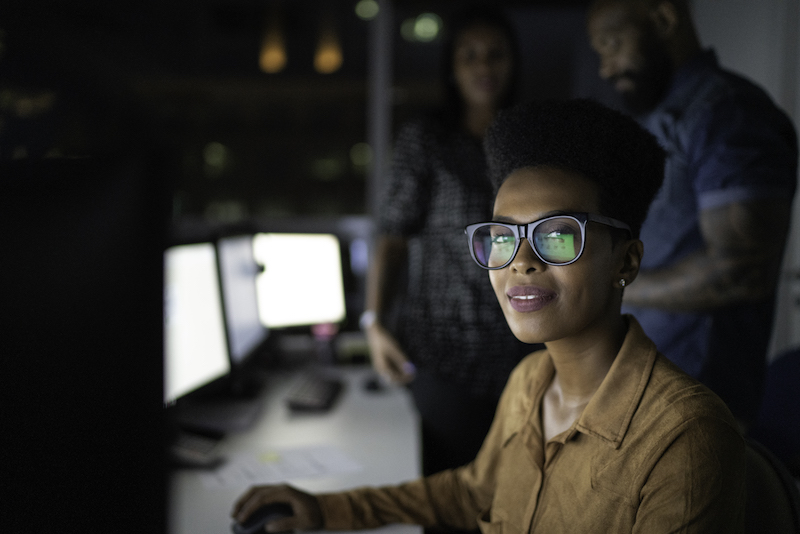 Prepare for IT Security Careers With Specialized Knowledge
Protect data and networks with EOU's Bachelor of Science, Bachelor of Arts, or Bachelor of Applied Science in Cybersecurity degree. In this practical, hands-on program, you'll gain foundational technical cybersecurity skills needed for success in both a Windows and Linux environment.
Under the direction of expert faculty currently working in the field to combat cyber threats, you'll design an interactive prototype, and study operational cybersecurity, malware analysis, application security, and incident response and Sys forensics.
This convenient online cybersecurity degree offers computer science knowledge in data structures, C++ programming, networking and architecture to prepare you to become a well-prepared IT professional with specialized skills for preventing threats in various security roles.
What Does Learning in a Practical Cyber Curriculum Mean?
Cybersecurity courses in our online bachelor's of cybersecurity program focus more on scripting and variable solutions versus algorithm development, so you're ready to solve the daily challenges you'll encounter in a security's role. This also means there's minimal math coursework required.
Course Topics Include:
Threat Analysis
Malware Analysis
Radiofrequency Analysis
Information Security Management
View Courses
Have Credits to Transfer?
The option to transfer credits makes your program more affordable and can help you get on the job sooner. We allow up to 135 credits from previous college coursework to be transferred into EOU. All EOU majors require a minimum of 20 EOU credits.
To see how your credits will transfer, use our Transfer Equivalency tool.
Earn Salary Premiums as a Cybersecurity Professional
As companies focus on including more roles dedicated to cybersecurity in a proactive approach in strategy, skills like threat intelligence, risk management, data privacy and more are sky-rocketing in demand — anywhere from 32%-164%. And cyber professionals find they can earn salary premiums from $5,256-$15,025 over their traditional IT counterparts.1
View Career Outlook
Online Bachelor's of Cybersecurity Admissions Requirements
EOU is dedicated to offering an affordable education that gets you into your career of choice sooner. We offer an Applied Science (A.S.) path for students with an associate degree and also accept up to 135 college credits. You could also gain credit for life and work experience. There is no cost to you to have your previous credits reviewed, making it easy to get started now.
Get Started
Online Application Form and Fee:
Apply Now
Degree and Minimum GPA:
2.75 high school GPA
2.25 college GPA
For students transferring more than 30 quarter college credits, a 2.25 college GPA is required.
For students with an AAOT and ASOT, a 2.0 college GPA is required.
Transcripts:
Provide official transcripts from all accredited educational institutions attended.
Additional Requirements:
GED scores if applicable
Tuition Details
Our team is committed to providing an affordable education and are here to support you in learning about options to pay for tuition. *Price reflects tuition for Oregon residents. Non-resident tuition is $329.60/credit hour. Speak to an enrollment counselor for more information.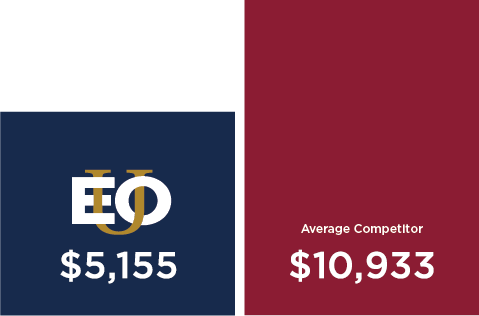 Per Term: Based on 18 credits. Costs for average competitors are estimations of state schools found on public university websites.
View Tuition Details
Learn More About Your Financial Aid Options
Your education is an investment in your future. We take your commitment seriously and are here to support you in finding ways to pay for your degree.
Options to consider are:
Loans
Grants
Scholarships
Employer Benefits
Explore Financial Aid
What You'll Learn
Gain a practical education in cybersecurity that's aligned to industry certifications and standards. You'll build experience with labs, hands-on assignments and coursework that's focused on operational aspects.
Program Outcomes
Understand the different areas of specialization in information security such as forensics, incident response, application security and more
Explain the foundational concepts of information security such as authorization, accessibility, privacy, data security, least privilege, etc.
Demonstrate the core technical skills used across the field such as a proficiency in scripting, system administration, vulnerability analysis and networking
Organize and communicate deliverables from information security projects and activities to both technical and non-technical audiences
Explain and demonstrate entry-level proficiency in defensive areas such as secure architecture, incident response and forensics
Define and demonstrate proficiency in offensive areas such as application and network security assessments, attacker tactics and techniques and the mitigating actions to take
Faculty Spotlight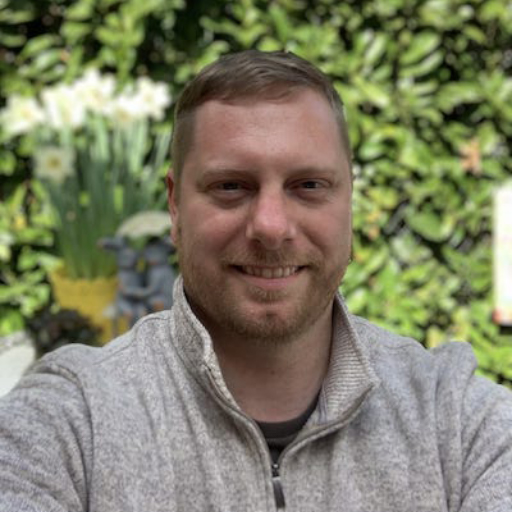 Kiel Wadner, Senior Instructor
Kiel Wadner is a senior instructor in the Computer Science department. He works full-time in the cybersecurity industry and is passionate about getting professionals the skillsets they need to be immediately effective in cyber roles. His experience as a software engineer and security professional stretches over a decade.
Credentials
B.S. in Software Engineering
M.S. in Information Security Engineering
Learn from Cybersecurity Experts
Faculty for the bachelor's in cybersecurity program will guide you through the curriculum to connect their real-world experience to case studies, coursework and the challenges you may be seeing right now at work. Our small class sizes combined with our dedicated faculty provide you with:
Personalized attention
Mentorship opportunities
Networking possibilities
What It's Like to Study Online
Earning your degree online from Eastern Oregon University is a great opportunity because there are no on-campus requirements. You will have access to the same professors, content and opportunities as on-campus students while learning in the times and locations that are best for you. Our professors work on campus and are experts who are trained to deliver an innovative, engaging education in an online format.
Online Experience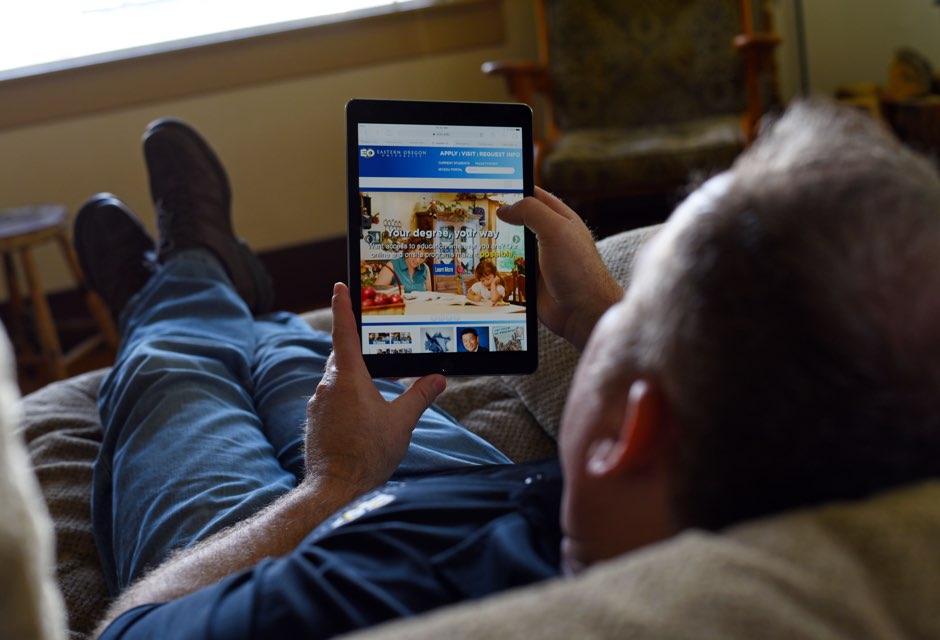 Get Answers to Common Questions
It's only natural that you'd have questions as you pursue your bachelor's in cybersecurity degree. Here are the answers to some of the most commonly asked questions about the program.
The online program is designed for maximum flexibility and may be taken full-time if you feel you have the time to do so successfully. Full-time means you'll take 3-4 classes every 11 weeks.
To see the curriculum, view our courses page.
The online program is designed for professionals who work full-time, and it is offered part-time with two classes every 11 weeks. This allows you to achieve a realistic balance between work, school and personal responsibilities and gives you the opportunity to fully absorb the information in your coursework. To see the curriculum, view our courses page.
There is no residency component necessary to complete the degree.
Visit our FAQ page