Connect to a Wider World
with EOU Online
Online Programs from Eastern Oregon University
Experience high-quality online education with EOU's online degrees and prepare yourself for a diverse, interconnected world. We offer more than 30 online degree programs that provide you flexibility and personalization.
B.A.S. in Business
Experience a specialized curriculum accredited by the International Accreditation Council for Business Education (IACBE). Complete your fast-track degree in three years.
B.S./B.A. in Accounting
Experience a specialized curriculum accredited by the International Accreditation Council for Business Education (IACBE). Complete your fast-track degree in three years.
B.S./B.A. in Anthropology and Sociology
Choose from two concentrations that are grounded in a four-field cultural, physical, biological and archaeological approach.
B.S./B.A. in Business Administration
There is one available concentration for this program, which is accredited by the International Accreditation Council for Business Education (IACBE).
B.S./B.A. in Communication Studies
Be part of the next generation of community builders with rhetorical efficiency, interpersonal effectiveness, intercultural competency, ethical sensitivity and platform savvy. Collaborate with students from other programs through the online curriculum.
B.S./B.A. in Computer Science
Study software development and computer programming while enjoying unique class offerings and experienced faculty. You will be prepared for the variety of innovative technology evolving in the 21st Century.
B.S./B.A. in Early Childhood Education
Prepare to work with children up to eight years old in this program taught by experts and ranked best in Oregon and 16th in the nation.
B.S./B.A./B.A.S. in Cybersecurity
Focus on the applied skills of cybersecurity in a comprehensive curriculum so you can step into the security role of your choice at graduation.
B.S./B.A. in Economics
Participate in a research-focused curriculum, apply economic theory and explore diverse economic systems and issues.
B.S./B.A./B.A.S. in Emergency Medical Services Administration
Gain certifications while learning how to move into EMS administration and management. Our program fulfills the National Fire Academy's Fire and Emergency Services Higher Education model curriculum.
B.S./B.A. in English/Writing
Prepare to be a creative and effective communicator in a program that features community involvement and partnerships with nonprofits, independent presses and K-12 schools.
B.S./B.A. in Fire Services Administration
Learn from fire chiefs and other industry professionals in the business-focused, award-winning program.
B.S./B.A. in Health & Human Performance
Get affordable, hands-on experience and practice with scientific approaches in one of four concentrations – physical education and sport, community health, exercise science and nature and outdoor recreation programming.
B.S./B.A. in History
Our history program includes published, tenured faculty and Eastern Oregon University Presidential Scholar winners. For the past five years, the history department has been recognized by Phi Alpha Theta, an honor society for history professors and students.
B.S./B.A./B.A.S. in Information Technology Management
Experience a specialized curriculum. Complete your fast-track degree in three years.
B.S./B.A. in Interdisciplinary Studies
Reach your customized career goals with this degree. It is one of the largest at Eastern Oregon University because it features flexibility and versatility to make your dream career possible. Create a customized degree program or combine two minors to earn your degree.
B.S./B.A. in Marketing
Explore interactive media, interpersonal relationships and emerging technologies with the online marketing bachelor's degree from EOU.
B.S./B.A. in Psychology
Prepare for graduate school or entry-level work as a counselor or psychologist in schools, rehabilitation centers or social services with this rigorous program and its unique curriculum.
B.S./B.A. in Public Relations
Develop skills in social media management, marketing and media relations while learning to effectively communicate information to a wide range of stakeholders. This program also prepares you to sit for the Certified Public Relations (CPR) exam.
Master of Arts in Teaching
Develop skills for a rewarding teaching career at the elementary or secondary level with this flexible, hybrid program. Complete your master's degree in 10 months and gain valuable field experience to improve learning outcomes for your students.
Master of Business Administration
Learn management strategies to optimize professional career advancement in this program that is accredited by the International Accreditation Council for Business Education (IACBE).
Master of Fine Arts (MFA) in Creative Writing
Eastern Oregon University's online/hybrid MFA will give you opportunities for hands-on writing, editing and publishing in collaborative workshops from the comfort of your home and the serenity of nature.
Master of Science in Clinical Mental Health Counseling
Learn from experts in this fully online program to prepare for the mental health counseling career field.
Master of Science in Education
Develop best practices for PK-12 education by implementing applied and theoretical knowledge and skills. Focus on literacy (reading), special education, curriculum leadership, dyslexia, trauma in educational communities, or ESOL (English for Speakers of Other Languages) while learning from faculty with advanced degrees in their specialties.
Post-Baccalaureate Accounting Certificate
If you have a non-accounting degree or need more credits to sit for the CPA exam, this certificate program will provide tax, accounting, finance and auditing courses to prepare you for an accounting career.
Computer Programming I & II Certificate
Eastern Oregon University's Computer Science department is a great choice if you are interested in programming, IT management, data analysis, system administration, software engineering, cybersecurity, or advanced study. After obtaining your degree, you will be equipped with the skills to work in the private or public sector. Our program's curriculum enables you to personalize your degree depending on your desired career trajectory.
Quick Facts
2-3
year options for completion
"As an online student at EOU, I was challenged by coursework that focuses on relevant topics and skills. Tutoring centers and other student services were very helpful. EOU has proven to be a fantastic choice for my family and myself."

– Bryton Parker Lochridge, Business Administration Major
Why EOU Online?
EOU offers a variety of flexible, affordable online programs at the undergraduate and graduate level(s) that combine personal attention with academic excellence. At EOU, we are proud to offer competitive tuition, expert faculty and a supportive learning community for all students.
The Value of an EOU Online Degree
Compared to public Oregon universities, Eastern Oregon University's online programs are among the most affordable for undergraduate tuition. The pricing for our online graduate programs is even more competitive.
As shown in this chart, an online education at EOU is an excellent value for students. Visit the Tuition & Aid page for more information on tuition, cost of attendance and financial aid.
View Costs & Fees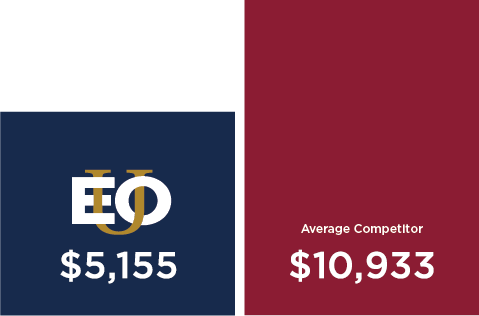 Per Year: Based on 18 credits. Costs for average competitors are estimations of state schools found on public university websites.
Flexible Transfer Credits
Eastern Oregon University Online is committed to awarding maximum transfer credits based on regional accreditation. You can transfer education from U.S. military experience, college-level exams, AAOT/ASOT (Associate of Arts/Science Oregon Transfer Degrees) and the Oregon transfer module. You could also get credit for prior work/life experience through APEL: Assessment of Experiential Learning.
EOU has transfer agreements with 26 other universities in Oregon, Washington, North Carolina, Texas, Idaho and California. To see how your experience will transfer to EOU, check out the Transfer Equivalency tool or the EOU Transfer Pathways page.
EOU Support
Eastern Oregon University provides support and personal attention to its online students through academic advising. Your resources include enrollment counselors, financial aid, disability services, testing services and services for U.S. military personnel and veterans.
Meet Your Team