B.S./B.A. in Health & Human Performance – Nature and Outdoor Recreation Programming Concentration
Build on Your Passion for the Outdoors
Duration

4 years

Cost per Credit

$286.40

Credit Hours

180
Program Benefits
Fully Immersive Wilderness Experience
Niche Online Concentration Opportunity
Outdoor Recreation Career Preparedness
*Price reflects tuition for Oregon residents. Non-resident tuition is $329.60/credit hour. Speak to an enrollment counselor for more information.
Try our new Admissions Estimator tool to better understand your chances for admission. You probably meet more requirements than you think!
Admissions Estimator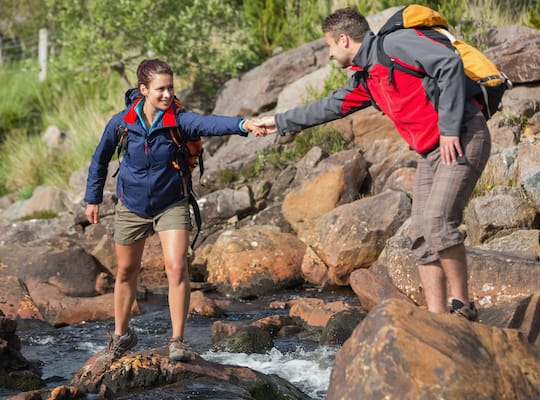 Integrate Health, Wellness and Outdoor Recreation
The outdoor recreation concentration is the first of its kind in the nation. You can take most of the program's courses online and then complete a two-week summer field studies program, which provides unparalleled flexibility and value. The world-class field studies location is in the largest wilderness area in Oregon, the 360,000-acre Eagle Cap Wilderness of the Wallowa-Whitman National Forest.
The Health & Human Performance degree combined with the outdoor recreation concentration integrates outdoor recreation with holistic health. Small class sizes allow for individualized attention from faculty as you gain well-rounded and marketable skill sets.
Career Outlook: Turn Your Interest for Outdoor Recreation into a Sustainable Career
The outdoor recreation concentration includes a comprehensive scope of study so that you can make a career in the parks, recreation and tourism industries. After graduation, you'll be able to not only lead or guide wilderness and outrigger excursions but you'll also be prepared with the planning, navigation, risk management, permitting, health and safety skills you need to be successful at pursuing a fulfilling, long-term career. According to the U.S. Bureau of Labor Statistics, the employment of recreation workers is projected to grow 10% through 2029, which is much faster than the average for all occupations; this growth will lead to over 41,500 new jobs.1
Parks and Recreation Director
$59,826/YEAR
Parks and recreation directors develop and implement plans for the parks and recreation system along with planning activities, programs and projects for the public. They also manage parks and recreation staff, oversee the budget, assign tasks, supervise work and provide training.2
Health and Wellness Coordinator
$50,136/YEAR
Health and wellness coordinators help groups of people live healthier lifestyles. They analyze individuals and groups, design diet and exercise plans and work with patients in clinics.3
Other titles for graduates of the outdoor recreation concentration:
Environmental educator
Forest Service recreation specialist
Health education specialist
Health and wellness coordinator
Mountain guide
Outfitter
Parks and recreation program manager,
Wilderness therapist or business owner
Youth camp administrator
Curriculum: Integrate Health, Wellness, and Outdoor Recreation
In the outdoor recreation concentration, you'll take core health and anatomy courses. Then, you'll learn to plan, navigate and execute excursions and lead lessons on wildlife, land history, geography, native tribes and basic survival skills.
Course Spotlight: OUT 499 Summer Outdoor Recreation Internship
This paid or voluntary supervised professional experience provides a continuous and structured summer internship opportunity to apply principles and skills developed in the classroom to the solution of practical problems in an outdoor recreation industry setting.
View Curriculum
Course Spotlight: OUT 430 Outdoor Adventure Leadership and Training
This course is the final field practicum and capstone experience of the Outdoor Recreation Programming degree concentration. The extended outdoor field-course environment provides an ideal opportunity for the development and application of leadership skills through an intensive and extensive experiential progression where each student observes and applies leadership techniques and expedition execution. Students are empowered to become great expedition leaders in a wilderness setting and on a Class III whitewater river trip.
Available Health & Human Performance Concentrations
Health & human performance is a fast-growing career field. Choose from four concentrations to tailor your degree to your career goals.
B.S./B.A. in Health & Human Performance: Community Health
Learn to address a range of health and wellness concerns throughout diverse communities, and provide education on disease prevention, injuries, illness and more.
B.S./B.A. in Health & Human Performance: Exercise Science
Develop essential wellness skills and become eligible for career advancement through certifications in strength and conditioning, personal training and inclusive fitness training.
B.S./B.A. in Health & Human Performance: Physical Education and Sport
Build a strong foundation for your education career with a curriculum that takes a scientific approach to physiology, motor development, movement analysis and more.
Frequently Asked Questions
If you have a question we don't cover here, request more information or call 877-791-7181.
Yes, this program accepts transfer credits. 60 credits of upper division coursework are required, 30 of which can be transferred in. Of credits in the major, a minimum of 20 must be from EOU. APEL credits may substitute for some program requirements. You can learn more about our admission policy here.
The online program is designed for professionals who work full-time and is offered part-time with two classes every 11 weeks. This allows you to achieve a realistic balance between work, school and personal responsibilities and gives you the opportunity to fully absorb the information in your coursework. To see the curriculum, view our courses page.
This program is offered both online and on campus. However, due to the lockstep nature of the program it is highly recommended that students select their desired modality and stick with it through the duration of their enrollment. If a change is necessary, they can work with an advisor. The program is not considered blended or hybrid because there is no residency requirement for coursework.
The program requires completion of PES 131 with a grade of C- or better. You can learn more about our admission requirements here.
The program has four start dates throughout the year in the summer, fall, winter and spring.
Visit our FAQ page