B.S./B.A. in Health & Human Performance – Physical Education and Sport
Begin Your Education Career With Specialty Skills
Generous Transfer Credit Policy
Duration

4 years

Cost per Credit

$286.40

Credit Hours

180
Program Benefits
Career-Ready Skills for Physical Education
Unique Core and Elective Course Topics
Hands-On Internship and Capstone Experience Opportunities
*Price reflects tuition for Oregon residents. Non-resident tuition is $329.60/credit hour. Speak to an enrollment counselor for more information.
Try our new Admissions Estimator tool to better understand your chances for admission. You probably meet more requirements than you think!
Admissions Estimator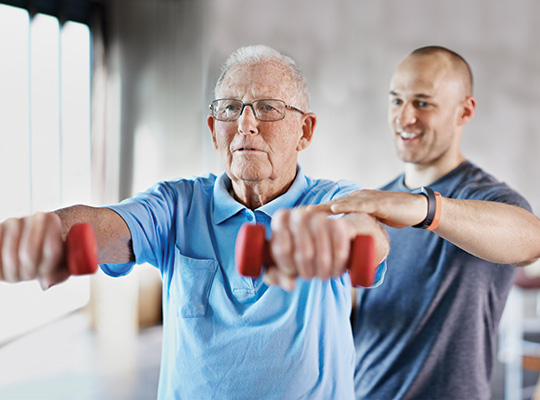 Learn Advanced Teaching Skills from Expert Educators
EOU's online B.S./B.A. in Health and Human Performance – Physical Education and Sport concentration will prepare you for diverse professional opportunities in the field of health while helping you build a solid academic foundation required to pursue a career in physical education.
To enter EOU's teacher education program with an emphasis in Physical Education and Health Education, you must complete either the Physical Education and Sport or Community Health concentrations. With expert faculty support, you'll receive the teaching skills to inspire children to live healthy lifestyles, and to educate adults about fitness and nutrition in a variety of other health careers. You'll also benefit from flexible course schedules and unlimited online access to all courses so you can balance your education with your full-time personal responsibilities.
Career Outlook: Opportunities to Make Positive Change
When you complete the online physical education and sport concentration, you'll have the academic credential to pursue a master's degree, plus the expert skills required for diverse careers in the fields of education and health. One career many graduates of this program pursue is the role of physical education teacher. According to Payscale.com, the average annual salary for these teachers is $45,748.1
Physical Education Teacher
$46,194/YEAR
Physical education teachers teach children about physical fitness, sports and nutrition. They coordinate group sporting activities in the classroom and may coach their school's sports teams.1
Health Educator
$48,140/YEAR
Health educators coordinate educational programs that share health and wellness information with children and adults. They coordinate programs to address public health issues facing a community.2
Other titles for graduates of the online physical education and sport concentration:
Fitness trainer
High school teacher
Postsecondary teacher
Curriculum: Health Expertise for the Future
The online physical education and sport concentration builds the academic foundation you need to succeed in diverse education and health careers. The courses required for this concentration cover sport psychology, teaching team sports, sport management and more.
Course Spotlight: EXS 423 Sport Skill Analysis
In this course, students will apply anatomical and biomechanical principles to the assessment of human movement. Students will acquire the observational and evaluation skills necessary to provide assessment and intervention to improve movement performance. Practical experience under a variety of scenarios will be required as part of the course.
Course Spotlight: PES 294 Teaching Team Sports
Study and application of pedagogy for team sports. Fundamental skills, appreciation, knowledge of rules, and instructional strategy are emphasized for soccer, track & field, baseball/softball, football, rugby, volleyball, and basketball.
Available Health & Human Performance Concentrations
Health & human performance is a fast-growing career field. Choose from four concentrations to tailor your degree to your career goals.
B.S./B.A. in Health & Human Performance: Nature and Outdoor Recreation Programming
Integrate the study of outdoor recreation with holistic health and then complete a two-week summer field studies program in the largest wilderness area of Oregon.
B.S./B.A. in Health & Human Performance: Community Health
Learn to address a range of health and wellness concerns throughout diverse communities, and provide education on disease prevention, injuries, illness and more.
B.S./B.A. in Health & Human Performance: Exercise Science
Develop essential wellness skills and become eligible for career advancement through certifications in strength and conditioning, personal training and inclusive fitness training.
Frequently Asked Questions
If you have a question we don't cover here, request more information or call 877-791-7181.
Yes, we will help you find and complete an internship that is local to you. Your capstone experience will work the same way.
The bachelor's in health & human performance will open doors to many careers. With the degree, you can work in public health education, strength and conditioning coaching, personal training or corporate wellness. If you choose to pursue other certifications and/or graduate education, you could work as a nurse, dentist, chiropractor, physical therapist, occupational therapist, dietician or K–12 educator.
Our diverse faculty have many areas of expertise and are made up of a mix of full-time and part-time professors.
The online program is designed for professionals who work full-time and is offered part-time with two classes every 11 weeks. This allows you to achieve a realistic balance between work, school and personal responsibilities and gives you the opportunity to fully absorb the information in your coursework. To see the curriculum, view our courses page.
Visit our FAQ page