B.S./B.A. in Politics & Economics
Effectively Address Society's Problems
Develop an interdisciplinary understanding of politics and economics with real-world experience in this public administration program focused on civic engagement.
Learn More Today
Complete the form to learn more about this program.
Duration

4 years

Cost per Credit

$265

Credit Hours

180
Program Benefits
Gain Real-World Public Policy Experience
Unique Core and Elective Course Topics
Develop Strong Research and Analysis Skills
Generous Transfer Credit Opportunities
About the Bachelor's in Politics & Economics
EOU's degree in politics & economics is known for its interdisciplinary approach: strong research and writing skills pair with analytic rigor from the social sciences to help you understand the institutions and policies that shape our world. You will engage with your local policies and officials to gain real-world experience, even in an online setting.
With a bachelor's degree from EOU in politics & economics, you will be prepared for work in non-profits or as an entry-level lobbyist or analyst. Our degree is also an excellent starting point for entrance into prestigious graduate programs for law, government and political science. Program alumni have worked for Pew Charitable Trust Foundation, in the state legislature, as non-profit executives, as attorneys, as investigative reporters and journalists and as public policy analysts.
Politics & Economics Curriculum
Core Curriculum
The online bachelor's in politics & economics requires a core of credit hours; in the core, you will study micro/macroeconomics, U.S. government, international relations, media, public policy and statistics. Earn your B.A. with a foreign language requirement, or your B.S. with just 12 more science credits.
You will also be required to complete upper-division elective hours from politics and from economics. Your elective options give you the opportunity to tailor your experience toward your career goals.
Our politics & economics degree program also emphasizes real-life experience in your community; you will get the chance to impact state, local and county public officials.
View Courses
Have Credits to Transfer?
The option to transfer credits makes your program more affordable and can help you get on the job sooner. We allow up to 135 credits from previous college coursework to be transferred into EOU. All EOU majors require a minimum of 20 EOU credits.
To see how your credits will transfer, use our Transfer Equivalency tool.
"Eastern Oregon University has the affordability, small class sizes and caring faculty who make a monumental difference to student success. Politics and economics taught me to think critically about factors that influence our political system."

– Katy Barnett, 2009; Community Outreach Liaison, Colorado Choice Transitions; Denver, Colorado
Admission Requirements
Application Fee
Official Transcripts/GED Scores
SAT/ACT Scores*
Get Started
*Only needed for students transferring fewer than 30 credit hours, fewer than three years after high school graduation.
What It's Like to Study Online
Earning your degree online at Eastern Oregon University is a great opportunity because there are no on-campus requirements. You will have access to the same professors, content and opportunities as on-campus students, only in a creative digital format. Our faculty work on campus and are professionals and experts who are trained to deliver innovative, engaging online education.
Online Experience
Tuition Details
We feature affordable tuition, especially when compared to similar universities. The total cost of your program (assuming no transfer credits) is just over $47,700. The cost per credit hour for EOU Online is $265.* An additional $13.50 per credit hour will be applied to accounting, business and economics courses.
About 92 percent of online students benefit from financial aid and scholarships to cover part of these costs.
*A cost differential will be applied to ACCT, BA and ECON prefix courses.
View Tuition Details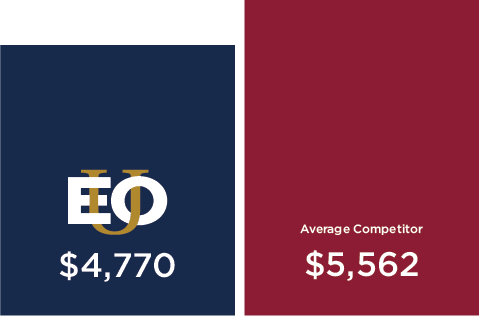 Per Term: Based on 18 credits. Costs for average competitors are estimations of state schools found on public university websites.
Program Outcomes
Explore societal problems
Critically analyze public policies
Create effective, inclusive public policies
Make a positive contribution to your community
Partner with faculty for real-life research experiences
Develop an interdisciplinary approach to politics and economics
Career Outlook
With your bachelor's degree, Payscale reports that the average yearly salary for nonprofit leadership is $71,000;¹ policy analysts make, on average, $57,213.²
The Bureau of Labor Statistics reports that with graduate education, political scientists can make a median annual salary of $117,570;³ lawyers can make up to $120,910.⁴
Frequently Asked Questions
Here are the answers to a few frequently asked questions about this program.
Yes, this degree can be completed 100 percent online, because there are no on-campus requirements.
After securing your online degree, you can work in many positions, such as a leader in a non-profit, government service, lobbying, policy analysis or investigative reporting. You could also pursue advanced study to go into law, teaching, state legislature and more.
Our diverse faculty have many areas of expertise and are made up of a mix of full-time and part-time professors.
The online program is designed for professionals who work full-time and is offered part-time with two classes every 11 weeks. This allows you to achieve a realistic balance between work, school and personal responsibilities and gives you the opportunity to fully absorb the information in your coursework. To see the curriculum, view our courses page.
We recently created this program for the online modality. Learn more about what to expect as an online student here.
Our most recent virtual open house was held on February 10, 2021. Feel free to watch the most recent virtual open house, and stay tuned for the next live event.
Visit our FAQ page
¹Salary for Certification: Nonprofit Leadership. (n.d.). Retrieved Sept. 19, 2019, from https://www.payscale.com/research/US/Certification=Nonprofit_Leadership/Salary
²Average Policy Analyst Salary. (n.d.). Retrieved Sept. 19, 2019, from https://www.payscale.com/research/US/Job=Policy_Analyst/Salary
³Political Scientists. Sept. 4, 2019. Retrieved Sept. 19, 2019, from https://www.bls.gov/ooh/life-physical-and-social-science/political-scientists.htm
⁴Lawyers. Sept. 4, 2019. Retrieved Sept. 19, 2019, from https://www.bls.gov/ooh/legal/lawyers.htm