Online B.S./B.A. in Business Administration – Global Food Systems and Agribusiness
Address Global Food Systems with Accredited Expertise
Duration

4 years

Cost per Credit

$265

Credit Hours

180
Program Benefits
Launch an Impactful Business Career
Gain Leadership and Management Skills
Convenient Online Format
*Price reflects tuition for Oregon residents. Non-resident tuition is $305/credit hour. Speak to an enrollment counselor for more information.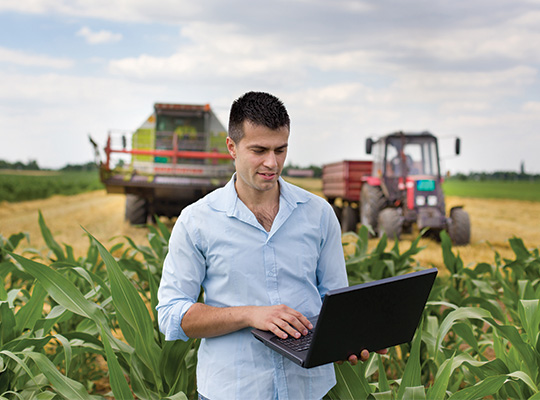 Spark Change in Agriculture
The online agribusiness concentration from Eastern Oregon University combines business essentials with the intricacies of global food systems and agriculture. Through a curriculum that delivers a solid grounding in formal business skills, the program explores innovative technologies and their role in today's field of agribusiness. When you complete the agribusiness concentration, you'll graduate fully equipped with the expertise to identify problems within global food systems and develop solutions to problems facing the environment, health and the future of agriculture.
The bachelor's degree with an agribusiness concentration can be completed entirely online in EOU's virtual classroom. Courses are taught by faculty members with years of industry experience committed to providing each student with personalized attention. With faculty support and guidance, you'll gain career-ready skills and develop a competitive edge in the field.
Career Outlook: Specialty Skills for the Business Career You Want
The will prepare you to address issues in global food systems and solve complex problems in agriculture. When you graduate, you'll be fully prepared to take on diverse careers that make an impact in the environment and the overall health of humans everywhere, like the role of agricultural engineer. The Bureau of Labor Statistics reports that professionals in this position earned a median annual salary of $84,410 in 2020.2
Agricultural Engineer
$84,410/YEAR
Agricultural engineers work with farmers and ranchers to develop solutions to complex problems regarding agriculture and food systems. They work to determine the best methods for conserving energy, limiting pollution and more.1
Agricultural Manager
$68,090/YEAR
Agricultural managers oversee the harvesting and production processes at farms, ranches and other food production centers. They ensure facilities abide by the law and food safety guidelines.2
Other titles for graduates of the online agribusiness concentration:
Supply chain analyst
Environmental science and protection technician
Agribusiness production supervisor
Curriculum: Career-Ready Skills for an Ever-Changing Business Environment
The online agribusiness concentration utilizes a curriculum that applies business essentials to the dynamic field of global food systems. The courses required for the program cover topics including agribusiness marketing and management, policy and trade, food systems finance and more.
Course Spotlight: BA 341 Global Agribusiness Management
The course will provide students with a solid background of the agribusiness industry and its role in the domestic and global economy, and issues managers will face in the 21st century. The learning environment will be accentuated by case studies, other analyses and out-of-class assignments using examples in the food and fiber value chain. Case studies and discussions will be utilized to practice critical thinking and decision-making skills related to the managing of a global agribusiness today. Students will interact with an agribusiness to gain first-hand knowledge of the agribusiness environment.
Course Spotlight: BA 343 Agribusiness Finance
The course introduces students to the special considerations for the financial management of agribusiness firms. Topics include sources of credit, regulations, and credit evaluation unique to agribusinesses. The course will address the fundamental problem of financial management and control for corporate agribusiness firms. Additionally, the course will cover how managers can maximize the agribusiness firm's value by improving decisions with working capital management, capital budgeting, and choice of capital structure.
Available Business Administration Concentrations
EOU's Business Administration program offers three optional concentrations. Explore them below.
Frequently Asked Questions
Here are the answers to a few frequently asked questions about this program.
As the global food system experiences massive changes in population, demographics and food preferences, you will be ready to maximize profit, increase efficiency and incorporate advancements such as biotechnology. Agribusiness, with its myriad of opportunities, is a fast-growing concentration with more employment than many other career fields.
After securing your online bachelor's in business administration from EOU, you can work in many management positions. You might also work in marketing, accounting, global food systems and agribusiness.
An additional $13.50 per credit hour will be applied to accounting, business, economics and marketing courses. You can learn more about all tuition fees here.
Our most recent virtual open house was held on February 10, 2021. Feel free to watch the most recent virtual open house, and stay tuned for the next live event.
The first step is to start your application. You'll need to submit official transcripts and pay your application fee as well. Learn more about admission here.
You'll complete 18 major-specific courses to earn the Bachelor's in Business Administration degree. You can learn more about coursework for the program here.
Visit our FAQ page