Online Master of Healthcare Administration Program
Become a Leader in Healthcare
Learn More Today
Complete the form to learn more about this program.
Duration

18–36 Months

Cost per Credit

$520.80

Credit Hours

45
Program Benefits
Learn from the comfort of your home
Taught only by healthcare administrative professionals with valuable experience in the field
Capstone customized with real world or simulated healthcare projects
Urban and rural focus
Try our new Admissions Estimator tool to better understand your chances for admission. You probably meet more requirements than you think!
Admissions Estimator
Advance Your Career with an Online Degree
Students in Eastern Oregon University's fully online Master of Healthcare Administration program are prepared to step into leadership and administrative roles through practical, applied experiential learning activities based on the foundational principles of administration. The flexible course of study is taught by healthcare administrative professionals with real-world experience. It covers the knowledge and competencies needed to work in the growing fields of urban and rural healthcare.
The program is taught entirely online and our instructors combine asynchronous and some synchronous methods to provide a flexible and convenient learning environment. Our graduates work in exciting roles ranging from department managers, physician services, and directors of operations to long-term care administrators.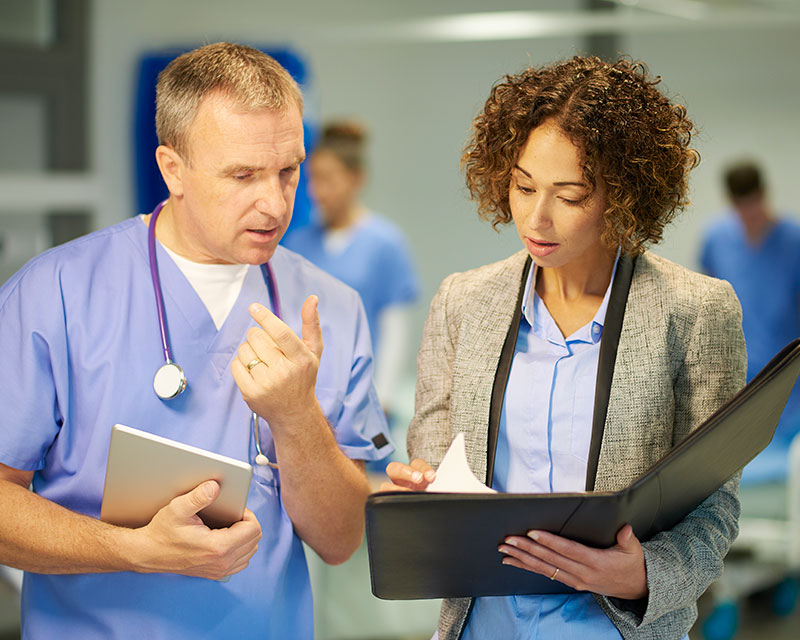 Meet the Demand for Healthcare Leaders
The healthcare industry plays a vital role in public health across many different organizations, and the need for leaders and professionals is constantly growing. Employment of medical and health services managers alone is projected to grow 32% from 2020 to 2030.1
EOU's fully online program prepares students to advance their careers and confidently step into leadership roles.
Explore Careers
Learn Real-World Skills
The online Master of Healthcare Administration program curriculum is taught by healthcare administrative professionals and allows students to learn practical skills that will help them advance their careers. In this program, students will demonstrate knowledge of the U.S. healthcare industry, compare and contrast today's urban and rural healthcare systems, and more.
Courses include:
Healthcare Delivery Systems
Healthcare Informatics
Quality Improvement in Healthcare
Population Health & Epidemiology
View Complete Curriculum
MHA Admissions Details
Transfer Up to 15 Graduate Credits
Apply now to earn your Master of Healthcare Administration degree from EOU. Our flexible, fully online program will give you the experience you need, regardless of your schedule. Here's what you'll need to apply:
A completed application
A baccalaureate degree or higher from an accredited college or university
GPA of at least 3.0
Official transcripts from every college-level institution attended
Current resume
Cover letter
$50 application fee
View the Application Process
An Affordable MHA Program
The online Master of Healthcare Administration program offers a cost-effective way for students to advance their careers. Our teams assist with financial aid, scholarships, loans, and U.S. military benefits to ensure students receive the most affordable education.
Learn More
What You'll Learn
Throughout this program, students learn to be administrative leaders in healthcare with a focus on applications to rural and urban settings. Courses of study include Healthcare Delivery Systems, Healthcare Informatics, Quality Improvement in Healthcare, Budgeting & Financial Management, Population Health & Epidemiology, Emerging & Disruptive Technologies, and more.
Program Outcomes
After completing the program, students will be able to:
Demonstrate knowledge of the U.S. healthcare industry, regulatory compliance, and delivery systems, including disruptive innovations in healthcare operations and how providers will deliver care.
Compare and contrast today's urban and rural healthcare systems, including delivery, finances, quality, regulatory policies and practices and compliance, organization effectiveness and clinical and support services.
Analyze the potential short- and long-term implications of healthcare policy and operations decisions.
Evaluate the efficacy of information technology in improving patient care, patient outcomes and creating a safe patient care environment.
Analyze the impact of social policy, finance, regulations and legislation on healthcare for individuals, groups, communities and populations on the professional practice of healthcare management.
Analyze and interpret financial information needed to make long-term decisions for a healthcare organization.
Incorporate the principles of quality management for improving outcomes in healthcare organizations.
Demonstrate proficiency in conflict management, problem-solving, entrepreneurial thinking, team leadership and communication skills.
Integrate healthcare ethics and diversity, equity and inclusion into healthcare leadership practice.
What It's Like to Study Online
Earning your degree online from Eastern Oregon University is a great opportunity because there are no on-campus requirements. You will have access to the same professors, content and opportunities as on-campus students while learning online in a creative digital format. Our professors work on campus and are experts trained to deliver innovative, engaging online education.
Explore the Online Experience
Frequently Asked Questions
Explore our FAQs to learn more about the program. Reach out to us for details if you have other questions.
Work experience is not required, but a year or more is preferred.
At this time, there are no scholarships available for the online Master of Healthcare Administration program. Please reach out to an admissions team member to discuss your financial options.
You can earn the online Master of Healthcare Administration degree in as few as 18 months. Total duration depends on the number of transfer credits accepted and whether you choose to study full- or part-time.
The total estimated tuition for the online Master of Healthcare Administration degree is $22,972.50. This estimate does not include any fees or other expenses you may incur.
Visit our FAQ page
Source
"Occupational Outlook Handbook: Medical and Health Service Managers." bls.com. Retrieved on May 20, 2022 from https://www.bls.gov.