Add Existing Credits to a Fast-Paced Business Degree Online
Learn More Today
Complete the form to learn more about this program.
Duration

4 years

Cost per Credit

$286.40

Credit Hours

180
Program Benefits
Learn essential business topics in a flexible, online format
Expert faculty with diverse industry experience
Full-time/part-time options
Multiple transfer pathway options
*Price reflects tuition for Oregon residents. Non-resident tuition is $329.60 credit hour. Speak to an enrollment counselor for more information.
Try our new Admissions Estimator tool to better understand your chances for admission. You probably meet more requirements than you think!
Admissions Estimator
IACBE-Accredited, Transitional Bachelor of Applied Science Degree for the Working Adult
Apply for a bachelor's degree in business and transfer associate-level credits to make your educational experiences count. EOU's B.A.S. in Business enables you to transfer up to 135 credits from previous college coursework to help you earn your degree faster and enter business roles in leadership.
Continue your education through an accredited program built for working professionals. Move forward with essential coursework in conflict management, social issues, workplace diversity and leadership to advance in any field.
EOU offers you the option of completing the program in three years, and provides numerous electives to specialize your studies. Tailor your learning with entrepreneurship, consumer behavior or sales.
Accreditation
The College of Business at Eastern Oregon University has received specialized accreditation for its business programs through the International Accreditation Council for Business Education (IACBE) located at 11374 Strang Line Road in Lenexa, Kansas, USA. For a listing of accredited programs, read the PDF at the link here.

B.A.S. in Business Curriculum
Core Curriculum
The online B.A.S. in Business requires a core including lower- and upper-division courses plus electives.
The lower-division core includes credit hours in conflict management, economics and social issues. The upper-division core includes courses featuring marketing, management, business ethics and organizational behavior.
Then, as a Bachelor of Applied Science online student, you will choose from an extensive list of elective hours to specialize your studies for your career goals. Options include courses in consumer behavior, entrepreneurship, sales and more.
View Courses
Have Credits to Transfer?
The option to transfer credits makes your program more affordable and can help you finish your degree faster. We accept up to 135 credits for transfer from previous college coursework. All EOU majors require a minimum of 20 EOU credits.
To see how your credits will transfer, use our Transfer Equivalency tool.
Career Outlook
The Bureau of Labor Statistics reports that the management field is growing at a pace of five percent, and more than 505,000 new positions for business managers alone will be created by 2029.1 The online Bachelor's in Business program will prepare you to take on a variety of management positions, along with countless other rewarding positions throughout all sectors of business.
Increase your earning potential and discover the professional opportunities that await you with EOU Online.
Explore Careers
Program Outcomes
Apply your associate credits toward a bachelor's degree
Gain a strong foundation in core business topics
Study career-focused electives to hone your skills
Prepare for management and leadership roles in your chosen field
"Eastern Oregon provides a great learning experience. By completing online while working full-time, I was able to accomplish a huge goal of purchasing a home at 19. I have found the degree to be very helpful as I have begun a career in public accounting."

– Brady Watkins, 2019; Meridian, Idaho; Business Administration, Accountancy
Tuition Details
We offer affordable tuition, especially compared to similar universities. The total cost for the B.A.S. in Business program without transfer credits is $51,552. The cost per credit hour for EOU online courses is $286.40.* An additional $14.50 per credit hour will be applied to accounting, business, economics and marketing courses.
About 92 percent of online students utilize financial aid and scholarships to cover part of these costs.
View Tuition Details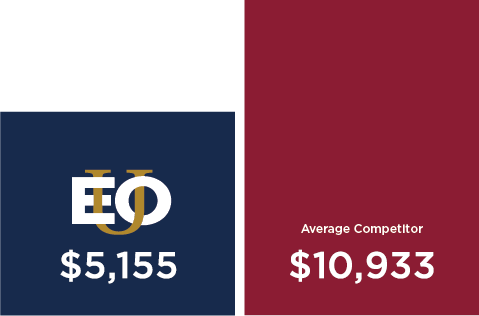 Per Term: Based on 18 credits. Costs for average competitors are estimations of state schools found on public university websites.
*Price reflects tuition for Oregon residents. Non-resident tuition is $329.60/credit hour. Speak to an enrollment counselor for more information.
Admission Requirements
Application Fee
Official Transcripts/GED Scores
SAT/ACT Scores*
Get Started
*Only needed for students transferring fewer than 30 credit hours, fewer than three years after high school graduation.
What It's Like to Study Online
Earning your degree online from Eastern Oregon University is a great opportunity because there are no on-campus requirements. You will have access to the same professors, content and opportunities as on-campus students while learning online in a creative digital format. Our professors work on campus and are experts trained to deliver innovative, engaging online education.
Online Experience
Frequently Asked Questions
Here are the answers to common questions about the Bachelor of Applied Science online program.
If you transfer the maximum number of credits, you can complete this program in two years.
Depending on your experience and personal goals, you can pursue a variety of professional and technical careers in business with this degree. Some options include leadership roles in sales, technology, design and management.
In a Bachelor of Arts program, you will be required to demonstrate proficiency in a foreign language. A Bachelor of Science program will not require foreign language proficiency but does require 12 additional credits in social science, natural science, computer science or mathematics. A Bachelor of Applied Science degree is a more specialized degree in a technical field; declaring a B.A.S. requires that you must have an Associate of Applied Science.
Our most recent virtual open house was held on February 10, 2021. Feel free to watch the most recent virtual open house, and stay tuned for the next live event.
You'll complete 16 courses to earn the Bachelor of Applied Science in Business degree. You can learn more about coursework for the program here.
Visit our FAQ page