B.S./B.A. in Public Administration
Practice Public and Private Administration
In this degree program, you will work closely with public agencies, policies and their impact on people. Learn how to move toward a more civil society through governmental policy.
Learn More Today
Complete the form to learn more about this program.
Duration

4 years

Cost per Credit

$265

Credit Hours

180
Program Benefits
Nationally Respected, Expert Faculty
Practicum and Internship Opportunities
Gain Valuable Leadership and Management Skills
Bachelor of Art or Science Degree Path Flexibility
About the Bachelor's in Public Administration
If you want to revise or institute public policies such as laws and regulations, an online bachelor's in public administration from EOU can help you get there. You will learn how to research the economy, policies and structure of organizations in order to recommend policies to improve their effects. Curriculum examining policies at the local, state and national levels will prepare you for individualized career goals and maximize your worth.
In the online public administration degree program, you will continually refine your research, writing and communication skills so that you can be an effective analyst. Whether you plan to launch your career after earning your bachelor's degree or plan to pursue graduate study in political science or law, your leadership and management skills from the online bachelor's in public administration will be a crucial asset.
Public Administration Curriculum
Core Curriculum
The online bachelor's in public administration requires a core of courses including lower- and upper-division courses. Lower-division courses give a background in macroeconomics, U.S. national government, public administration and research methods in the social sciences.
The upper-division courses will keep building on public policy, state and local government while introducing you to administrative law. Then, you can choose three courses from a list of electives including budgets, city planning, personnel management, organizational behavior and constitutional law. The electives depend on your individual interests and career goals. Earn your B.A. with a foreign language requirement, or your B.S. with just 12 more science credits.
View Courses
Have Credits to Transfer?
The option to transfer credits makes your program more affordable and can help you get on the job sooner. We allow up to 135 credits from previous college coursework to be transferred into EOU. All EOU majors require a minimum of 20 EOU credits.
To see how your credits will transfer, use our Transfer Equivalency tool.
"The public administration program at EOU provided me with the knowledge and skills that I needed to be successful in the public sphere. From the U.S. Congress to the Oregon Senate, I would not have had these opportunities without the strong education I had through this program."

– Evan Bryan, 2015; Legislative Director, Oregon Senate; Portland, Oregon
Admission Requirements
Application Fee
Official Transcripts/GED Scores
SAT/ACT Scores*
Get Started
*Only needed for students transferring fewer than 30 credit hours, fewer than three years after high school graduation.
What It's Like to Study Online
Earning your degree online at Eastern Oregon University is a great opportunity because there are no on-campus requirements. You will have access to the same professors, content and opportunities as on-campus students, only in a creative digital format. Our professors work on campus and are professionals and experts who are trained to deliver innovative, engaging online education.
Online Experience
Tuition Details
We feature affordable tuition, especially when compared to similar universities. The total cost of your program (assuming no transfer credits) is just under $47,700. The cost per credit hour for EOU online courses is $265.*
About 92 percent of online students benefit from financial aid and scholarships to cover part of these costs.
*A cost differential will be applied to ACCT, BA and ECON prefix courses.
View Tuition Details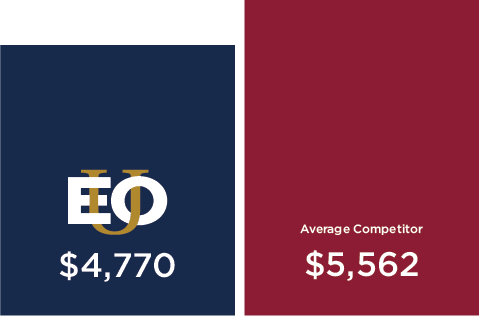 Per Term: Based on 18 credits. Costs for average competitors are estimations of state schools found on public university websites.

Program Outcomes
Develop workplace success skills via practicum and internships
Learn from nationally respected authorities and experts
Gain leadership and management skills
Strengthen critical thinking and problem-solving skills in real-life situations
Understand political, economic and legal environments in public and nonprofit organizations
Practice influencing political and social decisions
Make reliable policy recommendations
Career Outlook
Payscale reports that city managers, a popular career with a public administration degree, make an average annual salary of $90,019.¹ Policy analysts make an average of $57,213 per year, although salary is higher for higher levels of government, and lower for smaller organizations.²
The Bureau of Labor Statistics reports that administrative managers who work with policies and procedures can make up to $96,180.³ Urban and regional planners make a median annual salary of $73,050.⁴ Larger organizations and larger planning regions mean a higher salary.
Frequently Asked Questions
Here are the answers to a few frequently asked questions about this program.
Yes, the bachelor's in public administration can be completed 100 percent online, because there are no on-campus requirements. Eastern Oregon University's online B.S./B.A. in public administration is one of the first of its kind.
After securing your online bachelor's in public administration from EOU, you can work in many positions, such as a city planner, manager for a nonprofit, county and regional planning, policy advisor, budget analyst, mayor or even a law student.
A cost differential of $13.50 will be applied to ACCT, BA and ECON prefix courses. You can learn more about all tuition fees here.
Currently, this program does not offer scholarships. Please consider the following options regarding finances:
Complete the FAFSA® to determine financial aid eligibility. EOU's FAFSA® code is 003193.
Apply for a Sallie Mae loan.
You'll complete 180 credits to earn the Bachelor's in Public Administration. You can review courses here.
Our most recent virtual open house was held on February 10, 2021. Feel free to watch the most recent virtual open house, and stay tuned for the next live event.
Visit our FAQ page
¹Average City Manager Salary. (n.d.). Retrieved Sept. 19, 2019, from https://www.payscale.com/research/US/Job=City_Manager/Salary
²Average Policy Analyst Salary. (n.d.). Retrieved Sept. 19, 2019, from https://www.payscale.com/research/US/Job=Policy_Analyst/Salary
³Administrative Services Managers. Sept. 4, 2019. Retrieved Sept. 19, 2019, from https://www.bls.gov/ooh/management/administrative-services-managers.htm
⁴Urban and Regional Planners. Sept. 4, 2019. Retrieved Sept. 19, 2019, from https://www.bls.gov/ooh/life-physical-and-social-science/urban-and-regional-planners.htm