B.S./B.A. in Communication Studies
Study Emerging Communication Practices
Be part of the next generation of community builders with rhetorical efficiency, interpersonal effectiveness, intercultural competency, ethical sensitivity and platform savvy. Collaborate with students from other programs through our online curriculum.
Learn More Today
Complete the form to learn more about this program.
Duration

4 years

Cost per Credit

$265

Credit Hours

180
Program Benefits
Unique Communication Course Topics
Gain Hands-On Media and Business Communication Experience
Develop Valuable Interpersonal, Public Speaking, and Negotiation Skills
Affordable Tuition
About the Communication Studies Program
No matter what career path you choose, you will need good communication skills. The online bachelor's in communication studies from EOU provides you with interpersonal communication, public speaking and technological skills. The communication studies minor is an excellent choice for those pursuing Interdisciplinary Studies, Business, Fire Services or health professional degrees due to its application to many career paths.
The courses you choose as your electives can direct your degree toward specialized tracks. You can take courses in public relations, advertising and media theories to prepare for careers in advertising and marketing. Courses in communication law, ethics and theories pair well with law courses to prepare you for a legal career or for teaching communication. If you choose courses in mass media, news media, digital video and web development, you could end up working in mass media, social media or even television.
Communication Studies Curriculum
Core Curriculum
Our degree includes required course credit hours plus elective credit hours. Required courses include interpersonal communication, interviewing, public speaking, conflict management and others. Upper-level courses focus on communication theory and ethics.
Options for elective credit hours are more specialized to suit your unique interests. Choose from marketing, web design, new media, cultural communication and more. Earn your B.A. with a foreign language requirement, or your B.S. with just 12 more science credits.
Although we do not have formal specializations, you can choose to take more courses in business communication, media communication or general human communication.
View Courses
Have Credits to Transfer?
The option to transfer credits makes your program more affordable and can help you get on the job sooner. We allow up to 135 credits from previous college coursework to be transferred into EOU. All EOU majors require a minimum of 20 EOU credits.
To see how your credits will transfer, use our Transfer Equivalency tool.
"I always assumed that after college I would struggle to find a career I enjoyed. However, I have come to realize that the opportunities for students in this field are vast and growing immensely.  The passion I have for the work, as well as the knowledge I gained while at EOU, helped me to excel at the job. I could not be happier with the career path I have chosen and the opportunities that became available to me due to the excellent education I received."

– Ashley Butler, 2016; Communication Studies; Halfway, Oregon
Admission Requirements
Application Fee
Official Transcripts/GED Scores
SAT/ACT Scores*
Get Started
*only needed for students transferring fewer than 30 credit hours, fewer than three years after high school graduation.
What It's Like to Study Online
Earning your degree online at Eastern Oregon University is a great opportunity because there are no on-campus requirements. You will have access to the same professors, content and opportunities as on-campus students, only in a creative digital format. Our professors work on campus and are professionals and experts who are trained to deliver innovative, engaging online education.
Online Experience
Tuition Details
We feature affordable tuition, especially when compared to similar universities. The total cost of your program (assuming no transfer credits) is $47,700. The cost per credit hour for EOU online courses is $265.*
About 92 percent of online students benefit from financial aid and scholarships to cover part of these costs.
*A cost differential will be applied to ACCT, BA and ECON prefix courses.


View Tuition Details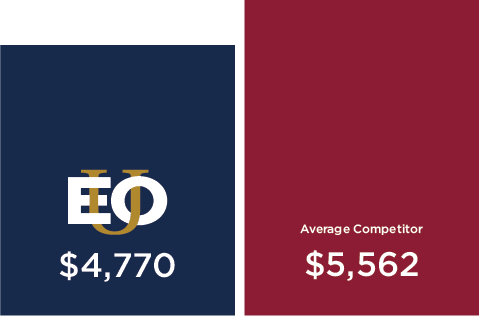 Per Term: Based on 18 credits. Costs for average competitors are estimations of state schools found on public university websites.
Program Outcomes
Study and produce digital media
Speak with confidence in any arena
Understand global communication and diversity
Use conflict and negotiation skills
Participate in service learning
Pair curriculum with other fields, if desired
Career Outlook
Because communication studies is a broad field, projected salary depends on level of education, specialization and industry.
The Bureau of Labor Statistics (BLS) reports that, in Oregon, the median annual wage for most types of media and communications occupations is $49,090.¹ BLS also reports a projected 4 percent growth in nationwide jobs through 2028.²
Frequently Asked Questions
Here are the answers to a few frequently asked questions about this program.
Coursework for the bachelor's in communication studies incorporates many timely technologies such as social media, YouTube, Google, audiovisual recording and editing, web development and more.
Yes. Seniors in the communication studies program can register for an internship course-even if you are working online. A faculty member will guide and assess the internship in preparation for the senior capstone course.
Our diverse faculty have many areas of expertise and are made up of a mix of full-time and part-time professors.
The online program is designed for professionals who work full-time and is offered part-time with two classes every 11 weeks. This allows you to achieve a realistic balance between work, school and personal responsibilities and gives you the opportunity to fully absorb the information in your coursework. To see the curriculum, view our courses page.
The first step is to start your application. You'll need to submit your official transcripts and pay your application fee. Find out more about applying here.
Our most recent virtual open house was held on February 10, 2021. Feel free to watch the most recent virtual open house, and stay tuned for the next live event.
Visit our FAQ page