B.S./B.A. in Accounting – Forensic Accounting Concentration
Gain Career-Ready Accounting Skills with an IACBE-Accredited Degree
Duration

4 years

Cost per Credit

$278

Credit Hours

180
Program Benefits
Career-Ready Skills for Forensic Accounting Positions
IACBE Accredited
Convenient Online Format
Comprehensive Accounting Course Topics
*An additional $14.50 per credit hour will be applied to accounting, business and economics courses.
Try our new Admissions Estimator tool to better understand your chances for admission. You probably meet more requirements than you think!
Admissions Estimator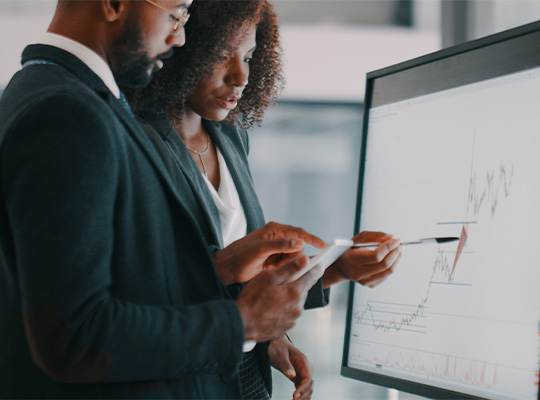 Build an Accounting Career Based on Business Ethics
With the online forensic accounting concentration, you'll examine the relationship between business ethics and civic responsibility as you explore financial fraud and the professional tools utilized to detect it. Through courses taught by experts with accounting and financial investigation experience, you'll learn to apply appropriate ethical principles in an ever-changing business environment and contribute to financial justice.
The online forensic accounting concentration also offers the foundation for the certified public accountant (CPA) exam. After you graduate, you'll be fully equipped to become a certified accountant, plus you'll have what it takes to pursue a master's degree and advance your accounting career even further.
Career Outlook: Specialty Skills for the Accounting Career You Want
The online forensic accounting concentration delivers the expertise you need to succeed in unique and essential positions within the accounting industry, including the role of a forensic accountant. According to Payscale.com, the average annual salary for forensic accountants is $70,450.1 As the field expands, the need for accounting professionals is expected to grow by 4 percent annually. At this pace, the Bureau of Labor Statistics expects more than 61,000 accounting positions to become available by 2029.2
Forensic Accountant
$70,450/YEAR
Forensic accountants conduct investigations to determine if financial fraud has been committed. They often investigate insurance claims and police reports, and may be required to testify in court in some cases.1
Accountant
$73,560/YEAR
Accountants work with individuals and businesses to develop financial strategies and promote financial health. In addition to keeping financial records for their clients, they must also ensure their clients are abiding by tax laws.2
Other titles for graduates of the online forensic accounting concentration:
Internal auditor
Budget analyst
Financial analyst
Curriculum: Career-Ready Skills for Forensic Accounting
The forensic accounting concentration prepares you to investigate and resolve complex business and accounting issues through a curriculum designed to provide career-ready skills. The courses required for the program explore topics including internal control systems, corporate governance, fraud control and more.
View Curriculum
Course Spotlight: ACCT 429 Advanced Forensic Accounting
This course introduces litigation services for forensic accountants and engagement and practice management. It concludes with a survey of specific accounting topics, including fraud, bankruptcy, digital forensics, matrimonial disputes, financial statement misrepresentations, damages and valuation.
Course Spotlight: ACCT 471 Interviewing Techniques for Fraud Investigation
This course provides an overview of techniques and strategies useful in interviewing and interrogating occupational fraud suspects and other parties of interest. These techniques and strategies include interpreting the verbal and nonverbal cues of an interviewee and planning, conducting, and documenting the findings from investigative interviews.
Available Accounting Concentrations
EOU's Accounting program offers two in-demand specializations. Explore them below.
B.S./B.A. in Accounting: Certified Managerial Accounting
Gain the credential required to take the certified public Accountant (CPA) exam and pursue the globally recognized certified management accountant (CMA) exam so you can go further in your career.
Frequently Asked Questions
If you have a question we don't cover here, request more information or call 877-791-7181.
To sit for the CPA exam in Oregon, you must have acquired 225 total credit hours. After completing the 180-credit accounting degree program at EOU, you will need 45 more credit hours. You can choose to register for 45 more undergraduate credit hours, complete the Post-Baccalaureate Accounting certificate (48 credit hours) or enroll in the MBA program (45 credit hours).
After obtaining your online bachelor's in accounting from EOU, you can work in many positions, such as a CPA, auditor, controller, financial advisor, senior accountant, fiscal manager and more.
The online program is designed for maximum flexibility and may be taken full-time if you feel you have the time to do so successfully. Full-time means you'll take 3-4 classes every 11 weeks.
To see the curriculum, view our courses page.
The Bachelor's in Accounting is designed for working professionals with busy lives, so if something interrupts your normal course of study, you don't have to worry about losing the courses you've completed. You can take up to 4 years to complete the degree, if needed. To see the curriculum, view our courses page.
This program is offered both online and on campus. However, due to the lockstep nature of the program it is highly recommended that students select their desired modality and stick with it through the duration of their enrollment. If a change is necessary, they can work with an advisor. It is not considered a hybrid program because there is no required coursework on campus.
Our most recent virtual open house was held on February 10, 2021. Feel free to watch the most recent virtual open house, and stay tuned for the next live event.
Visit our FAQ page